Volkswagen Golf Mk VII tested in Sardinia, Italy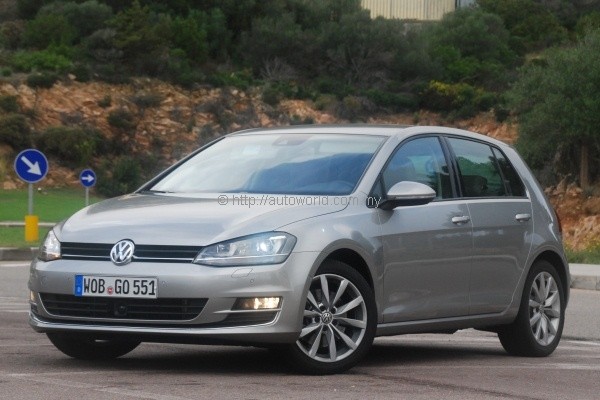 As much as the Beetle, perhaps even more so, the Golf is an iconic nameplate for Volkswagen. The first generation Golf was launched in 1974 as a supposed successor to the Beetle, and although things did not eventually work out in that direction, the Golf was a definitive success, needing just two years to soar past the one-million-unit mark in 1976.
In the 38 years that has since lapsed, the Golf has went through five model changes, the last being the sixth-generation Golf Mk VI that was launched in 2008. The Golf VI, in actual fact a major update of the Golf V, was the shortest-living model in the lineage, but it too was a success with 2.85 million units sold worldwide, contributing to a grand total of 29 million Golfs sold since the original's launch.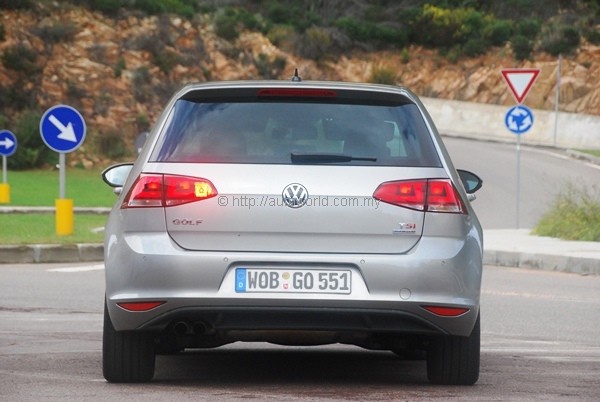 The Golf's design is timeless and transcends class.

Few vehicles hold the same appeal as the Golf. It is a car that transcends class and occasion, perhaps less so in Malaysia, due to our exorbitant car prices. A Golf is never out of place anywhere, be it at the lobby of a posh hotel, or just outside your local mamak. It is also timeless, never looking or feeling out of date, and because of such exacting demands, designing a new Golf is tricky business at best.
Every generation of the Golf distinguishes itself as a segment benchmark of its time, and we recently traveled to Sardinia, Italy, to find out if the all-new seventh-generation Volkswagen Golf lives up to the same lofty standards as its predecessors.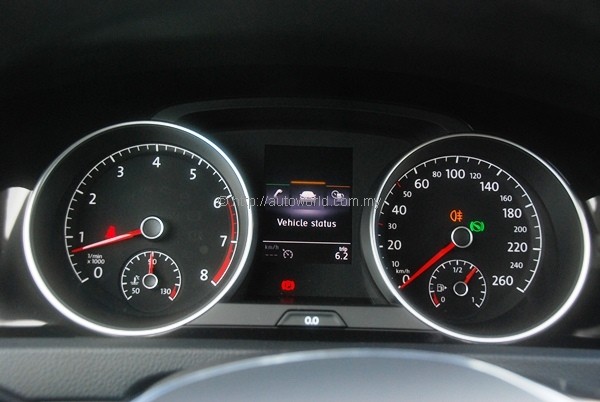 Instrument cluster with new colour display.

So, what's new?
As it turns out, a lot. Despite being clad in the same familiar proportions, the Golf Mk VII is a new design from ground up, being based on the all-new MQB platform that will underpin the Volkswagen Group's next generation of models. Its line-up of engines are similarly clean slate designs, switching from cast iron blocks to all-aluminium construction.
The all-new structure and engines feature extensive usage of lighter materials, and this has allowed Volkswagen to trim up to 100kg of the Golf's weight compared to equivalent variants of the Mk VI. The body-in-white alone accounted for a 23kg reduction in weight, and meticulous trimming of other areas such as the dashboard (400g lighter), firewall cross member (1.4kg reduction), and even the seats (up to 7.0kg down) and air conditioning (2.7kg), all added up to contribute impressive savings. For the record, Volkswagen quotes a kerb weight of 1,288kg for the Golf 1.4 TSI DSG, 73kg down from 1,361kg for the Golf VI equivalent.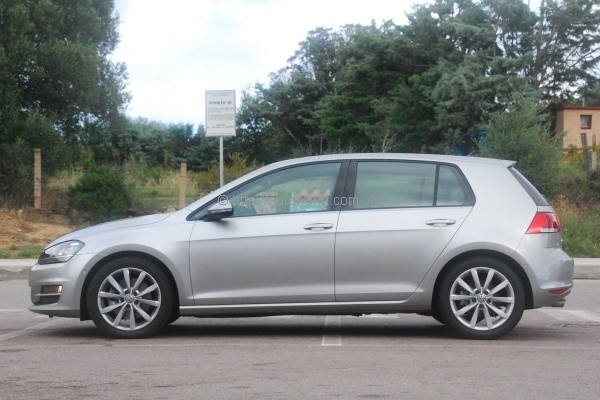 All-new MQB platform will underpin VW's next generation range of vehicles.

As such, consumers can be assured that the reduction in weight did not come with a corresponding reduction in equipment, or size for that matter. In fact, the Golf is now significantly better equipped than ever before, and it is also bigger. Touchscreen is standard, although its size is subject to variance. Interface touches for functions such as zooming and scrolling follow the intuitive patterns pioneered by the iPhone.
Across the world, all variants of the Golf VII will have seven airbags, ESC, electronic parking brake with Auto Hold, electric differential lock, multicollision brakes, daytime running lights, and tyre pressure monitoring. Optional equipment, and this is where Volkswagen Group Malaysia's (VGM) judgment will come in, includes adaptive dampers (DCC), keyless entry & start, xenon and bi-xenon headlights, adaptive cruise control, active city stop, and Park Assist 2.0.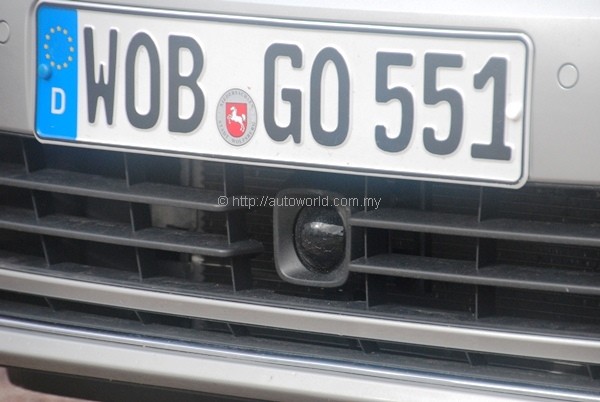 Active City Stop is among many features in the new Golf.

Measuring 4,255mm bumper to bumper, the Golf VII is 56mm longer than its predecessor. Its front wheels are pushed 43mm further forward for a sportier stance, and its wheelbase is increased by 56mm, freeing up room for a more spacious interior. Rear passengers will appreciate an additional 15mm of legroom over the predecessor, while shoulder room is correspondingly increased by 31mm as well. Meanwhile, the rear hatch opens to 380 litres of luggage space, a 30-litre increase from the Golf VI.
The numbers paint a very flattering picture for the Golf VII's interior, but only an experience in the flesh will do it justice. Imagine the current Golf VI's class-leading build quality infused with an added dosage of style and a posher choice of materials. The gap in quality between the Golf and Audi A3 is narrower here, although with all of the test cars in Sardinia being top spec models, this is a topic we will need to revisit once we have the chance of examining a local-spec unit upclose.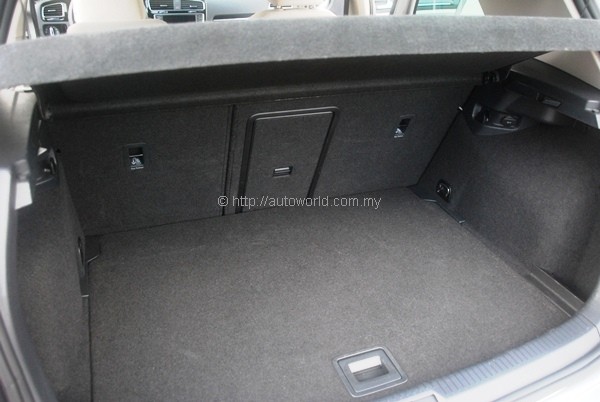 Luggage space is 380 litres with seats up, and 1,270 litres with seats down.

The Test Cars
The Golf VII is offered with a total of seven petrol and diesel four-cylinder engines with capacities ranging from 1.2 to 2.0 litres, and outputs from 84hp to 148hp. For our international drive programme in Sardinia, however, Volkswagen has made only the 1.4 TSI petrol and 2.0 TDI diesel engines available for review. These two represent the top engines of their respective fuel types, and they were made available with both manual and DSG transmissions.
We tried them all, but for the benefit of Malaysian readers, our focus will be on the TSI model mated to the dry clutch 7-speed DSG transmission – the sole variant that will be offered to Malaysia. Our test cars were also equipped with the full suite of Volkswagen's BlueMotion technologies such as Auto Start/Stop and cylinder de-activation (ACT), the latter of which will not be offered here.


The absence of ACT means that Volkswagen's fuel consumption claims of 5.0 l/100km for the 1.4 TSI DSG model will have to be disregarded for now, although rated outputs of 138hp @ 4,500 – 6,000rpm and 250Nm @ 1,500 – 3,500rpm remain valid. Displacing 1,395cc, the new EA211 petrol engine makes 20hp less than its twincharged predecessor, but it does get an additional 10Nm of torque.
It is not a pretty sight, the new TSI motor (engine bay's appearance is cluttered and ugly), but it carries substantial improvements over its predecessor on many aspects. It is 22kg lighter than its predecessor and sits slanted backwards in the engine room by 12 degrees, and this is standardized with the diesel engines as well, giving VW greater economies of scale to standardize the exhaust line, driveshafts, and transmission mountings across the board. The new engine's compact construction is a key factor that allowed Volkswagen to shift the Golf VII's front axle forward.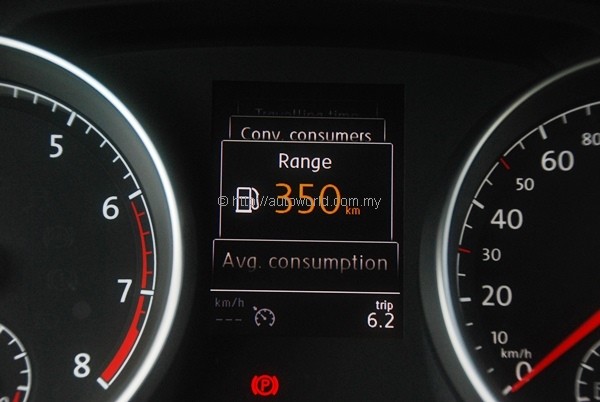 Operation of the central display is classy and polished.

Driving Impressions
It is not often I emerge from a media drive preferring the petrol variant of a model over its diesel counterpart. It is even less often that I find myself picking the automatic model as a superior choice over the manual, but curiously these were my conclusions after testing four variants of the Golf VII.
The 2.0 TDI model actually boasts superior output figures over the 1.4 TSI, but on subjective terms, it is the petrol motor that delivers the superior driving experience. It is more enjoyable to rev, and although it may not have as much torque as the diesel, it still has enough to pull strongly in gear. There is a also slight deficit in grunt against the twincharged predecessor to report, but not significant enough to blunt its case. Additionally, the petrol engine's lighter weight means that it is less heavier in the nose, and it is consequently more agile at the corners.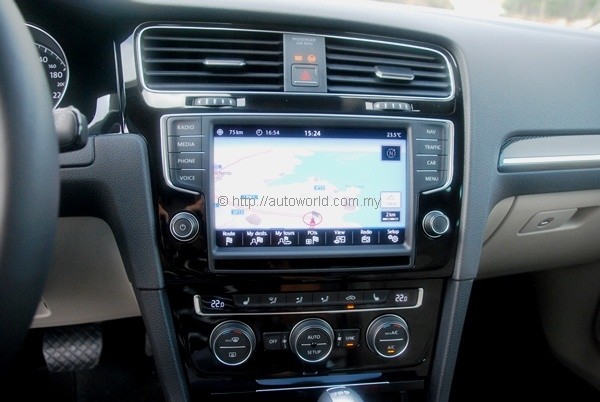 Central touch screen's interface has iPhone-inspired cues.

On the topic of agility, the Golf VII is certainly improved over its heavier predecessor. The adaptive dampers on our test car had five selectable modes, although operating them proved slightly clumsy. One needs to call up driving mode adjustment by pressing a button next to the gear lever before selecting his or her preferred mode on the touchscreen. Why not use the simpler method of cycling through the five modes on the same button?
Between the five settings, the most extreme Sport setting felt surprisingly supple, and the car did not handle too badly in its Comfort setting either. Throttle response is notably dulled in Eco mode, and Normal mode is designed as the balanced sweet spot to give the best compromise. The fifth setting is a comprehensively customizable Individual mode, which allows you to alter parameters relating to steering, suspension, throttle, transmission, and even adaptive light settings.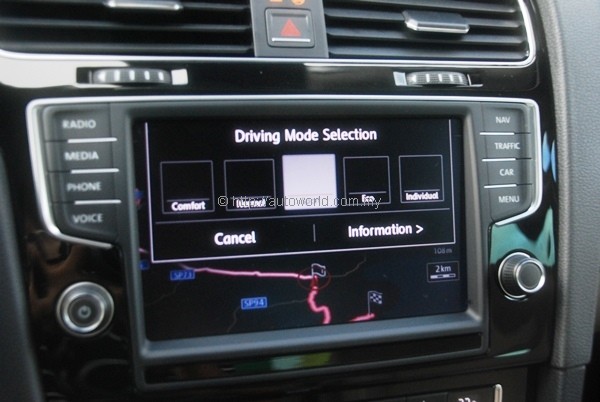 One needs to press the DCC controls on a separate button, then choose preferred mode on touchscreen.

Meanwhile, the 6-speed manual transmission on both variants excel with slick operation, precise gates, and overall ease of use. Clutch action is slightly heavy, but is reassuring in its bite. Volkswagen's use of an electronic parking brake means the old trick of using the handbrake to aid in hill starts are no longer applicable, and this is where the standard Auto Hold function comes in really handy.
Not that Malaysian consumers will need to worry about anyway. It is almost certain that the Golf VII will be sold with the DSG as standard, and for all the excellence of the manual, it is the DSG that seems like the best fit for the car's overall character. There is a certain sense of rightness that the DSG variants exude that give you the impression that Volkswagen designed the Golf VII's dynamics and character around the DSG, with the manual something of an afterthought, though a very enjoyable one.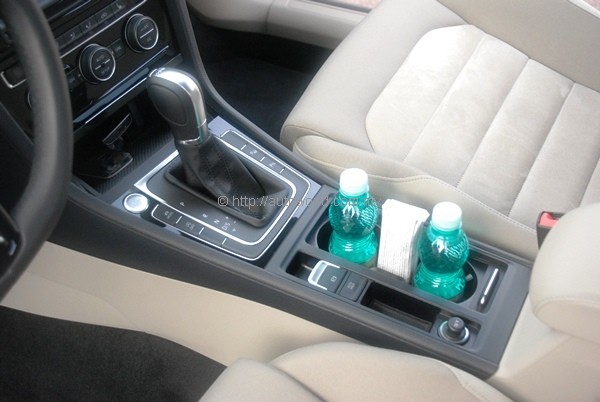 Electronic parking brake is standard featue in the Golf Mk VII.

Should I cancel my order for the Mk VI?
Yes and no. Even in the face of a replacement, the Golf VI is still a class-leading package, and it also has the advantage of being tried and tested by time, a claim that the Golf VII will not be able to make without a few years under its belt. Yet, it should also be noted that the Golf VII raises the bar by such impressive margins, that those willing to wait will find it worthwhile to do so. It may have less power than the Golf VI, but improvements in so many other areas make the Golf VII a superior package on many levels.
In markets where prices are already announced, Volkswagen has kept the Golf VII relatively on par with Golf VI. VGM would certainly aim to maintain that strategy in Malaysia, although that cannot be promised because the peculiar nature of our market which requires Government approval of prices before cars are officially sold in the market. The company is still smarting from the suddenly raised duties imposed on them for the Polo GTI and Passat CC over the last two years.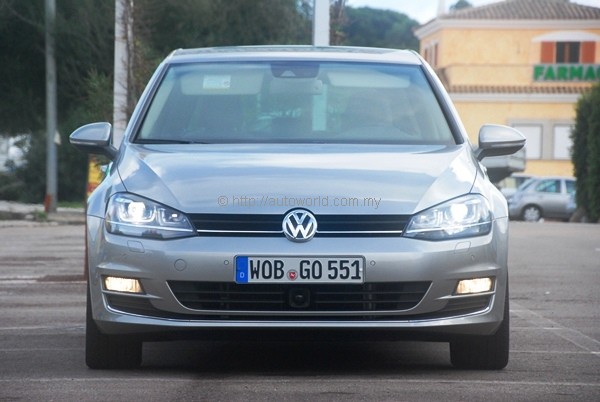 Looks like a facelift of the Mk VI, but the new Golf is redesigned from ground up.

Our final definitive verdict on the Golf VII will have to wait till its arrival in Malaysia. Although we do not foresee significant differences to its driving experience, prices and equipment levels remain uncertain. If VGM is unable to secure favourable pricing from the Government, chances are items such as Park Assist 2.0, keyless entry, and adaptive dampers (DCC) might end up being left out.
It is still too early to conjecture what's coming our way beyond its engine and transmission combo, but our first impressions are overwhelmingly positive. You wouldn't think that there's much to improve from the already-excellent Golf VI. You would be surprised.