Nissan Almera Tuned by Impul available for booking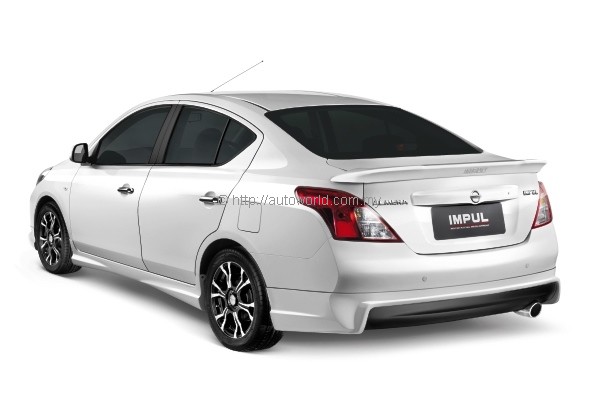 Customers of the soon-to-arrive Nissan Almera will a greater array of options to uprate and personalize their vehicles with the Nissan Almera Tuned by Impul package as well as a line-up of optional accessories that can be specified with both the standard and Impul-tuned versions of the Almera.
No prices for the add-ons have been announced, although comprehensive details have been made public. The Almera Tuned by Impul package adds typical items found in existing Impul tuned models such as a stainless steel exhaust muffler, sports suspension with 30mm lowered ride height, and a custom Impul aerokit. The standard rims of this package is the 16″ HS-06 design, although they can be further upgraded to the 17″ Aura SX-10 wheels for a bit more money.
Meanwhile, the range of optional accessories available for the Almera are as follows:
– LED Wing Mirror Signal Lights
– LED Stainless Steel Kicking Plate
– Door Visor
– Trunk Tray
– Sport Pedal (A/T variants only)
– Multimedia Navigation with rear view camera, DVD player, iPod connectivity, USB and Bluetooth capabilities.
– Combination Leather Seat and Door Panel
– 15" 7-spoke Alloy Wheels
– Tinting – V-Kool Elite, Solar Gard Armorcoat, or Solar Gard.
Picture: Official ETCM release.