Relocated Honda PJ dealership opens new 4S centre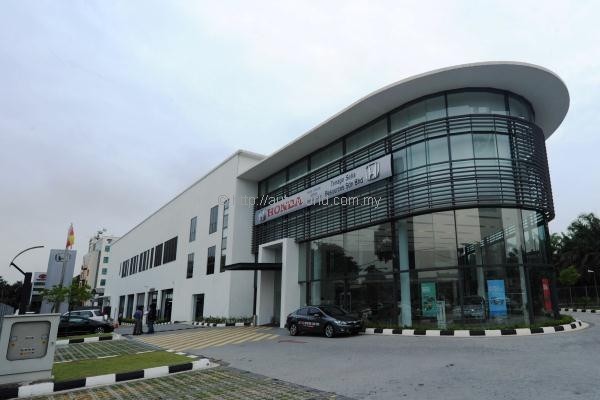 Tenaga Setia Resources Sdn Bhd, the Honda 3S dealership established in 2002 at Jalan 222, Petaling Jaya, has relocated to a new 4S centre situated less than a kilometre away at Section 51, Petaling Jaya. Built at a cost of RM28.5 million, the new outlet was launched today in conjunction with Tenaga Setia's tenth anniversary in operation.
Compared to its previous location, the new outlet has much more floor space to accommodate a bigger showroom, service area, as well as the addition of body and paint repair facilities complete with Blackhawk chassis realignment jigs. There are also more parking bays available to ensure that customers no longer need to stop their cars by the roadside when visiting the showroom.
Speaking at the showroom's launch earlier today, Mr Yoichiro Ueno, MD & CEO of Honda Malaysia said, "The upgrade, expansion, and relocation of Tenaga Setia Resources to this new, spacious, and strategic location shows their dedication to constantly improve in order to better serve their customers in the Klang Valley. I commend Tenaga Setia Resources for the efforts that have been put to improve the facilities and to incorporate a body and paint centre. On behalf of Honda Malaysia, I would like to thank Tenaga Setia Resources for their commitment towards Honda."
With this opening, Tenaga Setia joins a select group of five Honda dealerships that currently operate 4S – Sales, Service, Spare Parts & Spray Painting – centres in Malaysia. The remaining 56 dealerships in the country are 3S centres.
"Honda Malaysia is also looking to increase more 4S dealerships in Malaysia to serve our customers efficiently and effectively. Our goal is to attain Lifetime Ownership Loyalty (LOL) with every Honda customer by providing them the most excellent customer service in a consistent manner and to keep on improving our service level. I believe that the persistent efforts from Tenaga Setia Resources will help to achieve this shared goal," Mr Ueno added.