Nissan Livina X-Gear Test Drive Report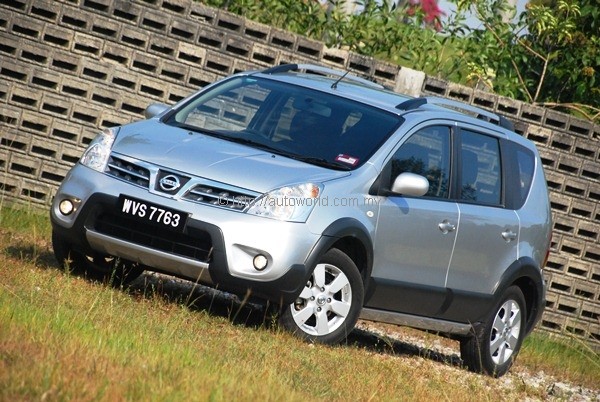 Today's generation of car buyers in Malaysia have grown to be an extremely demanding lot, even when compared to developed and mature markets. Contrary to popular belief, many manufacturers spec cars for the Malaysian market with relatively high amounts of kit compared to other parts of the world. We may not get the best engines or the most comprehensive safety kit, but when it comes to bodily aesthetics and cabin creature comforts, our specs are assuredly on par with the best of the world.
The factors behind this development are many fold, but the underlying issue is that cars are ridiculously expensive in our country. When most of the population require at least seven to nine years financing terms to pay for a car, it is unsurprising that many are not willing to settle for steel rims and manual windows. No doubt that the bulk of your money goes to the Government's coffers, but let's be frank, when you have shelled out that much money, isn't it natural to be demanding?


Malaysian consumers are quite modest in their demands when it comes to powertrain requirements, but many will bang tables for creature comforts like leather seats, GPS, reverse camera, push-start button, and sunroof among many items. Of course, let's not forget the look-faster aerokits and the latest fad, daytime running lights. In this light, the Nissan Livina X-Gear starts on a rocky footing as it comes with none of the above items.
Priced at RM84,800 with insurance (it was RM82,800 during launch – new price was effective 16 July), the X-Gear is pretty much a no-nonsense fuss-free vehicle that is as simple a car as it gets these days. Its chunky pseudo-SUV styling bits is as close to glitz as the X-Gear will get, although there is now the option of spicing things up with a 'Tuned by Impul' package offered at an additional cost of RM8,000. Not all of the X-Gear's exterior bits are purely aesthetic though – the roof rails do have a 25kg loading capacity.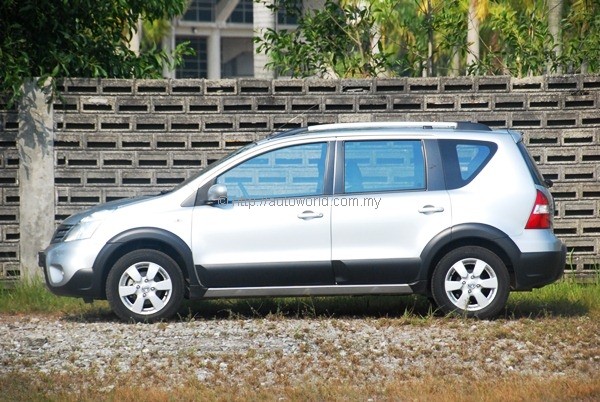 Styling is rugged, but underpinnings are ordinary.

We have already tested the X-Gear shortly after its launch last year, but we were recently presented with an opportunity to revisit the vehicle in a more detailed review. Our test car this time is one of many demo units registered by Edaran Tan Chong Motor Sdn Bhd (ETCM) at the time of the X-Gear's launch, and this particular unit has clocked over 21,000km on its odometer. With that, our first observation of the vehicle was that its humble (some might say drab) interior appears none the worse for wear. Fancy it is not, but marks are certainly given for durability, and the use of a dark colour scheme means that this is a cabin that will age very well.
Overall, the interior is one where function takes clear precedence over form. The audio unit and manual climate control system are rudimentary, but they are easy to use, and those who are technology averse will appreciate its humble simplicity. Getting acclimatized to this cabin is a straight forward affair, although one comment from a middle-aged driver was that the slots of the automatic transmission lever (shared with the Latio) are placed too close to each other, making them difficult to see. Something for the cabin designers to take note.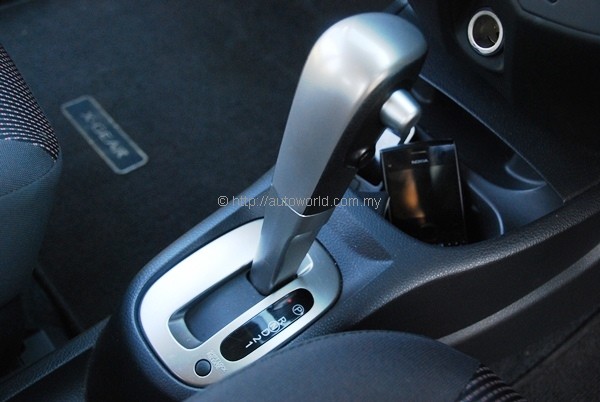 4-speed auto works well, but slots are too close to each other.

Further notes to take for future reference will cover the subject of equipment. While we can excuse the omission of luxuries such as auto headlights and electronic climate control at its price point, it certainly can't be too much to ask for steering-mounted controls this day and age? Absence of driver's seat height adjustment is similarly baffling, and space at the rear portion of the centre console can also be put to better use with a arm-rest-cum-storage-box. Lastly, for a vehicle aimed at the family, ISOFIX child seat mounts will make for a very welcomed addition to kit count.
The X-Gear's simplicity unsurprisingly extends to its underpinnings as well, which it shares with the Latio and its bigger Grand Livina brothers. The chassis features independent MacPherson struts up front and a torsion beam propping up the rear. A vent disc/drum combo provides stopping power aided by ABS and EBD. Steering is electrically assisted.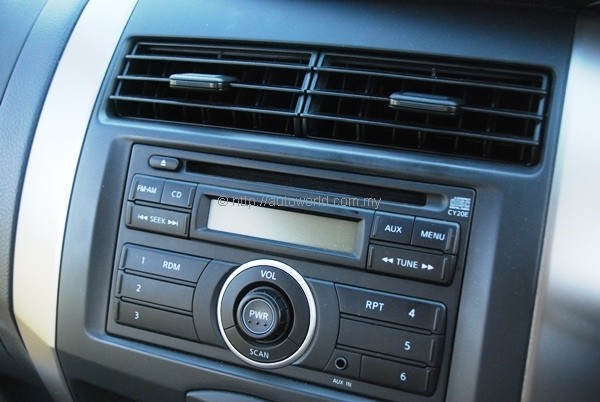 Audio unit is basic, but does the job.

Sole powertrain on offer is the 1.6-litre HR16DE engine pushing out a useful if unspectacular 104hp and 150Nm to the front wheels through a 4-speed automatic transmission. Relative to most rivals in the price range, the Nissan engine ultimately lacks sophistication, but makes up for that deficit with a willingness to perform. Take off acceleration from standstill is commendably strong, and although 4-speed auto boxes no longer represent the pinnacle of technology these days, the X-Gear's box shifts smoothly enough and is reasonably quick with its kick-downs.
Highlight of the X-Gear's driving experience will have to be its exceptional comfort. As mentioned in our earlier review, the suspension proved extremely adept in dealing with poor road surfaces, and potholes are absorbed as if as they were not there. Handling is surprisingly competent as well, but don't take too many liberties – the Continental CC1 tyres that come as standard fitment are not particularly generous with grip.
Sophisticated the X-Gear is not, but its mechanical simplicity makes for a painless ownership experience. Not everyone is hard-up on creature comforts, but having said that, there are times when the X-Gear's kit count does feel a little too threadbare. As a whole, the X-Gear is pleasant to live with, and it is one of those cars that will deliver not too much in smiles, but one which you can count on day-in day-out.


Further Information:
– Nissan Livina X-Gear price and specifications in Malaysia
– Nissan car prices and specifications in Malaysia