Chevrolet Cruze to use Achilles tyres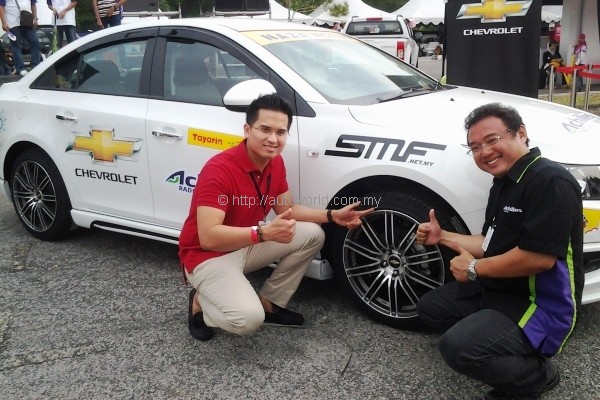 Naza Quest Sdn Bhd has announced the establishment of a new partnership with Indonesian tyre manufacturer PT Multistrada to supply Achilles tyres for the Chevrolet Cruze in Malaysia. Effective July, the Cruze LT Sport will be fitted with 225/40 R18 Achilles ATR Sport tyres as standard.
The Cruze is currently available in two variants, both powered by a 1.8-litre four-cylinder petrol engine mated to a 6-speed automatic transmission. The standard 1.8 LT model utilizes 205/60 R16 tyres, and is priced at RM104,716.40 on the road before insurance. The LT Sport model, which benefits from this agreement, is priced at RM121,716.40.
According to Naza Quest, the set of Achilles tyres fitted into each Cruze costs RM1,200, and the company aims to sell 100 units of the Cruze LT Sport a month. The company further stated that it is testing Achilles 4×4 tyres to be fitted in the Captiva and Colorado.
Picture: Official Naza Quest release.
Further Details:
– Chevrolet Cruze 1.8 LT Sport price and specifications in Malaysia
– List of official Chevrolet dealerships in Malaysia