Malaysia-specific updates launched on Google Maps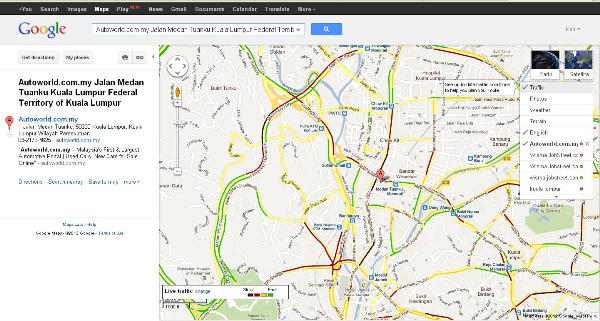 From today onwards, Malaysian users of Google Maps can look forward to three new updates of the service that is tailored specific to commuters in our country. Bahasa Malaysia interface is now available, and two new features have been introduced – Traffic and Transit.
Neither of these features are all new per se, but they were only activated for Malaysian users today. Accessible from both desktop and mobile devices, these new updated features ought to prove valuable for commuters navigating through the pitfalls of urban congestion.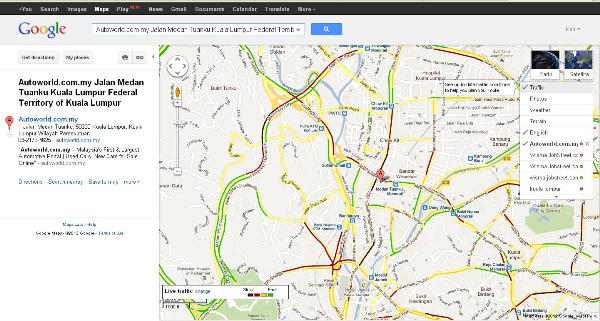 Motorists will appreciate the new Traffic on Google Maps, which provides real time road congestion data. By turning on the Traffic layer on Maps, users can quickly see traffic conditions based on colour coding — red for standstill, yellow for slow moving, and green for smooth flowing. This feature will prove useful in journey-planning during congestion hours.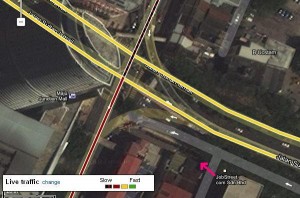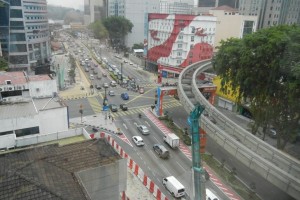 The screencap (left) and picture (right), were both taken at 1505hrs today for your comparison. Pink arrow on map indicates perspective of photo.
For public transport commuters, Transit introduces a third option in addition to walking and driving when a user seeks directions. Where available, the system guides users step-by-step through the public transportation system covering bus, LRT, monorail, and KTM Komuter. Locations of bus stops and train stations are also listed.
"Malaysians commute a lot, and these enhancements add a new level of usability to Google Maps for Malaysians, making it easier to look up information, move around the country, and get from point A to B quickly and with minimum hassle and fuss," said Google Malaysia country manager Sajith Sivanandan.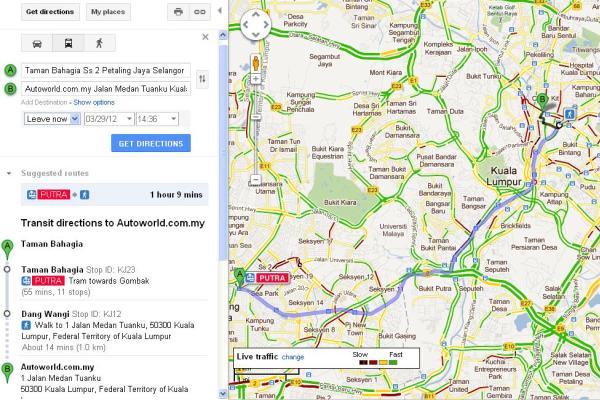 Traffic and Transit for Maps data comes from a variety of sources, including government departments of transportation, private data providers, and users of Google Maps for mobile who contribute anonymous speed information through Google's traffic crowdsourcing feature.
Capturing of real time traffic data is accomplished by the thousands of Android phone users roaming the streets with Google Maps activated. Satellites track the movement and position of these devices, and deduce traffic conditions based on average values. This nature of the mechanism meant that there needed to be a critical mass of Android users before the system could be rolled out. In areas where there is insufficient data to draw any conclusions, the Traffic layer will represent the road with a grey line.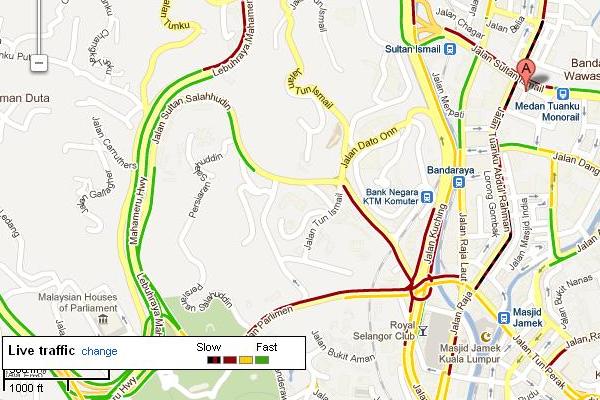 KON