Goodyear Malaysia launches new Eagle EfficientGrip tyres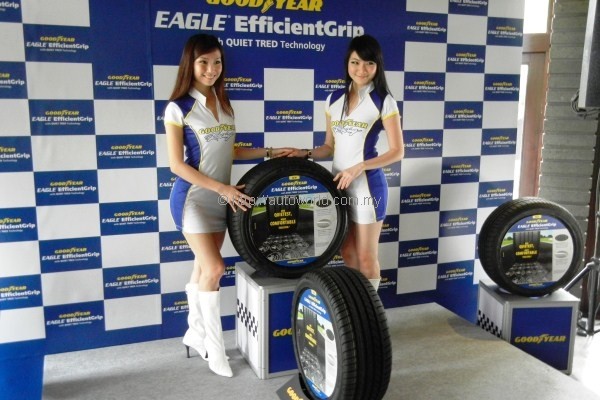 Goodyear has today launched the new Goodyear Eagle EfficientGrip in Malaysia. Featuring Quiet Tred Technology, the EfficientGrip is engineered with ride comfort and refinement as key attributes, and is said to be the company's quietest tyre ever. Its range of sizes span from 15 to 18 inches in diameter, and it is aimed primarily at D-segment models upwards.
A brief launch-cum-drive event was held at Cyberjaya yesterday, and the fleet of demo vehicles assembled is a clear indicator of the tyre's target market – Honda Accord, Toyota Camry, and Nissan Teana. There was also a unit each of the BMW 528i and Mercedes-Benz C-Class. The Ford Mondeo EcoBoost leaves the factory with this tyre in 215/50 R17 size.
"The Eagle EfficientGrip is designed to fulfill the needs of luxury passenger car owners for middle-luxury vehicles. Our aim is to be a new leader in this segment offering our customers a quiet and comfortable driving experience," said Encik Zakariah Ahmad, Managing Director of Goodyear Malaysia.
A key feature of the tyre is its new Quiet Tred technology, which is said to provide long-lasting quietness. Its closer shoulder design is claimed to simultaneously reduce tyre wear and noise on the move. To further improve refinement, the tyre is designed with an active vibration dampening carcass – a stiff base under the tread and an absorbing rubber gum strip serving to minimize the effects of road irregularities.
Beyond refinement, the EfficientGrip also aims to deliver in wet performance and fuel economy. According to Goodyear, tests by TUV saw the EfficientGrip outperforming a leading competitor in wet-braking by 1.7m – a useful attribute in Malaysian climate. Contributing to fuel economy is the silica blend compound which reduces rolling resistance of the tyre.
We had the opportunity to briefly try out the new EfficientGrip tyres in the roads of Cyberjaya yesterday. The route's short duration and the fact that the tyres were barely scrubbed in makes most impressions gleaned inconclusive, but the part about quietness seemed to be a genuine claim.
In the convoy, we found ourselves in a Honda Accord 2.4 VTi-L test car – the very same demo car assigned to us for review last June. The Accord's overall dynamics did not appear affected in any noticeable way, although there was one moment that I felt the steering to be unpleasantly lighter than my recollection. What was definitely noticeable was the absence of tyre roar – the car as a whole, was quieter than my recollection of it.
The Eagle EfficientGrip tyres are fully imported from Goodyear's plants in Germany and China. The Malaysia plant does not yet have the ability to handle the silica blend compound used by this tyre at the moment. A total of 21 sizes are available at launch, diameter spanning 15 to 18 inches, and prices start at RM400.