Last roll out of E90 BMW 3 Series from Kulim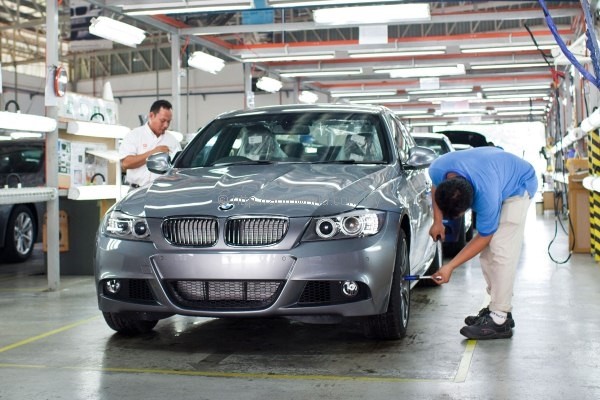 BMW Group Malaysia has rolled out the E90 3 Series for the last time from its assembly line at Inokom's plant in Kulim, Kedah. The occasion was marked by a small ceremony held at the plant's premises to celebrate the completion of 8,930 units of the E90 assembled locally in Malaysia.
Since its Malaysian launch in 2006, BMW Group Malaysia has managed to sell 10,743 units of the E90 3 Series. Local assembly of the 3 Series was initially undertaken at the Associated Motor Industries (AMI) plant in Shah Alam before being moved to Inokom's facility in June 2008.
"The BMW 3 Series created tremendous opportunities for us here in Kedah, both through the introduction of advanced new technologies as well as the creation of over 400 skilled and professional job opportunities for Malaysians" said Encik Mohd Rizal Jailan, Plant Manager of Inokom Corporation Sdn Bhd.
Five generations of the 3 Series has yielded 12 million sales for BMW worldwide, and the model line is generally considered by enthusiasts as the best compact sports sedan in the business. The E90's retirement paves the way for the arrival of its successor – the sixth generation F30 3 Series – which is due for launch within the next couple of months.
"Since its inception in 1975, the BMW 3 Series has become an icon for entire generations of car enthusiasts. The Fifth Generation BMW 3 Series was no exception, and in many ways defined what it was to be a BMW in the 21st century." said Mr. Geoffrey Briscoe, Managing Director of BMW Group Malaysia.
"While we are sad to see the end of production to one of the most remarkable automobiles ever made, we are proud of the achievements of the Fifth Generation BMW 3 Series and look forward to incorporate all the lessons from its remarkable journey into the soon to be introduced, Sixth Generation Model – the New BMW 3 Series." said Briscoe.
Pictures: Official BMW Group Malaysia release.
See also:
– BMW vehicles prices and specifications in Malaysia
– List of BMW Group Malaysia official dealers and branches
– Global debut for BMW F30 3 Series