Proton Exora refreshed with new variants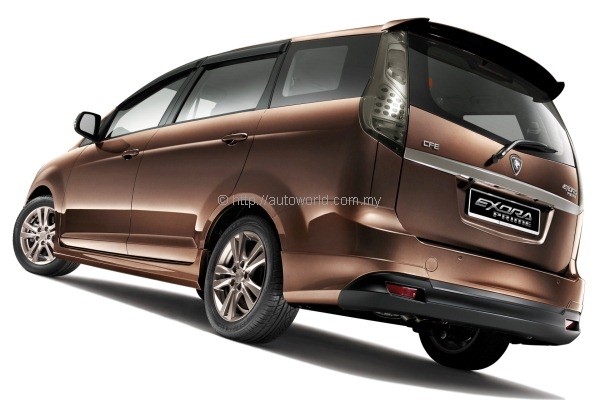 After much online fanfare, speculation and spyshots, Proton has finally taken the veils off its turbochaged Campro engine, now powering two new variants of its Exora MPV. The new Campro CFE engine, which stands for Charged Fuel Efficiency, is mated exclusively to a Continuously Variable Transmission and is claimed by Proton to offer comparable performance to a 2.0-litre engine.
The CFE engine's introduction coincides with a reshuffling of the Exora line-up which now consists of five models. The 125hp / 150Nm CPS engine continues service in the lower-specced variants. The entry-level Standard model is priced at RM59,998 with manual transmission only. Moving up, we have the Exora Bold offered in Executive or Premium trim. The Executive-spec models get the CPS engine with the further option to choose between manual (RM70,998) and automatic transmission (RM74,998).
For the newer CFE engine meanwhile, buyers can choose between the Exora Bold Premium at RM79,998 and the Exora Prime at RM88,998. On the more expensive Exora Prime, exterior upgrades include an all-new front and rear bumpers, electric-folding door mirrors, rear disc brakes, smoked head and tail lamps, 16" inch gold-finished alloys, and rear garnish finishing. Its interior features leather trim, and walnut dashboard finish. Passengers in the second row have two captain's chairs complemented by head-rest monitors. The audio system incorporates GPS navigation and reverse camera.
The Exora Bold Premium also comes with a similarly generous kit count, being equipped with electric-folding side mirrors, rear discs, and 16″ alloys. Its interior is features a dual-tone leather finish, and it comes also with reverse camera, but with its monitor incorporated into its rear view mirror, similar to what's being offered by Kia in the Forte and Sportage.
The Exora Bold Premium and Exora Prime models will only be available for registration by the second week of January 2012. The former is nevertheless available for test drives at Proton showrooms, and all Proton sales outlets nationwide will be organizing a Proton 4 U Day on 16-18 December, with door gifts being offered to those who test drive the Exora. The Exora Prime however, will not beavailable for test drive and can only be viewed at the Crystal Showroom, Juru Branch, Plentong Branch and Mutiara Damansara.
Pictures: Official Proton release.