Product Review – Bosch Disc Brakes and Pads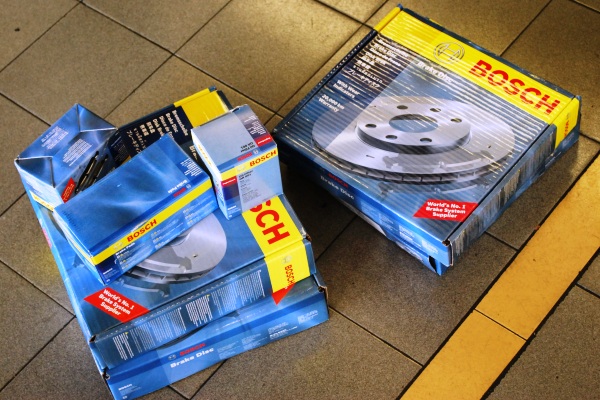 Along with a sizable portfolio of products, Bosch is one of the world's leading manufacturers of disc brakes, with some 20 million discs produced yearly in plants at Germany, US, China, Australia, and Brazil. Amongst Asian brands alone, Bosch has some 600 part numbers catering to the likes of Toyota, Honda, Nissan, Proton, and Perodua.
The company has recently launched a new brake disc programme for Asia Pacific countries with products usable by cars from 30 different makes across the region. In addition to being an OEM supplier, Bosch is also making its parts available for the mass market consumer as OEM replacement parts. We recently got hold of a full set of disc brakes with pads from them for review.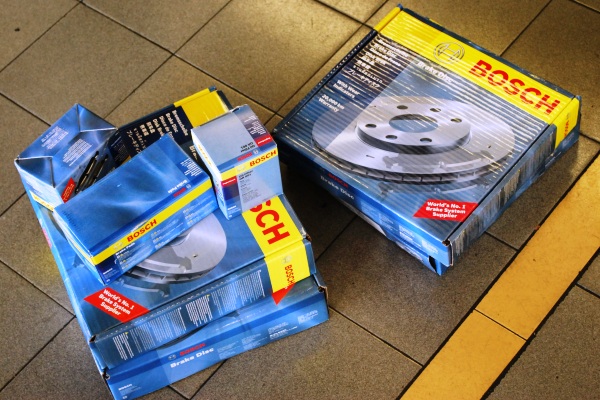 Product Features
The headline feature of Bosch's disc brakes is most certainly the trio of wear indicators placed 120 degrees from each other on the rotor's surface. It may only appear as a simple groove, but the idea is that once those three little grooves disappear, your rotor has been worn to the level of its minimum thickness. With this feature, the user can tell from a glancing inspection that a rotor change is due.
Bosch disc rotors are made of cast iron, and their machined finish certainly lends a very upmarket appearance. Four material grades, measured based on hardness, are available, namely GG15, GG20, GG25, and GG30. Many of these cast iron grades are alloyed with components such as molybdenum, copper, chrome, and titanium. For durability, the discs are lined with a coating of anti-rust and are backed with a 20,000km warranty.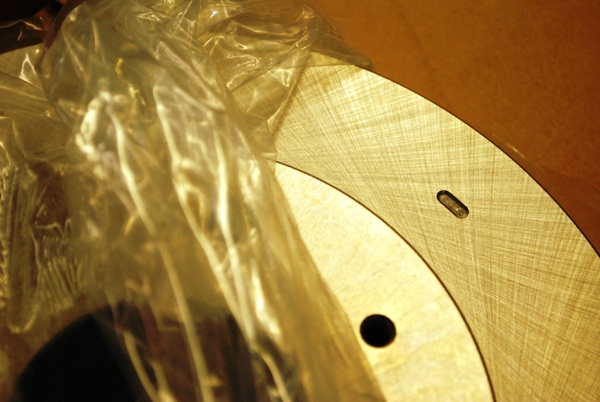 In making the pads, Bosch had a pool of some 150 different material formulations to choose from in creating them. For the Asian market, three qualities, namely performance, comfort (noise control), and cost, had to be balanced against each other. Extreme conditions taken into account when creating the pads included high speed driving and heavy downpours. Backing plates of the pads are powder-coated for corrosion protection, and materials used for the pads themselves are asbestos free in their formulation. Surface of the pads are lined with chamfers and slots for noise reduction.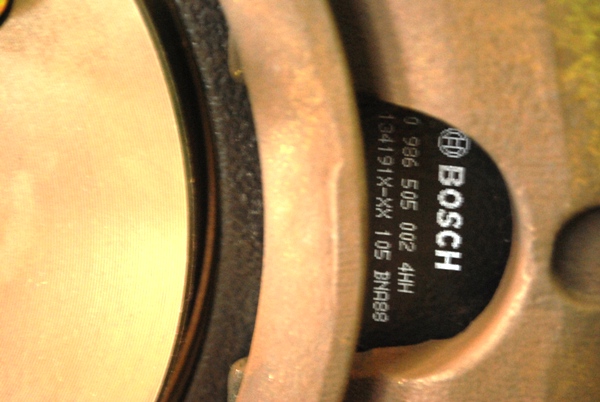 The Test Car
Recipient of the set of discs and pads from Bosch is a Proton Waja of the 2007 vintage. In its four years of service, the car has clocked 90,000km and was still using its original set of discs. Its front pads were last swapped in Nov 2010 with 75,000 km on the odo, whilst its rear pads have been in service since June 2008 with the car at its 35,000km mark at the time.
The new pads were installed at the Bosch Service Centre in Glenmarie. At the workshop, we discovered that the car's original front discs have reached minimum thickness and required replacement. The rear discs are still usable, but the four sets of pads were also near the end of their service lives.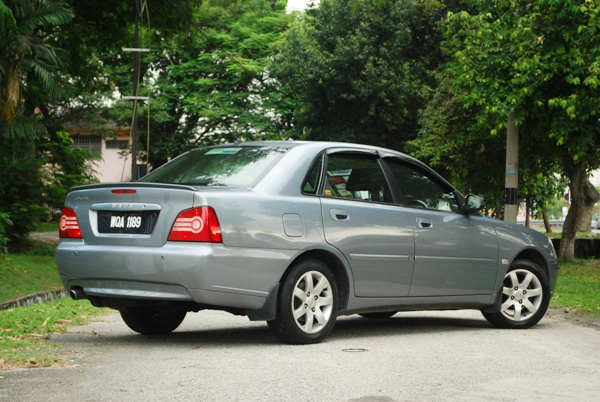 Retail prices for the discs and pads installed are as follows (may vary for different make and model of cars):
– Front disc rotor (ventilated): RM110/piece
– Rear disc rotor (solid): RM100/piece
– Front pads: RM70/set
– Rear pads: RM60/set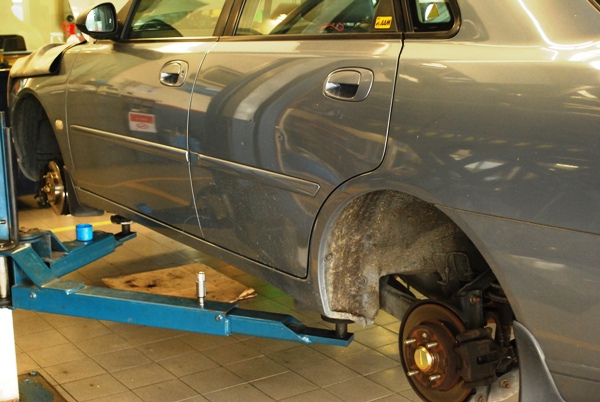 Performance
Unsurprisingly, the new set of brakes stop noticeably harder than the original set, especially since the previous set of pads were being almost worn out. I never had problems with them, as my preference is to brake gently and progressively rather than stomp on the pedal. The new discs did not rob the Waja of its pleasantly progressive braking response.
Since installation, the new brakes have clocked 5,000km in the Waja. The brakes do their job with minimum fuss, and have yet to give any problems.The pads are pleasantly free of this nuisance which we call brake dust. Previously, the front rims, which take about 70% of total braking force,would have been completely covered in a layer of brake dust within three days of a car wash. Currently, the level of dust accumulated on the rims, even two weeks after a wash, are minimal if at all.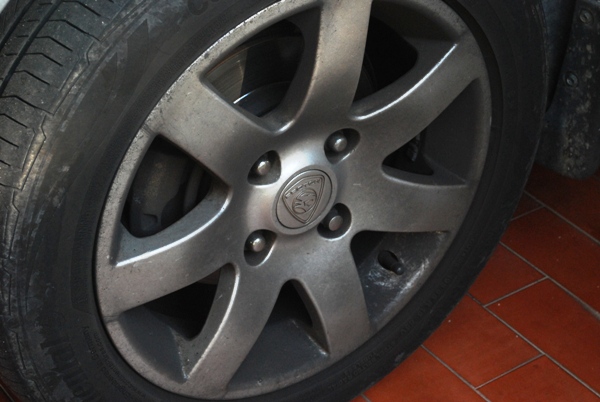 Brake dust used to be a huge problem with this car.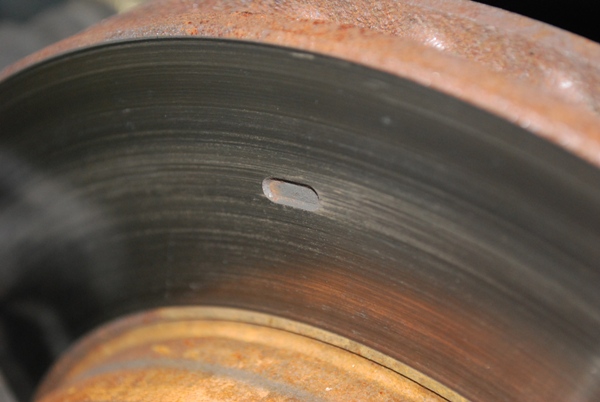 Wear indicators on the front left rotor after 5,000km of use.
Verdict
While not offering significant gains in performance over the OEM brakes, the Bosch disc brakes and pads remain as recommended purchases. The wear indicator remains a pretty novel and useful feature, and the lack of brake dust will be a very welcomed virtue for those particular about cleanliness of their vehicles. The complete set of discs and pads installed in the Waja here adds up to a sum of RM680 excluding labour charges, which will naturally vary from place to place.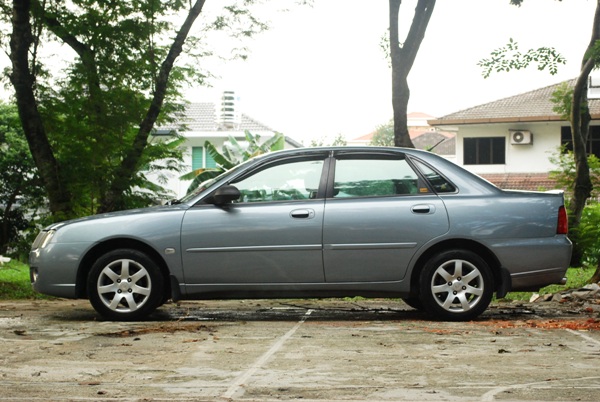 KON