Volkswagen CKD models set for 2012 launch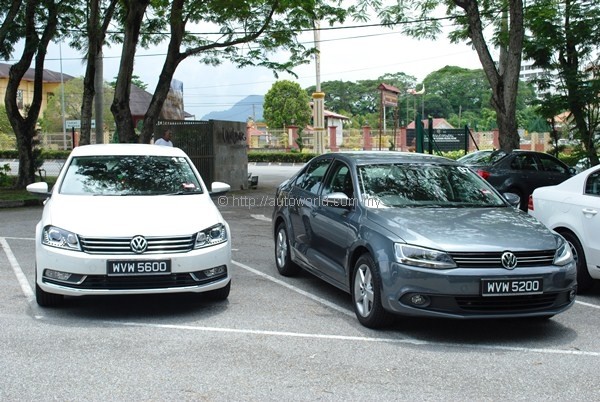 Volkswagen's eagerly-anticipated CKD operations in Malaysia are proceeding right on track, with market launch slated for 2012. The DRB-Hicom Automotive Complex in Pekan is currently in its pre-production phase having assembled 70 units of the Passat 1.8 for internal use.
After failed discussions with Proton some years back, Volkswagen AG began talks with the DRB-Hicom Group and appointed DRB-Hicom Auto Solutions Sdn Bhd as the official importer of Volkswagen cars into Malaysia. The two parties signed an agreement for local assembly in December 2010.
A Regional Sourcing Office (RSO) has since been setup to support the local assembly operations and provide business opportunities for automotive suppliers in the region. Yesterday, some 300 ASEAN-based automotive suppliers were hosted by the RSO in a Suppliers' Day held at Kuantan. Present at the event were Government officials, present and potential suppliers, as well as officials from both DRB-Hicom and Volkswagen AG.
The Suppliers' Day event was held to share information with the suppliers on the upcoming Volkswagen local assembly operations in Malaysia and for them to better understand Volkswagen processes such as supplier management, logistics, quality assurance and engineering.
It was announced earlier this week by DRB-Hicom Group Managing Director Dato Sri Mohd Khamil Jamil that production roll-out of the Passat was to have commenced in Pekan on 23 November 2011. In a statement released by Volkswagen Group Malaysia (VGM), it was said that VGM is currently assessing its strategies for introduction and pricing of the vehicle, and further announcements will be made at appropriate times.
"DRB-Hicom is the assembler of Volkswagen CKD products in Malaysia. Volkswagen Group Malaysia, a subsidiary of the Volkswagen Group in Germany, is responsible for the market introductions of all Volkswagen products, both CKD and CBU, into the Malaysian market," said Mr. Ricky Tay, Managing Director, Volkswagen Group Malaysia.
In fact, VGM had just recently launched the Passat 1.8 TSI for the Malaysian market along with the Jetta 1.4 TSI and CrossTouran 1.4 TSI. Although the Passat and Jetta have been confirmed for local assembly by DRB-Hicom, it should be noted that units of both models currently on sale are fully imported. It has not been made clear to us if imported units of the Passat and Jetta will remain on sale once locally-assembled versions hit the market.