Home
Motorsports
Super Michelin Pilot Experience 2011 thrills 280 in Sepang
Super Michelin Pilot Experience 2011 thrills 280 in Sepang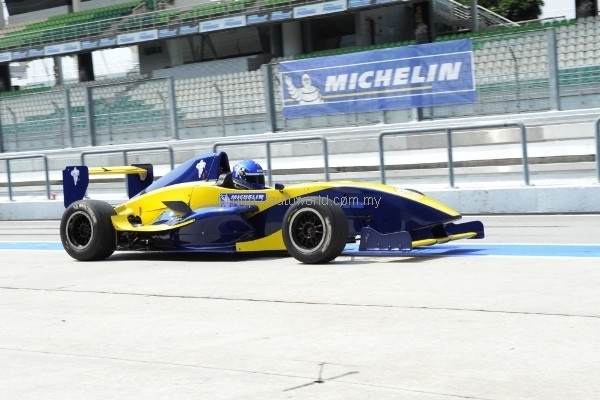 Michelin's annual motorsports experience day, this year dubbed the Super Michelin Pilot Experience (MPE), has recently completed its 2011 edition, with 280 customers, tyre dealers, Michelin partners and journalists from ten countries across Asia Pacific invited to have a go at various track activities at the Sepang International Circuit.
Amongst the 280 was the Michelin 'Fill Up With Air' (FUWA) campaign winner Harriezan Ahmad, and his once-in-a-lifetime experiences on the day included an opportunity to drive a Formula Michelin single seater race car, and various other activities coordinated by the Michelin Motorsports team. Participants also experienced a rugged rally style drive in Citroen C2 Rally cars.
"This is definitely a rewarding and rare experience for me as I am sure I would not get an opportunity to steer and touch the pedal of a track race car like this again – The experience of handling a race car definitely feels far more exciting than what I could get from simply watching it on TV. I was amazed with the actual force and exhilaration I felt during the drive," Harriezan said.
The thrills continued with laps behind the wheels of Renault Clio Cup cars equipped with a sequential gear box, racing simulations, a Go-Kart race and the experience of being a pit crew member in the intensive 'Pit Stop Challenge'. Participants were also had the opportunity to ride shotgun with Michelin's professional drivers in a Formula 2-seater and the Porsche GT3 Cup, feeling the full force of a racing experience.
"Backed by decades of race track experience in the world of motor sports, our leading-edge technical skills and exceptional performance is testament to the superiority of our high performance tyres which have kept us ahead of the game," said Michelin Malaysia Sdn Bhd Managing Director, Yves Pouliquen.
"The MPE gives us the opportunity to showcase and share our latest technologies and innovations with consumers through a medley of exhilarating and adrenaline-pumping track activities. Some of these activities like the driving the Formula Michelin single seater – is a truly once-in-a-lifetime experience," he added.
Pictures: Official Michelin release.