Mitsubishi i-MiEV demo unit registered by MMM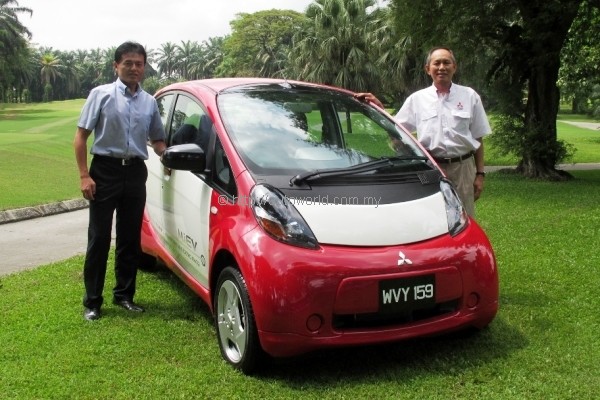 Mitsubishi Motors Malaysia (MMM) has announced the registration of the first fully electric vehicle for Malaysian roads. One registered unit of the Mitsubishi i-MiEV, with number plate WVY 159, was unveiled last week, and it will serve as the centrepiece to a suite of activities to promote awareness on electric vehicles.
"Soon, Malaysians will get to know more about the innovative technology behind the i-MiEV, and experience for themselves the benefits of an electric vehicle, as test drives will be available for the first i-MiEV in Malaysia," said Tetsuya Oda, Chief Executive Officer of Mitsubishi Motors Malaysia.
The i-MiEV is powered by a 66hp / 180Nm electric motor rechargeable from your regular home socket. Top speed is rated at 130 kph, and after a full 8 hour charge, its estimate range is up to 160km depending on driving conditions. Its power source is a 330V mounted under the floor deck. The motor is placed under the luggage compartment.
While Malaysia only gets a sole demo unit, Mitsubishi Motors have been delivering units of the i-MiEV to government and local authority users in Japan since July 2009. Sales to private customers started in April 2010, and since then, it has found homes in 4,000 Japanese households with a further 10,000 units exported to 19 countries in Europe, Hong Kong, Australia, New Zealand, and Chile.
The i-MiEV was previewed to Malaysian journalists a couple of years back, but the public got a look at the car in a special showcase held at One Utama from the 19 – 23 October. Visitors to the showcase had an opportunity to ride on the i-MiEV and were also treated to fun activities prepared for the whole family.
Pictures: Official MMM release.