Lotus reveals new Exige and return to rally at Frankfurt
Last week, Lotus teased us with news of three new cars making their debuts at the IAA Frankfurt Motor Show. They told us that one of them would be the supercharged Elise S with 217hp delivered from a torquey 1.8-litre supercharged engine. Among the other two, it was hinted that one would be 'one of the quickest road cars Lotus has ever built' and the other marks Lotus' return to a specific discipline of motorsports.
It was revealed on the IAA press day that the 'quickest Lotus road car' refers to new generation Exige S, which has the same Toyota-sourced 3.5-litre supercharged V6 engine from the Evora S feeding it with 345hp and 400Nm. There is a driver electronics pack (Lotus DPM – Dynamic Performance Management) that allows the driver to switch between three modes – Touring, Sport, and Off. An optional Race Pack adds a fourth setting to that list – Race – which features Launch Control and track-optimized suspension settings.
Commenting on the Exige S, Group Lotus Chief Executive Officer Dany Bahar said, "Anyone who has ever driven an Exige will tell you that it's not for the faint-hearted. The new Exige S skips a few rungs on the ladder to give the driver the ultimate Lotus experience. Quite simply you can't get more Lotus than the Exige S."
Meanwhile, the motorsport discipline that Lotus is returning to is none other than rallying, and the car tasked to spearhead that return will be the Exige R-GT, which is developed in parallel with the road-going Exige. The Exige R-GT will participate in the newly formed FIA GT category of the FIA Rally Championship on asphalt in Monte Carlo, Tour de Corse and San Remo.It is powered by the same 3.5 V6 as the Exige S, but the use of 34mm air restrictors required by category regulations means that output is limited to 302hp.
For Group Lotus' Director of Motorsport Claudio Berro, the return to rally has an extra special meaning, "My motorsport career started in rally, in fact, I even took part in the Talbot Sunbeam Lotus' Italian Rally championship winning a race in San Marino back in 1981 so this is a very nostalgic moment for me.  As we unveiled the car in Frankfurt, alongside the original championship winning car, I had the chance to get back inside and the smell was exactly the same – it brought back many happy memories for me."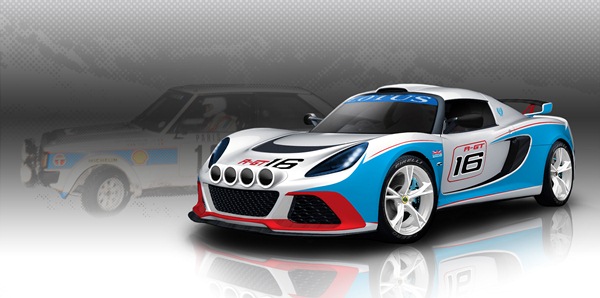 KON
Pictures: Official Lotus release.

See also:
– Lotus rocks Paris with five stunners
– World Premiere of the new Lotus Evora GTE Road Car Concept
– Lotus to showcase six in Frankfurt – 3 new cars, 2 new options & 1 special edition