Your chance to win half a mil by pumping Shell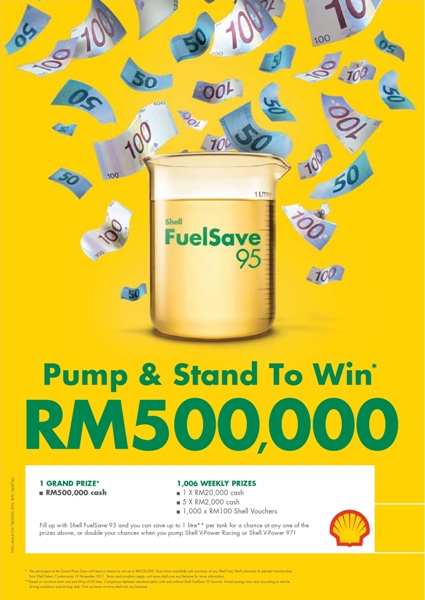 From now to 15 November 2011, patrons of Shell fuel stations will be in the running to win generous weekly cash prizes – over 1,000 winners will be pocketing extra money each week.
The weekly grand prize winner takes home RM20,000 cash, followed by RM2,000 for the next five winners. Consolation prizes worth RM100 will be given to 1,000 winners each week. At the end of the contest period, the ten weekly grand prize winners stand a chance to pocket the big RM500,000 grand prize.
To stand a chance to become a weekly winner, motorists would need to:
1.  Pump a minimum of RM30 of any Shell fuel, lubricants or Shell Select items
2.  Fill up a contest form and answer a simple question at the back of the form;
3.  Drop the contest form in the contest box at any of our Shell stations nationwide, with the purchase receipt attached.
To promote the contest, Shell will be sending its roving teams to the streets to engage Malaysian motorists and offer some fuel saving tips in the process. On 15 October 2011, Shell Malaysia will also be organizing the first ever Shell FuelSave Day at 1 Utama, which will be the largest ever fuel efficiency training held simultaneously in 10 countries across Asia and Europe.