BHPetrol Infiniti Fever Frenzy II concludes after fourth Inspira won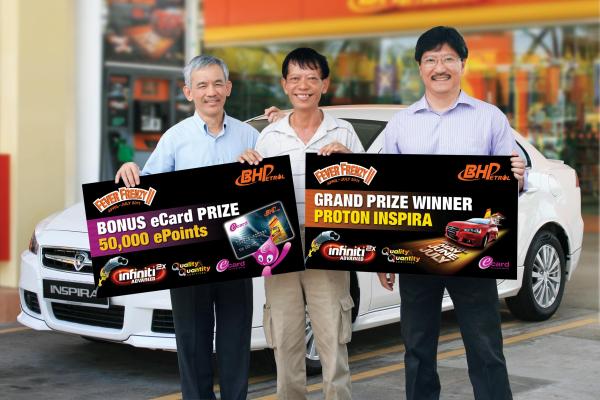 BHPetrol's four-month long Infiniti Fever Frenzy II contest has come to its conclusion with Mr Yong Siew Loon of Seremban grabbing the last Proton Inspira 2.0P grand prize in the July Grand Finale. Yong was joined by a host of other winners who took home cash prizes, iPad2s, LED TVs, and BHPetrol ePoints.
"When BHPetrol called to tell me I won I did not believe it. I thought it was a scam but when I realised it was genuine, I was so happy. For me BHPetrol Infiniti Advanced2X is tops for savings and economy. I will go the extra mile to pump Infiniti and I still get the best petrol savings," said Mr Yong.
"We at BHPetrol would like to thank all our loyal customers who made the Contest a great success. We know you loved it and we will be back soon to give you more. The Contest was an opportunity for everyone to try out our BHPetrol Infiniti Advanced2X 95 and 97. BHPetrol Infiniti Advanced2X 95 and 97 offers unparalleled performance with our Advanced Double Strength formula as the new fuels are treated with Advanced Additive Compound (AAC) from Germany at the recommended maximum treat rate to give Malaysians the ultimate in fuel savings and power and at no extra cost to users," said BHPetrol's Managing Director, Mr. Tan Kim Thiam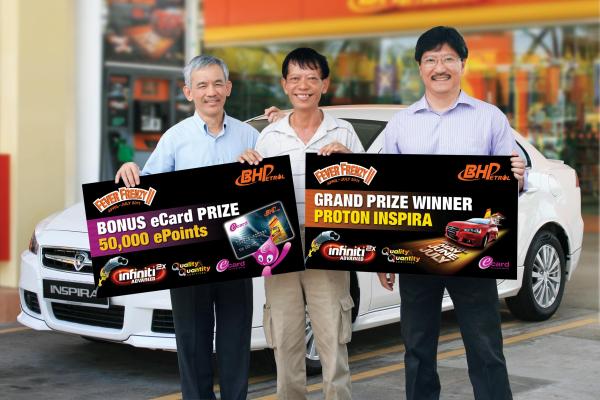 KON
Picture: Official BHPetrol release.
See also:
– BHPetrol trumpets dual benefits of Infiniti Advanced2X 95 and 97 fuels
– BHPetrol launches Infiniti Fever Frenzy II contest
– BHPetrol Infiniti Fever Frenzy II contest – first of four Inspiras won
– School teacher wins second Inspira of BHPetrol Infiniti Fever Frenzy II contest