Rolls-Royce Kuala Lumpur showroom officially launched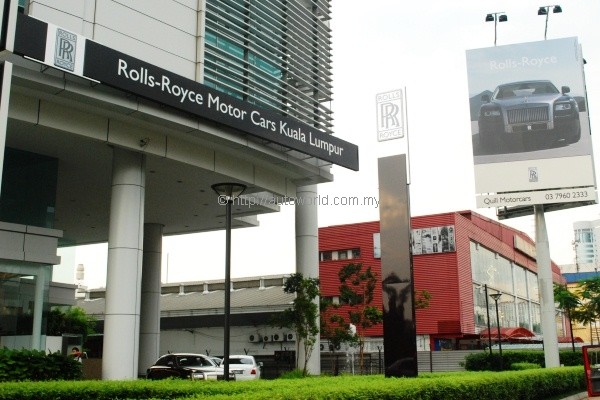 Quill Motorcars, appointed official distributor of Rolls-Royce cars in Malaysia, has officially launched the Rolls-Royce Kuala Lumpur showroom today. Despite its name however, the RRKL premises is actually located at Section 14, Petaling Jaya in the Quill 9 building, headquarters of the Quill Group.
The showroom has actually been in operation for over a year now, and judging from its order books, it would seem that there are no shortage of rich people in our country. Without divulging specific figures, representatives of RRKL indicated that they have racked up sales in double-figures – a remarkable achievement for cars that start at prices of premium real estate.
At the official opening ceremony, Rolls-Royce Motor Cars Asia Pacific Regional Director Paul Harris said, "We continue to invest in a Malaysian market buoyed by the country's economic growth and growing appetite for super-luxury cars. Our presence signals our commitment to providing service support for current and future customers, many of whom are new to the brand."
Situated next to Quill's BMW dealership, the showroom has 224 square metres of floor space, big enough to park three Rolls-Royce display vehicles. Befitting its status as a bespoke carmaker, there is a lounge that allows customers to configure their car using colour, wood and leather samples from RR's plant in Goodwood, West Sussex.
Managing Director of Rolls-Royce Motor Cars Kuala Lumpur Dato' Michael Ong said, "Today marks a milestone as Quill Motorcars embarks on its quest to build the Rolls-Royce business in Malaysia. From our Phantom and Ghost demonstrators to our ability to help customers create highly bespoke cars, Quill Motorcars is ready to ensure that Rolls-Royce customers have nothing less than a highly positive ownership experience. Our authorized workshop, which is fully supported by the Rolls-Royce factory, is also equipped with the latest technology to service Rolls-Royce cars."
As a bespoke carmaker, the usual rules that apply to other makers don't exactly pose a problem to Rolls-Royce. Although the facility in Petaling Jaya will be all there is to support Rolls-Royce owners nationwide, the small number of cars and the fact that these owners all paid kings' ransoms worth of money means that over the top ways can be utilized to serve their needs. If your ultra-rich uncle in Sandakan needs his Ghost fixed or serviced, RRKL will fly its team of technicians and equipment there to do the job.
In fact, since commencing operations, RRKL has extended its services to existing Rolls-Royce owners in Malaysia. While Rolls-Royce owners who bought their cars through private import channels will not enjoy identical benefits as those who buy through RRKL, the dealership intends to ensure that all Rolls-Royce owners receive their proper support, which is backed by the factory.