Perodua Eco-Challenge 2011 teams provide mid-term reports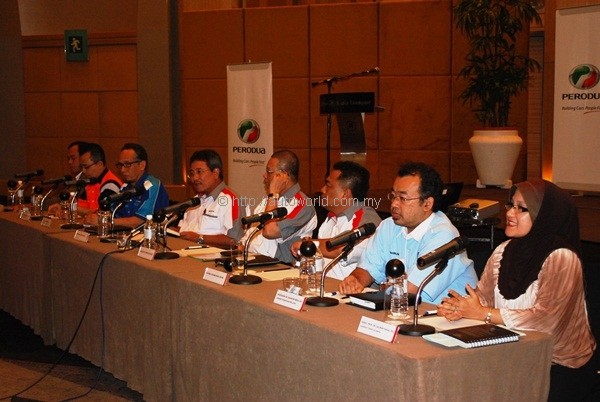 With the flag-off date for its third Eco-Challenge competition fast approaching, Perodua has called a press conference earlier today with representatives of selected participating teams invited to present a quick progress report of their respective teams. Thanks to support from the Malacca state government, the Perodua Eco-Challenge 2011 will be held at the Melaka International Motorsports Circuit (MIMC) for the second year running.
A total of fourteen teams will line-up at the starting grid on 25 June later this year, with members of the Perodua R&D team themselves submitting an entry. The Perodua R&D team, will however, be competing on a friendly basis, and will be ineligible for the cash prizes on offer even if they win. Neither will Universiti Teknikal Malaysia Melaka (UTEM), who are competing as a guest team.
For the remaining teams, the grand prize on offer for the team that goes the furthest distance on half a litre of Petronas Primax 95 petrol is RM20,000, up from RM15,000 previously. Second and third-placed teams get RM10,000 and RM5,000 respectively, while fourth, fifth and sixth-placed finishers get RM1,000 each. Additionally, there are cash prizes of RM15,000 for Best Engineering, and RM5,000 for Best Design & Participation.
Perodua has raised the bar for this year's edition, by providing only an engine and transmission each to the competing teams. Teams of previous years receive a whole car – a Myvi in 2009 and a Viva in 2010. As such, the participating teams are also required to design, construct, and test their own chassis and body panels for their cars. To account for the increased workload, Perodua has increased their development grant from RM10,000 per team in previous years to RM17,500 per team this year. Teams are allowed to engage in fund raising activities to beef up their coffers if necessary.
To further guide the students in their efforts, Perodua representatives, led by project chairman En Alias Abu Hassan and R&D technical advisor En Hasrol Hashim, have been paying periodic visits to each of the participating teams to provide valuable advice and aid in their progress. In addition, the visits also allowed Perodua to ensure that the participating are complying with all required rules and regulations.
With a wider brief to fulfill, there is naturally a bigger room for students to exploit their creativity, and if the presentations are any indication, this year's Eco-Challenge will see the exhibition of some interesting ideas and methodologies not witnessed before. Universiti Tenaga Nasional (UNITEN), last year's champion in the manual transmission category, sought to involve as many students as possible by holding internal challenges before ultimately selecting their final team to be fielded.
Universiti Kebangsaan Malaysia (UKM), a returning entry from 2009, has come up with a chassis design that utilizes a mid-rear engine rear-wheel drive layout for reasons of weight distribution. While the positive affects such a setup has on handling is well-known, how they thought it would assist in improving the car's fuel consumption was not made clear. Must be the work of petrolheads residing in the team.
Setting the benchmark for the students to look up to would be the entry from Perodua's own R&D department. Backed by know-how acquired in their day-to-day work, the R&D team's car features double-wishbone suspension and disc brakes all-round, with a 60% rear weight bias. The day that a Perodua car hits the market with such specifications would prove most interesting.
Construction of the vehicle's chassis and body panels are all-aluminium, which according to Perodua Managing Director Datuk Aminar Rashid Salleh, foreshadows Perodua's current engine development blueprint. As displayed in the Kuala Lumpur International Motor Show 2010, Perodua's next generation of engines will feature all-aluminium construction, with turbocharging and direct injection part of their technological arsenal.
In the present, meanwhile, the fourteen participating teams are making their final preparations for their final showdown at the MIMC track next month. Other teams participating in the challenge include Politeknik Port Dickson, Universiti Teknologi Malaysia (UTM), Universiti Kuala Lumpur Malaysia Spanish Institute, Politeknik Sultan Azlan Shah, Universiti Malaysia Pahang, Universiti Sains Malaysia (USM), Universiti Teknologi MARA (UiTM), Universiti Teknologi Petronas (UTP), Universiti Industri Selangor (UNISEL), and Politeknik Ungku Omar.