BHPetrol Infiniti Fever Frenzy II contest – first of four Inspiras won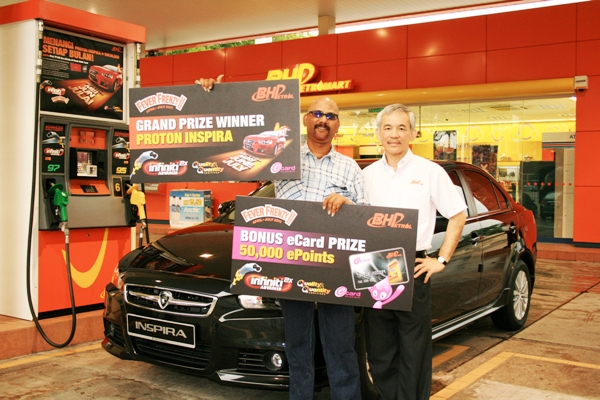 BHPetrol's Infiniti Fever Frenzy II contest, which started on 1 April earlier this year, has produced its first winner with 45-year-old Mr N. Veenaigmoorthy a/l Narasaman driving home the first of four Proton Inspira grand prizes to be won till 31 July 2011. Thirty other customers also had reasons to smile having pocketed a RM1,000 cash prize each.
Mr Veenaigmoorthy has been a regular user of BHPetrol's fuel, and has been consistently pumping Infiniti Advanced2X 95 since the contest started, submitting more than 20 entries during the month. In addition to the brand new car, Mr Veenaigmoorthy has also added 50,000 ePoints to his BHPetrol ecard account.
More prizes are in store, as according to BHPetrol's Managing Director, Mr. Tan Kim Thiam, "Not only are three Proton Inspiras and RM90,000 cash up for grabs but in the July Grand Finale we will be giving out ten Apple iPad2, five 40 inch LED television sets and ten 500,000 BHPetrol ePoints. What's even better is all entries submitted from the first month will be eligible to win in remaining three months. So the more you spend, the better your chance of winning."
All entry forms must be submitted via contest drop boxes at participating BHPetrol service stations nationwide. Eligible participants can submit as many valid entries within the contest period but are entitled to win only one prize. All winners who are members of BHPetrol's ecard loyalty programme will also win 50,000 ePoints.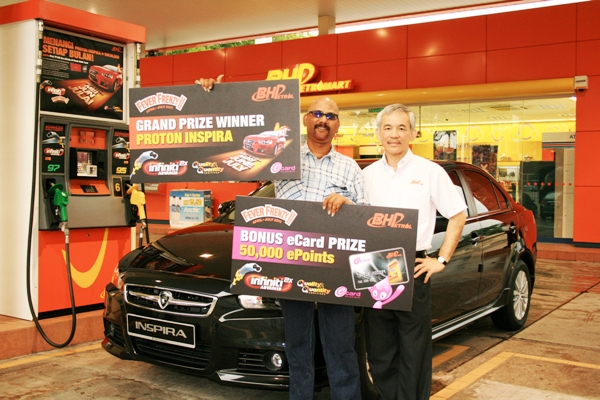 KON
Picture: Official BHPetrol release.
See also:
– BHPetrol trumpets dual benefits of Infiniti Advanced2X 95 and 97 fuels
– BHPetrol launches Infiniti Fever Frenzy II contest