UMW Toyota Motor adjusts production due to Japan quake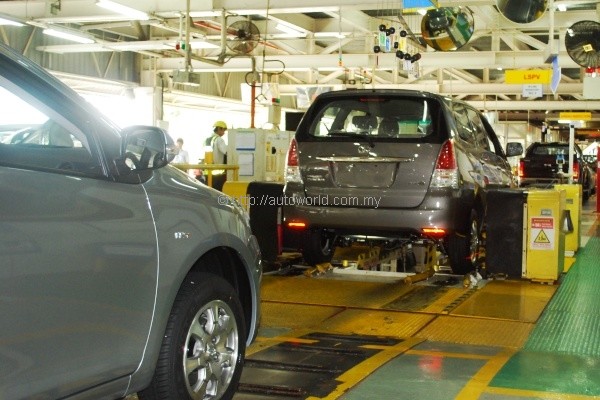 Effects of the 11 March Sendai earthquake continue to reverberate across the globe. The Japanese have great involvement in many industries, notably automotive, and most companies have supply chains that, one way or another, can trace their ways to the Land of the Rising Sun.
The modern automobile comprises of many thousands of parts, and the fact is disruption of supply to even one screw has the effect holding up the entire production line. You can't sell your Toyota Vios with say, one headlight short. Every component has to be present, or the car is deemed incomplete.
Most auto manufacturers have their stocks and supply of parts buffered for a number of months to handle short term disruptions, but in the case of Japan's recent quake, many suppliers had to be shut down for periods longer than expected to facilitate damage assessment and repairs. Buffers in certain companies are presumably running low, and adjustments in production rates will have to be made to accommodate the situation.
UMW Toyota Motor today announced such adjustments in their production schedule from 25 April to 3 June 2011. In addition to the implemented cuts in overtime, the company's factory in Shah Alam will be moving to a 1-shift operation during the specified period. A production plan from 6th June will be made in line with the recovery of parts supply.
Toyota's model line-up in Malaysia consists of a mix between CKD and CBU models. Locally assembled models in the current line-up are the Vios and also the IMV models – Innova, Fortuner, and Hilux 2.5. The Hilux 3.0 is fully imported from Thailand, while the Avanza is manufactured by Perodua's factory in Rawang.
"UMW Toyota Motor regrets for any inconvenience caused especially to our customers. We are closely monitoring on the parts supply situation in Japan and will provide any updates or information in a timely manner. We sincerely hope for the quickest possible recovery and appreciate our customers and business partners understanding during these difficult times" said En. Ismet Suki, President of UMW Toyota Motor.