Porsche rolls in 911 Carrera GTS at new Bukit Bintang showroom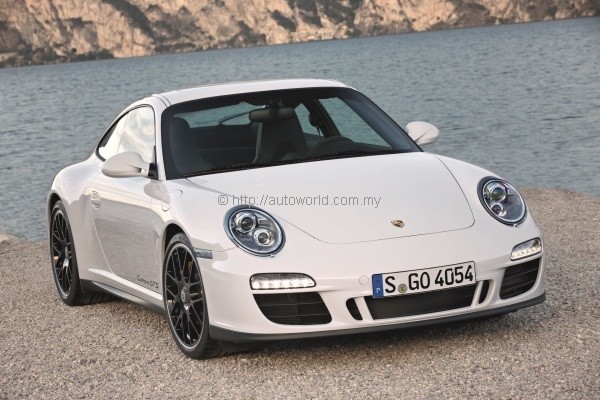 The recent aggressive growth of Porsche's brand presence in Malaysia continues apace with Sime Darby Auto Performance's launch of its new flagship Porsche Centre Bukit Bintang (PCBB) along Jalan Bukit Bintang over the weekend. Situated near key landmarks such as Audi Kuala Lumpur and the Pavilion shopping complex, PCBB occupies the former premises of the Auto Bavaria Bukit Bintang BMW dealership.
Refurbishment of the vacant showroom began in November 2010, and the final bill added up to a cool RM 3 million for SDAP. What they got from that money is a Porsche Centre that fully conforms to Porsche's corporate identity and over 1,000m2 (nearly 11,000 square feet) of floor space spread over two floors.
The ground floor has 545m2 (5,866 sq ft) set aside to display new cars while the upper floor has 456m2 (4,908 sq ft) allocated for Porsche Pre-Owned vehicles. Opening of the Porsche Pre-Owned Centre has paved the way for SDAP to officially launch the Porsche Pre-Owned Car programme, which accepts trade-in of Porsche vehicles and then sold with a two year warranty after being put through a stringent refurbishment programme.
Three months down the road, a state-of-the-art After Sales diagnostic centre will be developed in the adjoining building. Linked to the main showroom by a gallery, this satellite centre will feature three hoists for diagnostic work as well as a car detailing and car wash facility. As a gesture of appreciation for the legions of Porsche owners in Malaysia, an office space is also provided to Porsche Club Malaysia to be used for various gatherings.
At PCBB's grand opening, SDAP also unveiled the 911 Carrera GTS for the Malaysian market. Retailing at RM900,000 before registration and insurance, the 911 Carrera GTS sits right on top of the 911 Carrera range, but just below the 911 GT3 RS and 911 Turbo. It is powered by a 3.8-litre direct injected flat-six that sends drive to the rear wheels through Porsche's 7-speed PDK dual-clutch transmission.
The engine has a high red line of 7,500rpm, and it isn't until 7,300rpm that it shows its full hand of 408hp. Full torque of 420Nm is produced from 4,200 to 5,600rpm, but from 1,500rpm onwards, the driver already has no less than 320Nm available on tap.
A unique feature of the 911 Carrera GTS is that it uses the Carrera 4 AWD's wide body to house a rear-wheel drive layout. Its 19″ RS Spyder centre-mount alloys are placed on wider rear tracks for improved stability over the standard RWD Carreras. The 911 Carrera GTS coupe comes with rear seats omitted for weight saving reasons, but you can have them reinstated as a no-cost option.
In addition to the 911 Carrera GTS, SDAP's order books are also open for the 918 Spyder, scheduled for arrival on 2013. Malaysia's official allocation of units is in the region of 10-14 units. Estimated price of the 918 Spyder is around RM 3 million before registration, road tax, and insurance.
Pictures: Official Porsche release.