Shell launches new Shell Advance 4T motorcycle oils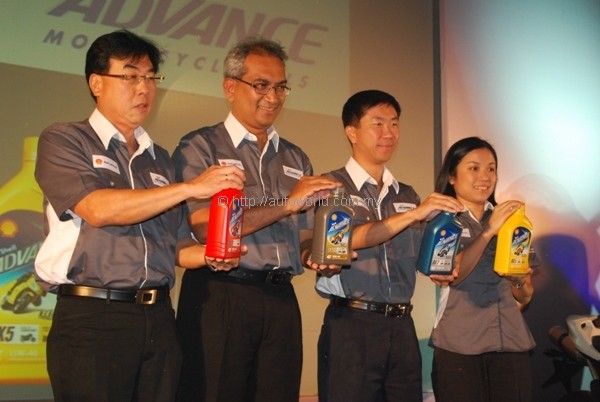 Shell Malaysia today launched a new range of motorcycle lubricants dubbed the Shell Advance 4T, which features a four-product line up to cater for a wide range of applications. A key element of Shell's formulation for this new range of engine oils is R.C.E. technology, which stands for Reliability of oil performance, Control via smoother gear shifts, and Enjoyment of a low vibration ride.
"At Shell we put our customers at the heart of everything we do and listen to what their needs are. In the area of motorcycle oils, we want to offer Shell Advance as the best oil a biker can get. With the new Shell Advance 4T, we are not only setting new standards in terms of engine protection and performance but are also making the products more user-friendly with the benefits more tangible to
consumers," said En Azman Ismail, Managing Director of Shell Malaysia Trading Sdn Bhd and Shell Timur Sdn Bhd.
Encik Azman added, "We believe that discerning motorcyclists will not only be able to feel but also actually hear the difference with the new Shell Advance 4T range of motorcycle oils. Hence, the decision to anchor our entire marketing campaign on the promise of 'responsiveness you can hear."
To aid users in differentiating between the four products of the line-up, Shell supplies the 4T oils in colour-coded cans with icons to clearly state the designed application of the respective oils.
The range starts with the Shell Advance AX3 20W-40 multi-grade for mopeds. This API SG/JASO MA oil comes in bright red packaging and retails at RM15.30 (RM15.80 for East Malaysia) per litre. Moving up, there is the Shell Advance AX5 15W-40 multi-grade oil for standard bikes and also claimed to enhance performance of mopeds. This API SL/JASO MA oil comes in a bright yellow pack and retails at RM19.00 (RM19.50 for East Malaysia) per litre.
Further up comes the blue-canned Shell Advance AX7 10W-40 semi-synthetic oil (API SL/JASO MA2) designed for high-performance bikes, but also usable on standard bikes and mopeds. It retails at RM28.00 (RM28.50 for East Malaysia) per 1-litre pack. Sitting on top of the range is the Shell Advance Ultra 10W-40 fully synthetic oil (API SM/JASO MA2). Shell claims 80% better oxidation control, 78% better piston deposit control, 27.4% better sludge control and 48% better valve train protection compared to standard industry test limits. The Shell Advance Ultra in a grey 1-litre pack retails at RM45.00 (RM45.50 for East Malaysia).