Givi puts 1 million boxes on Malaysian roads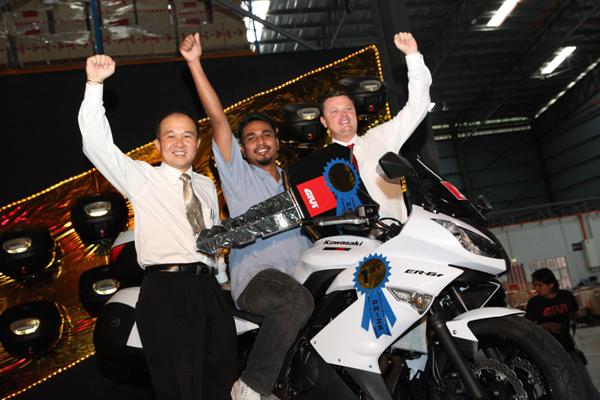 Givi Asia, a market leader in the motorcycle accessories market, celebrated the sale of its 1 millionth Givi box in Malaysia. A commemoration ceremony was held at the company's 100,000 sq ft factory at Bukit Beruntung. The ceremony also simultaneously marked the conclusion of the 1 Million GIVI-ng Away campaign.
The campaign drew in thousands of participants, with En Mohd Zulkifli bin Itam Ahmad being the lucky one to take home a GIVI-accessorized Kawasaki ER-6f motorcycle. Through out the campaign, every customer purchasing a Givi box (from a selected range) received a mystery gift.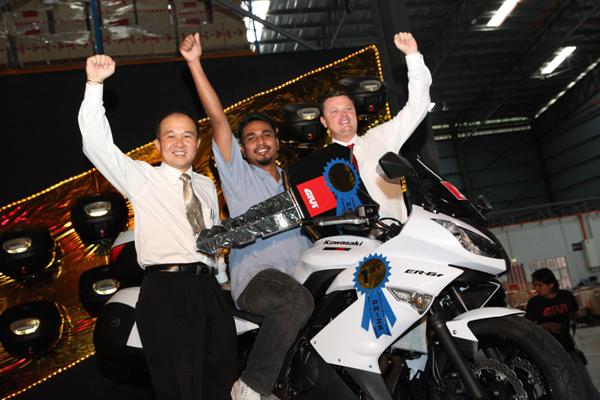 En Mohd Zulkifli with his brand new ride.
A slogan writing contest was also held, with Mr Surendra Kumar s/o Mohan winning a RM1,000 Givi gift voucher for his tagline which read, 'Miliki GIVI dan nikmatilah keselesaan dan kepuasan dengan produk bertaraf dunia' (Possess GIVI and enjoy the comfort and satisfaction with world class products). Mr. Muhamad Sazeli Mohd Nazir was runner up; winning a RM800 gift voucher. Finally, Mr. Wan Amiruddin Bin Wan Ismail also received a GIVI gift voucher worth RM500.
KON
See also: 'GIVI-ng Away' extravaganza to mark 1 millionth Givi box on the road