Honda Dreams Fund scholarship open for application
Honda Malaysia and the United Nations Development Programme (UNDP) has announced the yearly opening of applications for the Honda Dreams Fund (HDF) for 2011. Now in its fifth year, the HDF will reach a key milestone of 100 scholars since the start of this programme.
The new Managing Director and Chief Executive Officer of Honda Malaysia Sdn. Bhd., Mr. Yoichiro Ueno said, "The Honda Dreams Fund provides an opportunity for underprivileged youths to continue their education into tertiary or vocational level. The education received will help to better equip the youths to realize their dreams. Through Honda Dreams Fund, we hope to empower these young people by providing them with the means towards a better tomorrow for themselves and their families."
"The Honda Dreams Fund scholarship is our way of giving back to the society where we are in. This initiative is part of our vision and continuous effort towards becoming a company that society wants to exist. It is a manifestation of Honda's tagline, "The Power of Dreams" as we seek to inspire the young and future generations to believe that dreams can come true if they hold steadfast to it and persevere in pursuing their dreams," Mr. Ueno added.
The HDF is a full non-binding scholarship offered to a very selected few youths that hail from underprivileged families. To date, eight HDF scholars have graduated and are now serving society in various capacities – from pilots to doctors, biotechnologists and even a counselor.
"It is our hope that these HDF alumni who are not bonded will now be able to help their own families and positively contribute to the country in their own way. This is the reason why HDF is among the projects that we at Honda are extremely passionate about," said Mr. Ueno.
To ensure that as much people as possible have access to this opportunity, the HDF team regularly organizes nationwide tours to rural areas to maximize the programme's reach. This year, the team will be headed to Sabah, Sarawak, Perlis, Negeri Sembilan, Johor and Klang Valley area.
For the candidate evaluation and selection process, Honda Malaysia and UNDP will work with an independent advisory panel comprising of representatives from various organizations including the All Women's Action Society (AWAM) and the Malaysian Youth Council (MYC).
"UNDP remains committed to reaching out to the underprivileged and marginalised communities through the Honda Dreams Fund. Everyone has a right to education and the Honda Dreams Fund enables both an outreach and the provision of scholarships to the needy. It assists young deserving students in realizing their dreams through education and skills training," said Mr. Kamal Malhotra, UNDP Resident Representative for Malaysia, Singapore and Brunei Darussalam and UN Resident Coordinator for Malaysia.
"The Honda Dreams Fund has been successful in assisting underprivileged and marginalised youth, including youth from indigenous communities, in achieving and realizing their dreams. We were pleased to see some of the scholars graduate, of whom a few received best student awards," added Malhotra.
To qualify for the HDF programme, applicants must meet the following criteria
– Aged between 17 and 24 years old.
– Have completed and passed SPM or STPM examinations.
– Combined household income no higher than RM1,500 per month.
– Medically fit
– Not currently receiving other scholarships or financial aid from other organizations.
The application process
1. Download application form from Honda Malaysia's website.
2. Complete a 500-word essay which starts with the following line, "Honda Dreams Fund is the opportunity I have been waiting for to realise my dreams. Since I was young, I have always aspired to be …"
3. Attach the following documents:
– NRIC
– Certified true copy of SPM / STPM results
– School leaving cert (if any)
– Other qualifications (if any)
– Written testimonials / referees (from school, NGOs, homes…)
– Documents to show household income (EA form, J form etc.)
The Selection Process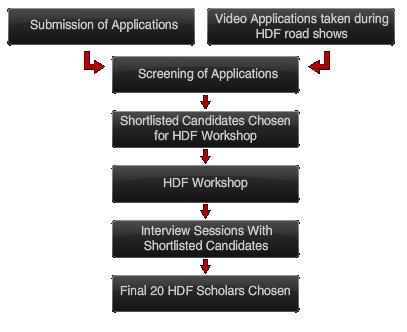 For more information on the Honda Dreams Fund, please visit www.honda.com.my/hdf
KON