Nissan Teana 250 XV – V6 power returns to the D-segment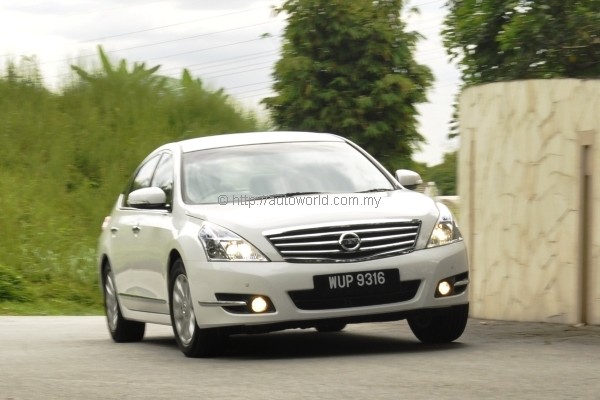 The first generation Nissan Teana was introduced in 2003 as a replacement model for the A33 Cefiro. In certain markets, that Teana continued to wear the Cefiro badge. Local Nissan distributors, Edaran Tan Chong Motor Sdn Bhd (ETCM), brought in units of the Teana then as well, but its prohibitively high price (in excess of RM200k) for what was an Accord/Camry competitor proved too much for most buyers to stomach even if the car was fully imported from Japan.
That situation left Nissan without a strong D-segment player in Malaysia to take the torch from the now-discontinued Cefiro. Nissan's prolonged absence has allowed the Honda Accord and Toyota Camry to almost hoard the market segment to themselves in recent years. The Koreans have been making some in-roads, but it wasn't until the Hyundai Sonata's arrival in middle of last year that Honda and Toyota truly had anything to worry about.
The second generation Teana made its global debut in 2009, and although ETCM took their own sweet time to bring it in, its arrival is still greeted with arms wide open by a market that could use a shake up. Can it make the necessary impact to set alarm bells ringing in Honda and Toyota?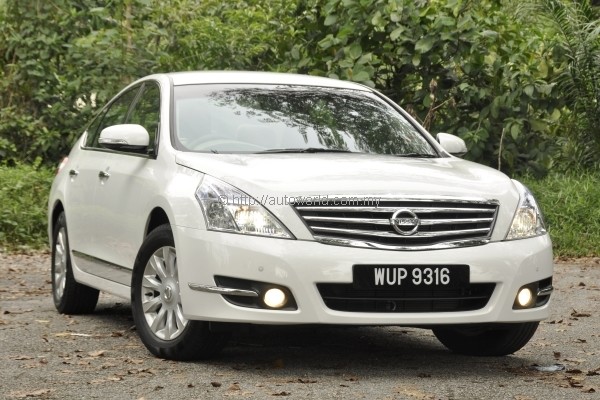 Nissan's long-awaited return to the D-segment.

Prices & Variants
Nissan offers the Teana with three engine options, starting with the 2.0-litre MR20DE engine from the Sylphy then going on to two V6 power plants in 2.5 and 3.5-litre displacements. Similar to what Honda does with the Accord, ETCM assembles the two smaller-engined variants locally in Serendah and sources the flagship 3.5 V6 fully imported from Japan. All three engines send power to the front axle via Nissan's X-Tronic CVT.
ETCM's opening gambit for the Teana's entry was one of aggressive pricing, with an introductory price of RM138,000 (OTR with Insurance for Peninsula Malaysia) for the 2.0 Comfort model encroaching dangerously close to C-segment territory. Prices have since been revised upwards, now starting at RM141,000 for the aforementioned 2.0 Comfort, then moving up to RM145,000 for the 2.0 Luxury.
Although expectations were for the 2.0-litre variants to form the bulk of orders, examination of ETCM's order books show it is the 2.5 V6 model that is assuming the role of best-seller thus far. Its introductory launch price was a mouth-watering RM168,000, but that figure has now been raised to RM173,000 – putting it right in between the Accord 2.4 (RM172,800) and Camry 2.4 (RM174,990).
Further up is the 3.5 V6 model selling for RM248,500. Honda also had a 3.5 V6 model for the Accord selling at a similar price, but Honda Malaysia's official website no longer lists that variant in the company's line-up. Market response to the Teana has thus far been encouraging, with over 1,000 bookings picked up before its launch on November last year. ETCM currently has a 2-3 month-long waiting list for the Teana in its hands.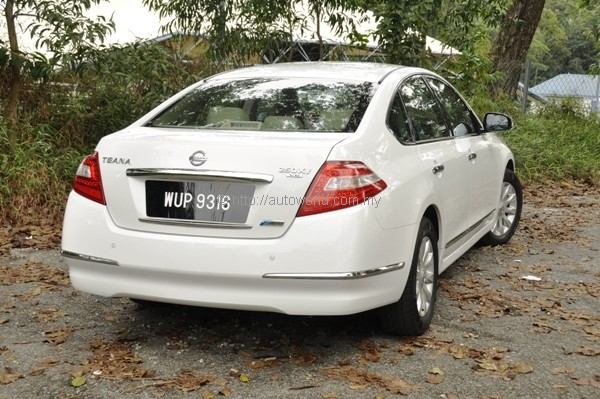 Accord and Camry will need to brace for a tough fight.
The Specs Sheet
For our review of the Teana, ETCM has loaned us a unit of the top-selling variant – the 2.5 V6 Premium, or 250 XV as per its boot badges. At a full RM75k cheaper than the CBU 3.5 V6, the only equipment that the Teana 2.5 misses out are front ventilated seats, front passenger Ottoman seat, and curtain airbags. Besides a bigger engine, the 3.5 also gets bigger 17″ alloy wheels and a 6-speed manual mode for its X-Tronic CVT. Not deal-breaking omissions for sure.
One usual criticism that we've always leveled against Nissan cars in Malaysia is poor kit count. On the Sylphy for example, the absence of steering-mounted controls is rather glaring. So, when we sat on board the Teana, it took us quite a while to get used to having all of the button slots on the dashboard filled for a change.
The 2.0-litre models will lose some equipment, but in our 2.5 V6 test car, standard equipment starts with auto-leveling Xenon headlamps, side-mirror mounted signal lamps, cruise control, smart key with push-button start, leather seats, 6-CD changer, and steering-mounted controls. Useful stuff that you don't see are dual airbags, side airbags, VDC with traction control, ABS, EBD, BA and seat-belt pre-tensioners.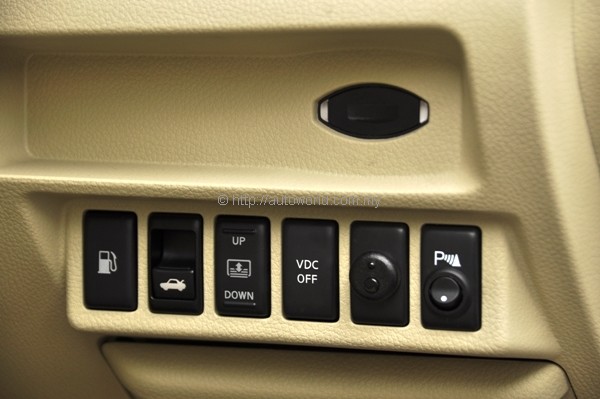 We are not very used to seeing so many buttons in a Nissan test car, to be honest.

In the engine room, the Teana 2.5 picks up where the Cefiro left off five years ago, by being the sole D-segment entry to offer a V6 engine. In fact, the 2,496cc VQ25DE descends from the same award-winning VQ engine family that used to power the Cefiro. Full power output is rated at 180hp produced at 6,000rpm. Meanwhile, maximum torque of 228Nm is served at a relatively high 4,400rpm.
What the Teana did not carry over from the Cefiro, fortunately, is the latter's rear suspension design. This time round, Nissan's D-segment entry no longer has the dubious honour being the sole model to offer torsion beam rear suspension. The Teana is independently sprung all-round, featuring the usual MacPherson front and multi-link rear layout found in front-wheel drive cars.
The Drive
ETCM's advertising and marketing campaign for the Teana portrays it as a luxurious and refined large sedan, and temptations are to liken it to an over-sized Sylphy. The reality is a little more pleasant than that; not only does the Teana carry over the same brand of comfort and refinement from the Sylphy, it actually injects a good amount of fun into the driving experience.
The 2.5-litre V6 engine up front was never once out of answers when the need to summon extra speed came about. Power delivery was silky smooth, and there's actually a pleasant rumble in the engine note when you gun it. Its partnership with a CVT makes for a smooth if slightly unsporty drivetrain. You don't get the sensation of the transmission kicking down and watching the revs pull across the tacho when you floor it, but the engine's strong mid-range torque ensures strong acceleration on-demand.
Although the suspension is tuned with a comfort bias, the setup is more than capable in keeping the Teana in line when you hammer it through a series of fast winding corners. The surprise continues when you feel actual feedback trickling in through the hydraulic assisted wheel. Not only can this car corner, it is also very interactive. Yet, when you choose to drive it sedately, it rewards you and your passengers with a serene and quiet ride.
Against its rivals, the Teana is not as agile as the Honda Accord, but it feels far more comfortable in comparison. Nissan was able to strike an impressive balance between the Teana's ride comfort and handling prowess. It soaks up road imperfections almost perfectly, and while body roll is present during cornering, there is an abundance of grip and poise that inspires confidence for you to indulge in some spirited driving.
Verdict
In its 2.5 V6 guise tested here, the Teana makes for a complete and compelling package when stacked against is 2.4-litre 4-cylinder rivals. Our judgment is still reserved for the 2.0-litre model, but the smoothness and refinement of the 2.5's powertrain is second to none in its class. Without a doubt, the Teana is easily the best car in this segment to ferry your business partners around.
However, is it the best car in the segment to drive? Not exactly, but it does stack up against the best. For a car that pushes comfort and refinement as its core values, it handles hard driving very well, and you do not feel the same kind of numbness as you would on the Sylphy. It actually sends decent levels of feedback through the steering and pedals, falling just short of the Ford Mondeo in terms of overall driver interaction.
The Teana is an impressive piece of work, and there is no better car to mark Nissan's long-awaited return to the D-segment market. Not only is it as good as advertised, it is in fact better than advertised. Well done, Nissan.


Pictures: Trius Blades & KON
Editor's Note (10 Jan 2011): Our earlier release of this article erroneously noted the Teana as being manufactured in Segambut. ETCM actually manufactures the Teana in its newer plant at Serendah, and the article has been accordingly amended to reflect that. The error is regretted. Our sincere thanks to reader Gary for pointing it out.