Volkswagen and DRB-Hicom inks local assembly deal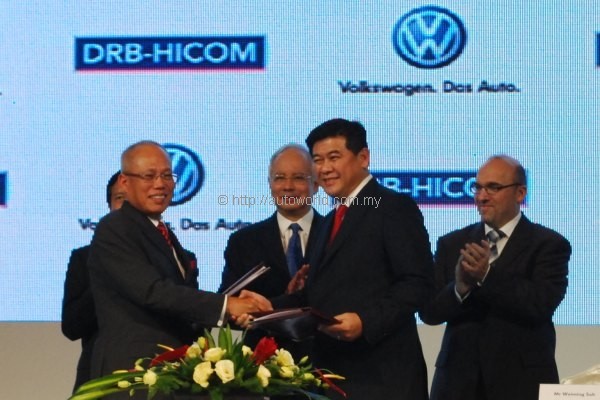 After months upon months of speculation and discussion, Volkswagen AG and DRB-HICOM have finally put pen to paper on a CKD assembly deal which would see not only competitively priced Volkswagen models on Malaysian soil, but also the prospect of our country hosting Volkswagen's regional production hub for ASEAN.
The deal was inked earlier today at a grand ceremony held in the Kuala Lumpur Convention Centre, signed by Group Managing Director Dato' Sri Haji Mohd Khamil Jamil on behalf of DRB-HICOM and Board Member Mr Christian Klingler on behalf of Volkswagen AG. Both parties had earlier signed a Memorandum of Understanding in August this year to conduct feasibility studies of local production of Volkswagen cars in Malaysia.
Elaborating on the arrangements in place between the two companies, Mr Klingler said, "We will be using existing structures and capacities at the DRB-HICOM plant in Pekan to systematically extend our presence in the Malaysian market of the future."
Most manufacturers with multiple plants are very keen to stress that quality of their products are identical regardless of where they are produced. Volkswagen are no different, and the reassurance from them is that the assembly of VW vehicles in Malaysia will be in strict adherence to VW specifications and quality requirements.
In the early stages of the collaboration, Volkswagen will apply the appropriate transfer of technology for the assembly, testing and quality assurance for the CKD models. It was further added by Dato' Sri Mohd Khamil that DRB-HICOM and VW will embark on an 'aggressive localization programme to achieve a substantial percentage of local content' in the VW cars to be assembled in Pekan.
The arrangement in place between Volkswagen and DRB-HICOM can be summarized as such – DRB-HICOM buys the CKD packs from VW, assembles the car, and then sells it to Volkswagen Group Malaysia (VGM) who will then market the cars accordingly. It was also very clearly stated that none of the Volkswagen models currently on sale will undergo the CKD programme.
The first fruit of this collaboration will be the Passat sedan (not to be confused with the Passat CC currently on sale) scheduled to roll out of Pekan towards the end of 2011, which is about a year's time. After that comes the Jetta, but it is unclear if our version will be based on North American specs, which feature torsion beam rear suspension, or as per Europe, which gets an independent four-link setup.
Looking long term, production will be ramped up a few notches when a second expansion phase kicks in at the end of 2012. That CKD assembly will start with an annual capacity of several thousand vehicles and successively increased.
"We are looking forward to an exciting future with Volkswagen. We hope that this collaboration will open up opportunities for both parties to achieve their aspirations while building a strong and successful partnership," said Dato' Sri Haji Mohd Khamil Jamil.