MINI receives mid-life updates for Malaysian market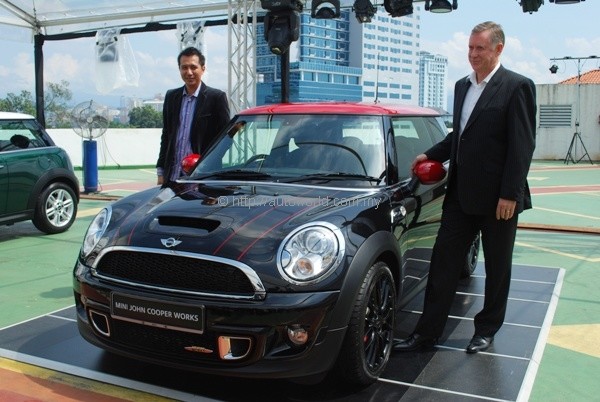 The second generation MINI by BMW has received its mid-life facelift, which was unveiled for the Malaysian market today. For now, the updated MINI line-up will feature three variants – MINI Cooper, MINI Cooper S and MINI John Cooper Works (JCW) – though we believe more will come before long.
BMW's ownership of the MINI brand is a legacy of the Bavarian's acquisition of the Rover Group in the mid-1990s. Although BMW eventually disposed of the Rover Group, they retained the MINI brand, resulting in the birth of the current crop of MINI vehicles. Another by-product of this episode was the sale of Land Rover to Ford.
Since launching the first generation of the new MINI in 2001, the BMW Group has sold a total of 1.7 million units of the MINI worldwide. Things look equally healthy in Malaysia, with 2010 sales adding up to 185 units as of October, a growth of 5.4% from 2009.
Prices for the new MINI start at RM195,888 on-the-road without insurance for the MINI Cooper, which gets you the naturally aspirated 1.6-litre BMW-PSA Prince engine with variable valve timing in a 120hp/160Nm state of tune. This, some of you might recall, is identical to the Peugeot 308 VTi which we tested earlier, but unlike the Peugeot, the Cooper gets a 6-speed automatic transmission as standard.
Moving up, we arrive at the MINI Cooper S, which goes for RM239,888 under the same pricing terms. The additional RM44k gets you quite a bit of additional gear for the engine, which is the same Prince unit, but this time bristling with direct injection and twin-scroll turbocharging to boost output to 184hp and 240Nm.
Topping the range for now is the MINI JCW at RM275,888. Like the Cooper S, the JCW also gets direct-injection and a twin-scroll blower, but more intensive tuning squeezes out 211hp and 260Nm from the 1,598cc four-banger. Being the most focused variant of the three, the JCW comes with a good old 6-speed manual transmission.
Being also a lifestyle-oriented product, MINI customers are offered with a number of cost options to personalize their purchases. One of them is a Glass Roof package which offers one-touch operation and opening through the remote key fob. Ticking this box adds RM9,988 to your invoice.
Another option worth examining, though not likely easy to tick, is the MINI Connected package which retails for RM14,988. Similar in principle to the BMW iDrive, the MINI Connected package even features iPhone connectivity, allowing the user to access RSS news feeds and Twitter on the move.