Ford Focus 2.0 Ghia Sedan TDCi – Torque about satisfaction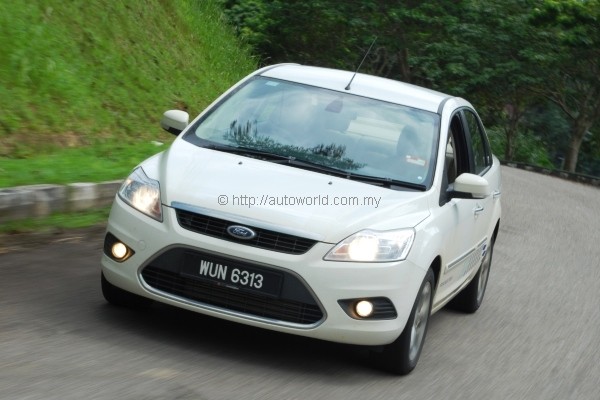 Recently, a couple of motoring journos from other publications roped me in to participate in a motoring treasure hunt trip to Lake Kenyir, Terengganu. A return trip there from the Klang Valley would stretch to about 1,000km, and our thoughts immediately went to selecting the right car for the job.
We needed a car that would heartily chew up the miles, and at the same time be nimble enough to maneuver quickly around small towns. We also needed a car that could comfortably accommodate four people, their luggage for a night, and allow for convenient ingress and egress. The length of the trip meant that fuel economy would be a welcome bonus, and since all aboard were motoring scribes, engaging driving dynamics were placed pretty high above the list as well.
These requirements immediately restricted our options to cars of the C-segment size. We evaluated a number of choices, from Japanese to German, and discussion was immediately settled when the Ford Focus TDCi was suggested. It ticked all our boxes, and we put forward a request on the spot to Sime Darby Auto Connexion for a TDCi test car.
Happily, not only did Ford's local distributors oblige to our request, they also allowed us to be amongst the first to have the Focus TDCi in sedan guise, which they have just started selling. SDAC sells the Focus TDCi sedan at exactly the same price as the TDCi hatch, at RM128,888 on-the-road with insurance, so choosing between the two really is a matter of taste and nothing else.
The TDCi engine
Although the current Focus is nearing the end of its production run, it is underpinned by a chassis of undeniable talent. The 143hp/185Nm 2.0-litre petrol engine simply does not have enough poke to fully exploit the abilities of this impressively-sorted platform.
Displacing 1,997cc, the Duratorq engine powering the Focus TDCi is actually the product of a diesel engine partnership between Ford and the PSA Group which started in 1998. This partnership between Ford and the PSA Group spawned some 4 million diesel engines between 2002 and 2005, deployed in various Ford, Mazda, Volvo, Peugeot and Citroen vehicles.
In the Focus TDCi, the engine makes 134hp @ 4,000rpm, and twists out an axle-snapping 320Nm @ 2,000rpm. Even disregarding the 340Nm transient overboost, that's more torque than the Mercedes C 250 CGI, Volkswagen Golf GTI, and the BMW 528i. None of its C-Segment competitors even come close for sure. High sulphur diesel is not too much of a problem for this engine either, as it is only tuned for Euro III emission levels – a necessary compromise for our market.


Paired to the engine is Ford's 6-speed PowerShift dual clutch transmission developed with Getrag and shared with some Volvo models, notably the 2.0-litre versions S40 and V50 recently launched in Malaysia. It is, however, a different unit to the dry-clutch PowerShift used by the Fiesta 1.6, which can only accept lower torque applications for now.
Overall Package
Spending the extra RM11k for the Focus TDCi gets you a bit more than just a diesel engine and a dual clutch gearbox, although these two items alone would have been worth the premium already. Save for some minor cosmetic differences, the sedan and hatchback version of the TDCi are identically equipped.
Additional items bundled in to sweeten the deal include leather seats, auto headlights, dual zone climate control and auto wipers. To keep the 320Nm of torque in check, Ford also supplies traction control and stability control as standard alongside ABS, EBD, and EBA. Dual airbags and seat belt pre-tensioners are similarly standard items.
The Focus carries a 5 star rating by Euro NCAP, though our checks with Euro NCAP dates the test to 2004 where less stringent criteria were in place. Our local model further differs from the crash tested model in the omission of side airbags, though all other aspects comply to the 5-star-rated car.
In terms of appearance, the Focus' fuss-free look has aged rather gracefully. Styling cues are neat, and the car does not look hideous when viewed from any direction. Unlike many hatch-to-sedan conversions, the Focus sedan also does not suffer from having any awkward proportions.
Where the Focus is beginning to show its age is in the cabin, which is looking very dated. The audio head unit carries a very old school appearance, and the 'credit-card' stalk which takes the place of steering-mounted controls appear a distinct after-thought. It has also been a while since we encountered a two-point lap belt for the middle-rear passenger in a C-segment vehicle, but there it was lying on the Focus' rear seat.
Driving Experience
While the Focus' cabin looks desperately out-of-date, there is nothing out-of-date as far as its driving dynamics are concerned. Despite its age, I daresay that the Focus, particularly the TDCi, is by a mile the best handling car in its segment, and I say that with no disrespect meant to competent rivals such as the Honda Civic, Mitsubishi Lancer, and Mazda3.
On winding back roads, the Focus demonstrates impressive fluency that allows to you to smoothly flow from corner to corner. Mid-corner bumps fail to unsettle this impressively-sorted chassis, and the compromise in comfort for all that handling prowess is very minimal. There is also impressive amounts of feedback coming back to you not just from the steering, but also the pedals and seats as well. It makes driving the Focus a highly interactive, and not to mention addictive experience.
It is even more amazing when you consider that our TDCi test car was shod with budget rather than performance-oriented tyres. If Ford was using this chassis as the starting point to engineer the next Focus, they won't have any complaints from me. Put it this way, it takes quite a sturdy chassis to handle 320Nm twisting its front wheels without losing its composure.
If anything, I reckon the diesel engine actually complements the immense talent of the Focus' chassis. I certainly don't recall feeling this impressed with the petrol version. In fact, I distinctly recall that the petrol model had an overly light steering rack – the TDCi's steering is rather nicely weighted.
Indeed, the diesel engine is worthy of separate praise altogether. Its power delivery is extremely smooth. Not 'kick-in-the-pants' exciting like the Merc C 250 or the Golf GTI which I have sampled recently, but it certainly is not slow. On trunk roads, dismissing entire rows of slow-moving cars was simply too easy and not a task even worth fretting about.
The 6-speed PowerShift dual clutch 'box is no Volkswagen DSG for sure, but it was still a remarkably smooth cog-swapper. There were times when the manual overriding function did not work perfectly, but on the whole there was little to complain.
Verdict
It is astounding that Ford took almost five years to finally send us the right engine for the Focus. The petrol model, despite a pretty sweet handling setup, qualified as nothing more than an also-run at best. Injecting extra poke with the diesel engine transformed the whole driving experience altogether, and makes the Focus easily one of the best cars to drive in the price range.
Despite having a design that is now six years old and at the end of its service life, the Focus' dynamic repertoire still holds more than enough aces to bloody several noses. Anybody looking for an example on how to properly set a front-wheel drive car up would do well to take a Focus apart in their labs.
Whatever praise we may lavish on it, deep in our hearts we know the Focus will never sell in the same volumes as the traditional Japanese pace-setters. In our part of the world, the Focus seems destined to remain as nothing more than a well-kept secret. How unfortunate. I can't think of any other car which I would rather spend RM130k on.