Supercars gather at JPM CIMB Preferred Time Challenge '10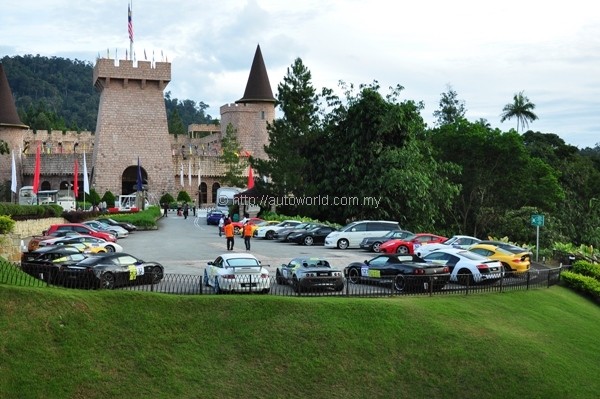 The recently concluded JPM CIMB Preferred Time Challenge '10 attracted the participation of over 120 drivers in the ultimate challenge of consistency, as they sought to deliver the closest matched timed runs up and down the scenic route of Berjaya Hills, Bukit Tinggi, Pahang.
Participants competed in three categories – The CIMB Preferred Uphill Time Challenge, The CIMB Preferred Downhill Time Challenge and The CIMB Preferred Combined Time Challenge. There were also sub-events which included the REWIND Classic Performance Time Challenge, the Top 1 Oil Time Attack event, and the JPM Supercar/Lotus Time Target Pursuit Challenge.
The event kicked off on 29 October 2010, where participants were given a free reign to make practice runs up and down the route. After getting a feel of the route in the practice sessions, participants were then required to declare their time handicaps. Unlike usual motorsport challenges, the objective is not to set the fastest times, but instead to match the declared time handicap as close as possible.
This unique format puts the emphasis almost solely on the driver, and although the event featured cars such as the Ferrari F430 Scuderia, Ferrari 458 Italia, Lamborghini Murcielago LP670-4 SV, Lamborghini Gallardo Superleggera, Aston Martin DBS, Mercedes Benz AMG SLS, and Porsche 911 GT3 RS, folks who turn up in a more modest set of wheels had an equally good chance of winning.
The lists of overall winners of each event are as follows:
CIMB Preferred Downhill Time Challenge 2010 Winner:
Dato' Ang Cheng Ho (Ferrari F430)
CIMB Preferred Uphill Time Challenge 2010 Winner:
Wong Kay Jinn (Lotus Elise S1)
CIMB Preferred Combined Time Challenge 2010 Winner:
Fast & Furious Category – Abdul Azim (Lotus Europa SE)
Expert Category – Remus Chang (Nissan Skyline GTR 33)
Gentlemen Category – Ronnie Loo (Porsche Carrera 4S)
TOP 1 OIL Time Attack 2010
Fast & Furious Category – Oh Kah Beng (Lotus Evora)
Expert Category – Marthiravi Sivam (Toyota MR-S)
Gentlemen Category – Jennifer Leong / Chris Chong (Mazda MX5)
JPM Supercar Time Target Pursuit
Ee Shedden Joon Joon (Audi R8 V8)
Lotus Time Target Pursuit
Les Vorosmarthy (Lotus Elise S1)
Pictures: Autogridz