New Mercedes-Benz R-Class launched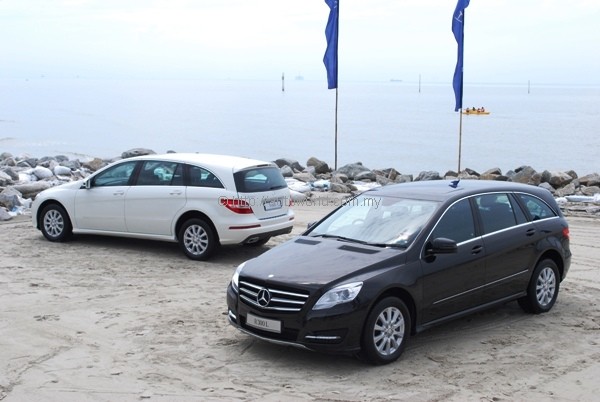 Just a day after launching the C 300 Avantgarde powered by the 3.0-litre M272 V6 engine, Mercedes-Benz Malaysia has followed up with the introduction of the updated R-Class MPV. Featuring extensive visual revisions from its controversial predecessor, the R-Class is now offered in Malaysia with a one-variant line-up, consisting of the R 300 L.
Prices start at RM470,888 without insurance. Ticking the option box for the 20″ AMG wheels adds RM8,000 to the price list, and insurance would then set the buyer back at least a further RM12,500 based on estimates on our Autoworld Insurance Calculator.
This is not an all-new model from the predecessor, but Mercedes is reluctant to use the term facelift to describe the new car on the grounds of there being substantial technical updates performed on the car's moving gear. We will leave it to you, the reader, to fuss on these details.
Notable changes start from the front, where a more pleasant-looking fascia takes the place of the older oddball look. Thoroughly revised is the 7G-TRONIC 7-speed automatic transmission which now has new bearings and couplings. No fancy twin clutch tech here, but the torque converter continues to make a case for itself with a slip-reduced lock-up clutch and standstill decoupling which lowers fuel consumption when the car is at rest with the transmission lever left in 'D'.
Up front resides the same 2,996cc M272 V6 motor which powers the aforementioned C 300 along with the E 300 and S 300. The engine was also used in the previous R 280 L, where it was quoted with the same output numbers – 231hp @ 6,000rpm and 300Nm @ 2,500 – 5,000rpm. This engine does not exactly feature the latest tech from Stuttgart, but there is little choice in this matter, because the newer V6 CGI engines are not yet ready for use with high sulphur fuel.
A highlight of the R 300 L's technical repertoire is it's AIRMATIC air suspension with Adaptive Damping System. Electronically controlled, the system allows the driver to raise the R 300 L's ride height by up to 50mm, though that only be maintained at a speed of 40kph. Once above that speed, the system will automatically lower the car's ride height again to improve stability and handling.
Safety gear bundled into the seven-seater R 300 L include the PRE-SAFE, eight airbags, active head-rests (NECK-PRO in Mercedes-speak), tyre pressure monitor, Blind Spot Assist, and PARKTRONIC. In car entertainment is accessed by the COMAND APS system with LINGUATRONIC Voice Control.