Auto Bavaria Kuala Lumpur 4S dealership commences operations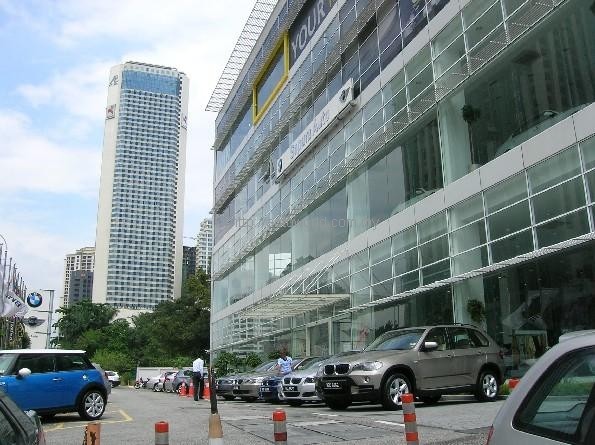 The landmark BMW and MINI 4S dealership located near the intersection between Jalan Tun Razak and Jalan Ampang has re-opened recently under the management of Auto Bavaria Sdn Bhd. Previously, the dealership was operated by Sapura Auto with the old Auto Bavaria Bukit Bintang showroom just a stone's throw away.
Boasting some 60,000 sq ft of floor space, the premise houses the main BMW showroom, a MINI showroom, a dedicated BMW Premium Selection area, sales office, service workshops with a 12 service bay capacity, 4 BMW Fast Lane repair bays as well as a spare parts centre.
Geoffrey Briscoe, Managing Director of BMW Group Malaysia said, "With the launch of Auto Bavaria's newest BMW dealership here in the heart of Kuala Lumpur, BMW once again extends our strong presence in the financial and commercial heart of Malaysia. The area is estimated to contribute more than four hundred cars annually to our business and we at BMW anticipate that the new Kuala Lumpur dealership will prove to be a key contributor to our overall performance here in Malaysia."
Reiterating Briscoe's sentiments, Dean Brigham, Managing Director, Auto Bavaria Sdn. Bhd. said, "We at Auto Bavaria have always held that our experience and expertise in the market has allowed us to create a network of BMW dealerships that provide customers with an excellent premium experience, be it from point of sales, to servicing to after sales support. Now, with our presence in downtown Kuala Lumpur, we are confident that our business will continue to grow from strength to strength."
After Pendragon Auto in Kuantan, Quill Automobiles in Petaling Jaya, and Tian Siang in Juru, Auto Bavaria Kuala Lumpur is the fourth BMW dealership to be launched or re-launched this year. These launches are in line with recent initiatives in BMW Group Malaysia's recent efforts in enhancing the BMW dealership network, which also includes customer engagement activities such as the recent BMW Innovation Days showroom events.
"Dealerships are where the most important interactions between BMW and our customers occur and with our customer base continuing to grow from strength to strength, it is our ongoing commitment to ensure that BMW customers in Malaysia receive nothing but the very best premium ownership experience," said Briscoe.
The new four-storey Auto Bavaria Kuala Lumpur 4S centre is located at No.362, Jalan Tun Razak, 50400 Kuala Lumpur. For further information customers can call BMW Voice at 1 800 88 3000 or visit www.bmw.com.my