Mazda2 Sedan – Nifty little fella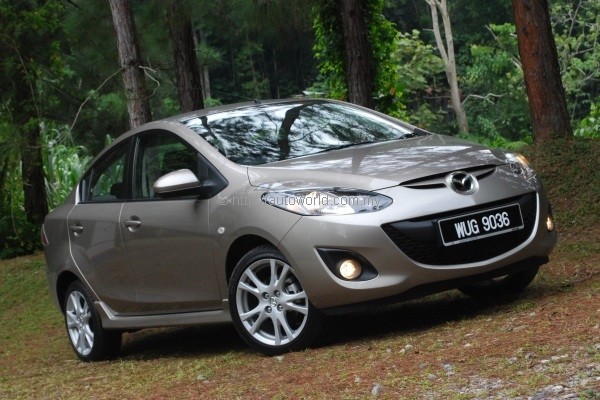 Mazda's glory days in Malaysia are sufficiently distant in the past that anyone who professes to have lived through that era are at least in their middle ages. During the time when Ford and Mazda cars were rebadged versions of each other, both brands sold decent volumes in Malaysia.
These days, both these brands have been reduced to being niche players. Their combined sales volumes are unlikely to cause sleepless nights for anyone but themselves, and that is a waste, because cars wearing the Ford and Mazda badges happen to be pretty good to drive.
The 'Zoom-Zoom' philosophy introduced in 2000 has won back a good number of fans for Mazda, as cars like the Mazda3, Mazda6, and RX-8 generated substantial interest from the enthusiasts. These cars had stunning good looks, and backed them up with impressive dynamics.
Sales are on the up, and we are seeing more examples of Mazda cars on the road, but in the big picture, Mazda continues to be a niche marque in comparison with some of its compatriot brands. The step from niche to mass market is a big one, but Mazda is looking to take it with a small car to challenge the entry-level offerings of other Japanese makes.
Priced under RM90k for all variants, the Mazda2 was launched earlier this year to provide consumers with a more affordable entry point into the realm of Mazda ownership. Like what Ford hopes to accomplish with the Fiesta, the Mazda2's mission is to put more Mazda badges on the road and give the brand increased presence on the road.
Your Options
The Mazda2 is offered in two body styles, sedan and hatchback, each with the option of a basic V-Spec, and a higher trim R-Spec. Prices, inclusive of insurance, range from RM82,437.60 for the V-Spec sedan, going all the way up to RM89,293.50 for the R-Spec hatchback. There is a mid-range VR-Spec for the sedan going for RM83,998.88.
Only one drivetrain option is available on offer, and it sees a 1.5-litre twin-cam motor paired with a 4-speed torque converter automatic transmission. Equipped with Mazda's Sequential Valve Timing (SV-T) system, the 1,498cc MZR engine produces 103hp @ 6,000rpm and 135Nm @ 4,000rpm. Hardly spectacular figures on paper, though engines have never been Mazda's forte.
Equipment levels on offer are class-competitive even if not class-leading. Standard stuff offered across the board include steering-mounted controls, instrument panel rheostat, MP3 playback, 60:40 split-folding rear seats, all-round power windows, ABS, EBD, BA, and dual airbags. Opting for the more expensive R-Spec gets bigger alloys, front fog lamps, and a bodykit in the case of the hatch.
The Test Car
Our test car from Mazda was a relatively low mileage R-Spec sedan unit, having clocked just over 1,000km when it reached us. Inclusive of insurance, this version is sold for RM85,515.50. The side skirts and boot-mounted spoiler of our test car adds another RM1,170 to the invoice. Leather seats, not featured in our test car, is a RM2,320 addition.
You will notice from our interior pictures that the dashboard features an integrated LCD touchscreen that includes a built-in GPS navigation system. Looks nifty, but this is an evaluation unit and local distributors Bermaz are still in the contemplation stage whether or not to offer this option to consumers. The LCD touchscreen can be sourced from the aftermarket for now.
Styling
Being designed originally as a hatchback, the sedan version of the Mazda2 has slightly awkward proportions when viewed from the side and rear. There's especially pronounced visual bulk at the boot area, and this is something of a characteristic with smallish sedans redesigned from a hatchback base.
Notable examples include the upcoming Ford Fiesta sedan and to a lesser extent, the Proton Saga BLM. The proportions of the sedan's rear-end would make any rim and tyre combo smaller than the factory-fitted 195/45 R16 look very unattractive.
Interior
Folks who can accept the awkward proportions, however, will find themselves handsomely rewarded with 450 litres of luggage space, which is more than even a Proton Persona. That volume can be further expanded to accommodate longer items thanks to 60:40 split-folding rear seats.
The dashboard is plain and simple to use. Plastics used are hard, but they appear durable and well-screwed together. The mail-box glove compartment is something of a novelty and an opinion splitter amongst our media colleagues, but I quite like the idea of being able to drop your documents into the bin without needing to open it.
A simple three-circle layout is selected for the instrument panel, with the central speedometer flanked by the tacho on the left and the trip computer on the right. There is a gaping wide space on the right circle, which in this writer's opinion should be filled perhaps by a water temperature gauge.
Driving Experience
This test car represents my third encounter with the Mazda2. I briefly drove another unit of the sedan several months ago, and we also recently had a unit of the R-Spec hatch for evaluation in our Car Awards. From my recollection, the hatch felt noticeably sharper when driven hard.
Our sedan test car this time round, being the more expensive R-Spec, features 'Sport tuning' suspension. Hammered on winding back roads, the little Mazda felt amazingly nimble, with understeer setting in predictable and progressive fashion. Featuring electrical assist, the steering feels quick and sharp, if slightly lacking in feedback.
Mazda's drivetrain setups have never really caused any worry amongst rivals, and the 2 is not set to change that senario anytime soon. It does not compare too well with rival offerings on paper, but it makes up for that lack of sophistication with an eager willingness to rev. Some refinement is lost when you close in on the redline, but at no point did the engine ever feel thrashy.
The 4-speed automatic transmission is a mechanically simple unit, with no option available for manual gear selection. What you get instead is 'Drive', 'Sport', 'Low' and a 'HOLD' button. I am never comfortable with transmissions that do not allow for manual overriding, but fortunately, the engineers were able to dial in a high order of intelligence into the 2's transmission control system. In 'Sport' mode, the gearbox performed well in hard back-road driving.
Now, the 2 is no pocket rocket to be sure. You are well advised to steer clear of fast moving traffic, but when you have a few corners to string together, the 2 allows you to do it with satisfying fluidity even if it isn't done at very high speeds.
Verdict
The question some may ask now is that is there any noticeable difference between the sedan and the hatchback. Yes, there is, and it is a surprisingly massive difference. Despite also featuring the 'Sport tuning' suspension, the sedan somehow did not feel as satisfying to drive as the hatch.
Evaluated on its own merits, the 2 sedan still makes for a fine preposition, but it just did not blow me away like the how the hatchback did. I distinctly remember the hatch being tighter and livelier when driven on challenging roads.
At the end of the day, the Mazda2 is a very easy car to live with and throws in a decent dosage of fun while you're at it. Its not the sophisticated car around to be sure, but it is very likable and cheerful that it won't make you dread starting the car every morning.