BMW rolls F10 5 Series out from Kulim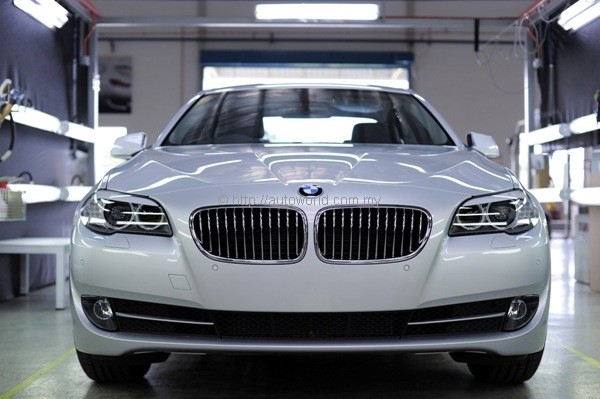 BMW Malaysia yesterday rolled out the first locally assembled production of the new F10 5 Series from its CKD plant in Kulim, Kedah, three months after ending production of the E60. Only the 523i is being introduced for now, with the 535i remaining as a CBU model for the time being.
"The BMW 5 Series plays an iconic role in the history and success of the BMW Group. Time and time again, the car has proven itself to be the superior choice in its segment and with the introduction of the all-new BMW 5 Series, we at BMW Group Malaysia are confident that the legacy of the BMW 5 Series will be one that continues to grow from strength to strength in Malaysia." said Mr. Geoffrey Briscoe, Managing Director of BMW Group Malaysia.
Operational since 2008, the Kulim plant has a workforce of some 400 employees and have rolled out a total of 4,900 CKD BMWs off its lines. It currently assembles the 523i alongside the locally assembled variants of the E90 3 Series.
"The BMW 5 Series has a special place in our plant as it was the first BMW production line to begin operations when BMW moved its local assembly line to Kedah, and has been pivotal in seeing key technologies being introduced to the Malaysian automotive industry as well as the creation of over 400 skilled and professional jobs for Malaysians." said Encik Zainal Osman, Chief Operating Officer of Inokom Corporation Sdn Bhd.
Later this year, the plant will commence production of the 528i, which we believe will be powered by the 3.0-litre N52 B30 straight six as seen in the 730Li. We base our conjecture against specifications offered in the Australian market, which sees the 528i deliver 258hp @ 6,600rpm and 310Nm @ 2,600 – 3,000rpm. A source in our forums speculated a price in the region of RM480k, which we believe to be a reasonable guesstimate.
For the 523i, meanwhile, local assembly has seen its price (sans insurance) drop from RM398,800 to RM383,800. Our insurance calculator estimates the premium for a year's worth of coverage would be some RM10,150.
Pictures: Official BMW Malaysia release.