New green Volvos for Europe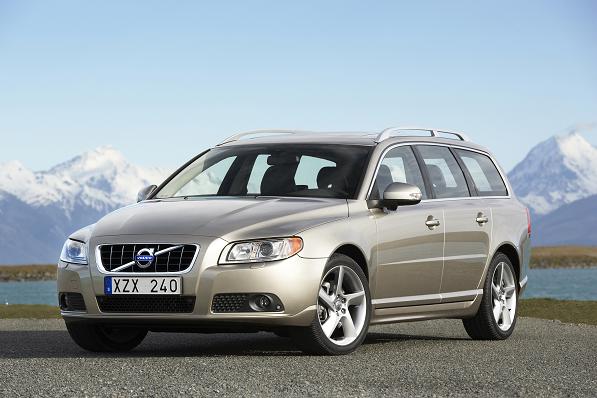 The traditional impression of Volvo cars, besides being solid as tanks, are their thirsty appetite for fuel. Whatever virtues the likes of the 144 and 244 had, fuel economy certainly did not rank among them. Times have changed considerably since.
For a start, new Volvos are no longer solid as tanks. In a head-to-head, the old 240 would crush an S40 like a tin foil. Of course, that's because new approaches in vehicle structure engineering means that a car's body needs to have more deformable structures in order to absorb energies of impacts. So, the adage that Volvo cars are safe still holds true.
Fortunately, what is also true is that modern Volvos also sip considerably less fuel than their predecessors. In Europe, Volvo has a range of 'green' cars wearing what they call the DRIVe badge, similar in vein to Merc's BlueEFFICIENCY, or BMW's EfficientDynamics. This badge is given only their cars with the best environmental credentials i.e. lowest consumption and emission.
Models currently with the DRIVe badge include the C30 (99 g/km CO2), S40 (104 g/km CO2) and V50 (104 g/km CO2). Now, they are joined by the V70 wagon and S80 sedan, both boasting 119 g/km CO2, translating to a claimed fuel consumption figure of 4.5 litres/100km.
Put into perspective, 4.5 litres/100km in the V70 DRIVe and S80 DRIVetranslates to 1,750 km of travel per full tank. Even if we dismiss that figure as a lab figure, how much worse could the real life figures be? Say 1,300 – 1,400 km/tank good enough for you?
Techniques used to achieve these remarkable figures include intelligent recharging of batteries i.e. charging only on downhill descent or braking, and also an active reduction in friction for the air-con and alternator belt.
So what drives the V70 DRIVe and S80 DRIVe? A 1.6-litre diesel engine producing 109hp and 240Nm coupled with a manual transmission, as per the setup in the DRIVe versions of the C30, S40, and V50. It goes without saying that this does not run on Euro 2M.
KON