Honda Dreams Fund goes into 4th Year
Honda Malaysia, in partnership with the United Nations Development Programme (UNDP) Malaysia, has announced the renewal, for the fourth year, of the Honda Dreams Fund scholarship. From now till 31 Mar 2010, underprivileged youths around the nation have the opportunity to apply for one of 20 places up for grabs under this year's programme.

20 underprivileged youths selected yearly for the HDF
Since it's inception in April 2007, the Honda Dreams Fund has already enrolled 60 students into courses of their choice, funded by full and non-binding scholarships. Honda Malaysia has set aside a useful sum of RM 1 million for the 2010 fund. In addition, they will be taking the effort and initiative to spread the word of their cause by personally visiting rural communities and holding roadshows.
"HDF is among the projects that we at Honda are extremely passionate about. Worldwide, Honda's vision is to become a company which society wants it to exist. And with that vision in mind, we launched Honda Dreams Fund as part of our commitment to give back to Malaysians. Despite the recession and challenges facing the business environment this past year, we are committed to the this project to help the talented and less fortunate youths realize their dreams and achieve a better future through education. Through Honda Dreams Fund, we hope to impart and empower these young people with Honda's Power of Dreams and the Challenging Spirit, to provide them with the means towards a better tomorrow for themselves and their families. At the same time, we also hope to contribute to the human capital development in Malaysia", said Mr Toru Takahashi, Managing Director and Chief Executive Officer of Honda Malaysia Sdn Bhd.
"The Honda Dreams Fund has brought hope into the lives of our 60 scholars, and they have become an example and an inspiration to people around them, especially the youths in their villages and hometowns. We are proud to note that three scholars from our first batch have already graduated. And on this note, we look forward to meeting the next batch of 20 scholars for 2010 as they take the exciting journey towards fulfilling their dreams.  We certainly hope that this year, more dream-driven youths will apply and grab hold of this chance as it is indeed a once in a lifetime opportunity", added Takahashi.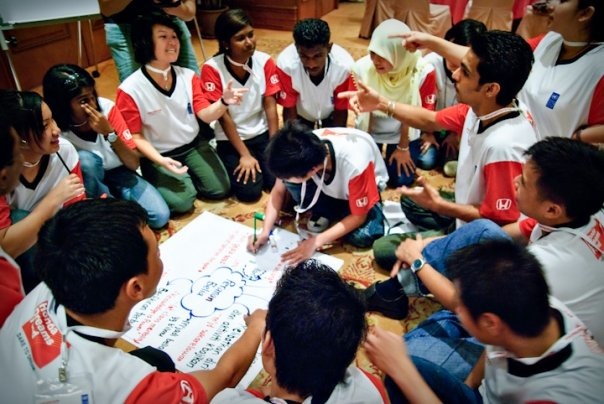 For the tough job of selecting eligible candidates for the limited number of places, an independent advisory panel, comprising of members from Human Rights Commission (SUHAKAM), All Women's Action Society (AWAM) and Malaysian Youth Council (MYC), is appointed.
"UNDP Malaysia remains committed to supporting efforts to assist marginalized and disadvantaged communities, consistent with Millennium Development Goal No. 1 on poverty eradication and eliminating hunger.  Such efforts are also consistent with one of UNDP Malaysia's five priority areas of focus, addressing poverty, inequality and exclusion," said Kamal Malhotra, UNDP Resident Representative for Malaysia, Singapore and Brunei Darussalam and UN Resident Coordinator for Malaysia.
If you know of someone who matches the criteria below, and could use a scholarship…
Criteria for Honda Dreams Fund
It is open to Malaysians aged between 17 – 24 years who have at least completed and passed the Sijil Pelajaran Malaysia (SPM) or Sijil Tinggi Pelajaran Malaysia (STPM) examination (especially for candidates wishing to pursue formal tertiary education in local universities/institutes of higher learning)
Combined Household Income of less than RM1,500 per month
Candidates must not be receiving any bursaries or financial aid from other organizations, agencies or government.
To apply, candidates are required to write an essay on their aspirations in realizing their dreams in not more than 500 words.
Application forms can be downloaded from the HDF website (www.honda.com.my/hdf) and will also be appearing in major newspapers beginning 7th January 2010.
The HDF is open for submissions from 7th January 2010 to 31st March 2010.
KON