Original spares with Proton Parts Centre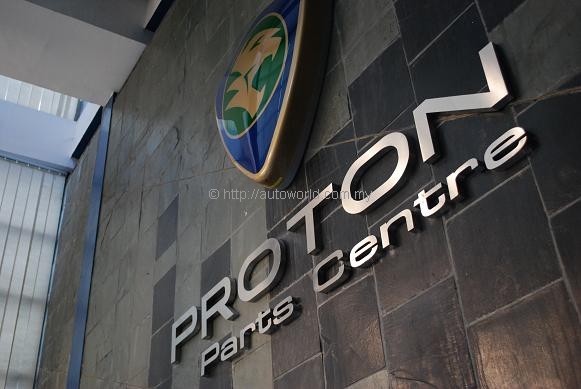 KON pays a visit to the main stocking point of all Proton spare parts worldwide.
—
It has once been been said that Malaysia is a haven for piracy. Although Thailand and China might have something to say about that, but fakes of English Premier League jerseys, Tag watches, LV handbags can be had for small fractions of the original prices from places like Petaling Street and Batu Ferringhi. And, let's be perfectly honest here, we've all watched movies on pirated DVDs before.
The appeal of pirated (or if you wish to call it by any other name, fake, imitations, counterfeits, whatever) goods is simply on price. Why spend RM300-400 on the original DVDs of Heroes Season 3 when the whole jingbang can be bought for RM45 with equally crystal clear quality? Why spend US$3,000 on an original Omega Speedmaster when the Batu Ferringhi edition costs less than RM250? In addition, pirated goods are getting increasingly difficult to distinguish from the originals, it almost renders the latter pointless. Almost.
You see, however accurate the imitations can copy the original, they would never be the original. There just isn't the same amount of effort and development put in to ensure that the quality of the imitation goods, which has to be built to a much lower price, mind you, is as good as the original. Now, not I'm encouraging it, but buying imitation clothes and other wear is fine as you can just dispose of them any time. Buying imitation of more critical items, like the parts of a car, is a different story.
In case you didn't know this, though you actually should, piracy has gotten into the car industry too, and it has been going on for a while. In China, they can even imitate whole cars, much to the headache and displeasure of manufacturers who invested the millions and brought you cars like the Honda CR-V, Mercedes C-class, Chevrolet Spark et al.
Thankfully, the situation did not reach that stage in Malaysia, but we do have a surfeit of imitation parts and fluids in the market. It's not funny. Think about it this way. The worst that a fake Prada or LV bag could do is make you a laughing stock. However, your fake automatic transmission oil could result in gearbox failure and present you with a four-figure repair bill, and because you have used fake parts, your manufacturer also has a get-out clause to escape from its warranty obligations. Not funny indeed.
Some people knowingly use fake parts completely aware of the consequences that they would face. Some knowingly use them playing down the possible consequences. Many also unknowingly use fake parts in their cars having been mislead to think they are genuine, and pay genuine prices for imitations.
Using fake and imitation parts in your car can hurt you more than you know and, as far as Proton owners are concerned, Proton Parts Centre Sdn Bhd (PPC) is out to educate the public on the benefits of using original replacement parts and the dangers of doing otherwise. Incorporated in 1992 with a paid-up capital of RM16m, PPC handles the sourcing, warehousing and distribution of Proton spare parts for both domestic and foreign markets. It has three shareholders: Proton (55%), EON (45%) and HICOM (5%)
Headquartered at their warehouse in Glenmarie, Shah Alam, PPC's network comprises of a further six distribution centres at Kota Bharu, Johor Bahru, Prai, Kuching, Miri, and Kota Kinabalu to ensure maximum effectiveness of its coverage nationwide. Though their parts go primarily to service centres, consumers can also obtain parts from them directly via their Parts Shoppe at Glenmarie and Wangsa Maju, or through their newly launched online B2C website capability at http://online.protonpartscentre.com/.
PPC's warehouse in Glenmarie is certified to ISO 9001 (2008) standards, using an advanced warehouse management system that features the use of bar codes and handheld scanners to track their parts, the first automotive parts warehouse in the country to do so. Manned by 260 staff, it boasts a storage area of 28,712m2, housing 45,000 parts at any one time. Ordering and tracking of parts are done online in real time, ensuring quick and efficient delivery of parts to customers.
Indeed, PPC's internal standards call for on the day delivery of parts for anywhere in the Klang Valley, one day delivery for the rest of the Peninsula, once a week for East Malaysia, and instant delivery for urgent orders. Urgent here, is defined as vehicles that are stranded and immobile, requiring an immediate fix.
Though the primary business of PPC is the distribution of Proton's parts, they regard themselves first and foremost as a logistics company specializing in the distribution and warehousing of automotive parts. In fact, PPC also helps DRB-HICOM to stock and distribute parts for Suzuki automobiles. They also assist EON in distributing (but not warehousing) parts for Mitsubishi, Hyundai and Audi cars.
Recently, though only on a very small scale, PPC has begun selling certain parts online via its E-Commerce website at http://online.protonpartscentre.com/. Users will need to register themselves as a member, which is free of charge, in order to enjoy this facility. Through the E-Commerce website, buyers can purchase small non-liquid items such as timing belts, clutch plates, lamp assemblies and even merchandise. Payment is done online, with delivery charges via Poslaju already factored into the purchase price.