New i30 launched at Hyundai Mega Motor Show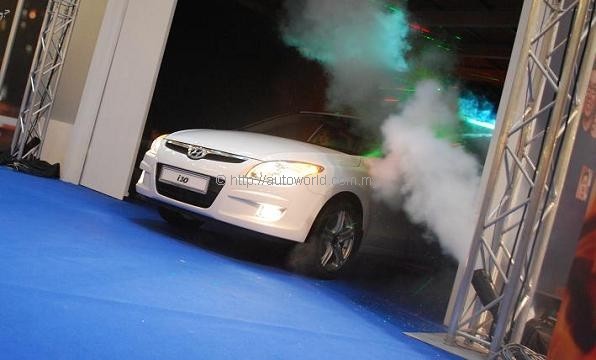 Hyundai-Sime Darby Motors Sdn Bbd (HSDM) today rolled out the new i30 hatchback at the Hyundai Mega Motor Show in One Utama, Petaling Jaya. Available in both 1.6 and 2.0-litre capacities, the i30 is the eleventh product in HSDM's burgeoning model range in Malaysia.
Officiating the launch was Mr Dennis Ho, Managing Director of HSDM and Mr Y.K. Chun, Senior Vice President of Hyundai Motor Company, South Korea.
Boldly styled with European cues, the i30 was researched and developed at Hyundai's Russelsheim Design and Technical Center in Germany. It arrives in Malaysia completely built-up from South Korea.
The exterior styling is defined by a pronounced pair of character-lines, one running along the entire length of the car at its waist, while the other starts at the front mudflaps and gently sweep up to meet the top of the rear wheel arches.
Hyundai's team at Russelsheim was clearly borrowing design cues from other German manufacturers, with an Opel-esque fascia up front and a tailgate bearing more than a passing resemblance with the BMW 1-series.
Having a wheelbase measuring 2,650mm long, Hyundai was able to design a massively spacious cabin for the i30. Its dashboard features a simple and stylishly designed, appearing completely unintimidating for first time users.
Hyundai made available only a 2.0-litre display unit at the launch, although we understand that the 1.6 manual version was brought in much later in the night after launch. Build quality of the said 2.0 display unit is at a high level, with the quality feel of the leather seats particularly impressive. There was a generous amount of headroom at the rear, and with the rear seats upright, cargo carrying volume is measured at 340 litres. Putting the split folding facility to use expands that figure to 1,250 litres.
Under the hood, customers can opt between two petrol-powered 16-valve twin cam engines with variable valve timing. The 1.6-litre, displacing 1,591cc, has 120hp on tap at 6,200rpm and a peak torque of 154.0Nm @ 4,200rpm. It comes with a choice of either a 5-speed manual (yes, you read correctly) or a 4-speed auto transmission. The other engine is the top of the range 2.0-litre powerplant producing 141hp @ 6,000rpm and 186.3Nm @ 4,600rpm. On-paper specs seem to suggest a pair of high-revving engines, as both deliver their peak torque above 4,000 revs.
Standard across the range, and this deserves praise, are independent suspension and disc brakes for all four wheels. The front wheels are held in place by MacPherson struts and stopped by massive 15″ ventilated discs. Thankfully, for the rear, Hyundai has opted not to use the cost saving torsion beam suspension, and has equipped the i30 with a proper multi-link setup, with a pair of 14″ solid discs thrown in. Embedded in the hub of the rear discs are drum brakes which are used for better locking of the handbrake.
As part of their brand-lifting efforts, Hyundai has pulled all the stops to ensure that the i30 is a car you can own without having to worry too much… about… pretty much anything. Safety is assured with twin airbags and antilock brakes. The 2.0 gets ESP thrown in as well. Defects also need not be worried, as the i30 comes with an impressive 5-year / 300,000km warranty, enough, as the brochures says, to circle the earth 7 times. Indeed, unemployment also need not be worried about, as Hyundai has pledged to offer customers a 'buy back' option if they lose their jobs within the first year of purchasing their cars.
Prices for the i30 starts at RM92,388 OTR for the 1.6 M/T. The car will be available for viewing at Hyundai showrooms nationwide starting on 1 Aug 2009. Members of the public wishing to see the i30 earlier can pay a visit to the Hyundai Mega Motor Show at The Oval, One Utama, Petaling Jaya until 26 July 2009.
For more information, visit the nearest Hyundai showroom, or call them at their Customer Careline at 1-300-13-2000.