Mitsubishi Pajero Sport Media Test Drive
Recently, Mitsubishi Motors Malaysia organized a special test drive session of the all-new Mitsubishi Pajero Sport for members of the local media. A total of 21 journalists from various publications were invited to attend the event. Spread into five cars, each took turns to drive the Pajero Sport from KL all the way up to Penang and back the following day with a few backroad detours thrown in to fully test its ride, handling and off-road capabilities.
The media pack gathered in the morning at MMM's HQ in Shah Alam, where they were introduced to Mitsu's veteran Dakar Rally driver Hiroshi Masuoka, who played a key role in the development of the Pajero Sport. At 9:30am, after a quick group photo, everybody got into their assigned cars and fired up the Pajero's (let's use the Sport moniker sparingly from this point forward) two and a half litre turbo-diesel powerplant. Collectively, the five diesel engines idling together produced an audible clatter, which became markedly reduced when the cars are on their own.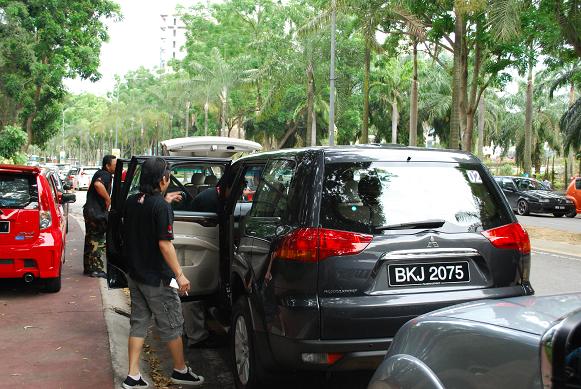 Journalists being introduced to Masuoka, before getting into their respective cars.
I was placed in Car No. 3, in the company of  a trio of experienced veteran writers – LeePS of Auto International, Yamin Vong of CBT and BH Chan of Chinese-language based magazine Motorcar. We were flagged off by MMM Chairman, Datuk Syed Hisham Syed Wazir, in the presence of Masuoka-san, CEO Mr Keizo Ono and COO En Omar Harun, with LeePS at the helm of our car. The mini-convoy headed to its first destination at the Selangor Fruit Valley at Bukit Bestari, Rawang. Driving sedately, LeePS was taking it easy on the highway, allowing the other cars to build a sizeable lead over us.
As LeePS strolled the Pajero forward at a leisurely pace, the three of us on the passenger seats had time to look around and evaluate the quality of its cabin. Impressions at this stage were good. The cabin is solidly built, and while the materials used are not bespoke, they look very capable of lasting years of hard use. We got a little wind noise on the highway, but not enough to disrupt our conversations or the music collection stored in the little Pajero-shaped thumbdrive plugged into the USB slot by MMM.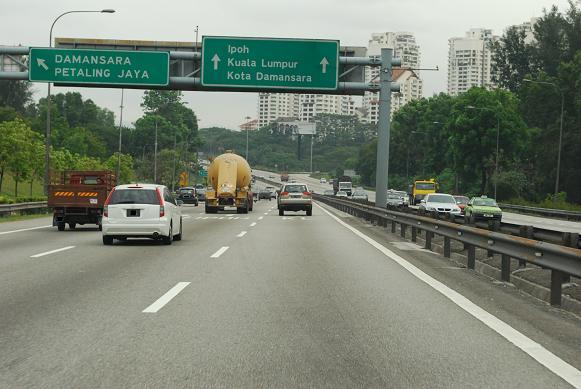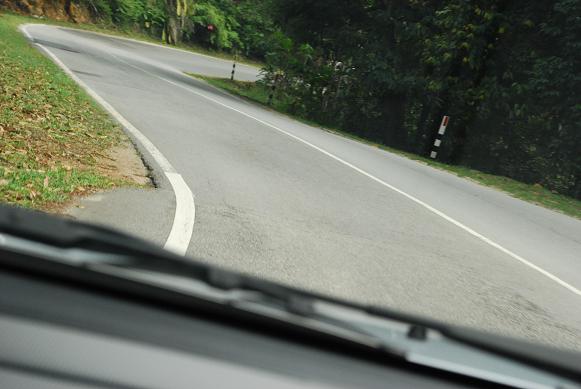 LeePS took it easy on the highways, but gave the Pajero a thrashing along the Rawang backroads.
We eventually caught up with the other test cars at Exit 117 to Rawang & Batang Berjuntai. Heavy traffic split us from the convoy again, but once clear, LeePS absolutely hammered the Pajero through the twists of Jalan Batu Arang to get us again within touching distance of YS, Chris Wee and the others. Here, the Pajero's tall body exhibited rolling tendencies, but the use of double wishbones up front teamed with independent rear suspension held by a lateral rod kept things firmly in check.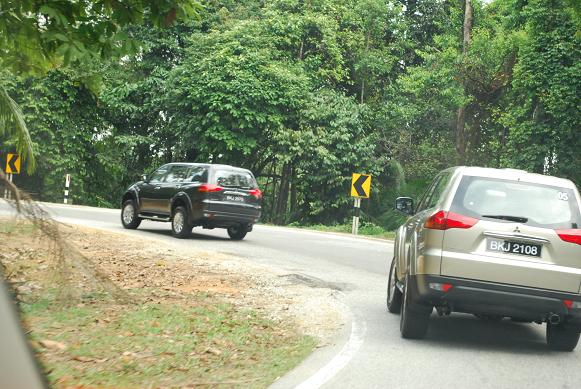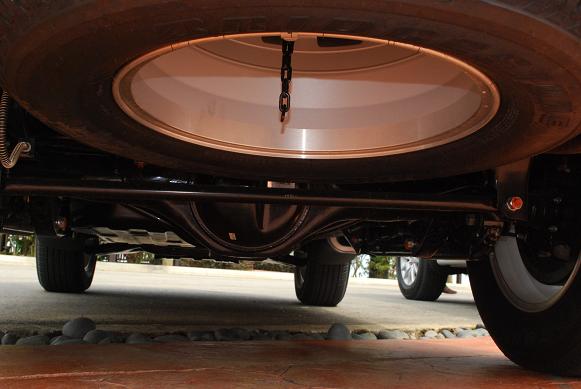 Lateral rod kept body roll in check. Journalists were impressed.

LeePS was able to eventually catch up with the convoy again and we kept on their tails until we reached the Selangor Fruit Valley. There, we were treated to a feast of durians, rambutans, and mangosteens as Masuoka-san to took each of us in-turn on "taxi-ride" on a rough off-road track through the fruit farm in a bog-standard Pajero, rally style. It was an exercise to demonstrate the off-road ability and hardiness of the Pajero, with the engineering borne out of Mitsubishi's 25-year experience in rallying.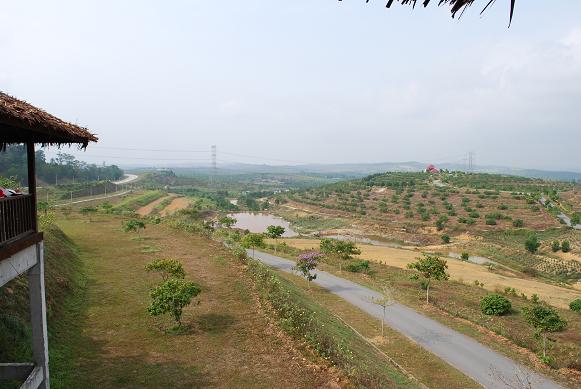 Selangor Fruit Valley – a feast of fruits and an off-road track awaited us here.
Although Masuoka appeared to be driving around the farm like a madman, there was little doubt that he knew what he was doing. During the few times that the Pajero almost lost grip, he was able to recover the situation almost nonchalantly, while casually engaging us in a conversation. You wouldn't guess it from the pictures, but bumps aside, it was very refined in the cabin. The Pajero just took everything Masuoka threw at it without much fuss, emerging from this chassis-shattering ordeal none the worse for wear.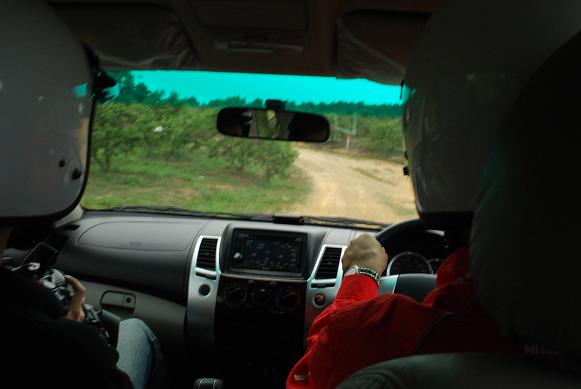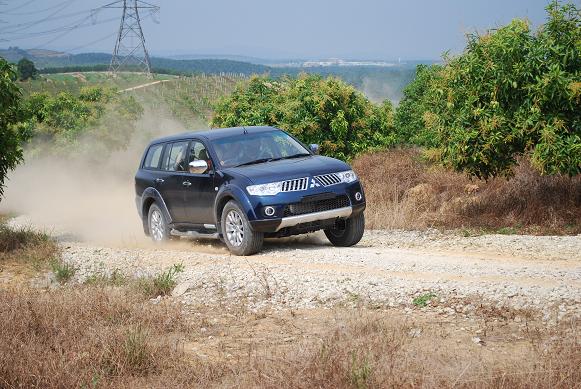 Danny here actually had a proper conversation with Masuoka as the latter throws the Pajero Sport around the fruit farm.
We left the fruit farm with LeePS still behind the wheel, and continued along Jalan Batu Arang in the direction we came from. At this point, it seemed that the designated first drivers have gotten the best deal of the journey. After driving the Pajero through a stretch of untarred road, LeePS got to put the claimed 314Nm peak torque of the Pajero's common-rail diesel engine to test with stretches of long straight roads. Overtaking on dual-lane single carriageways is not beyond the Pajero, but such efforts are best executed with some planning as the engine takes a few seconds to respond after burying your right foot on the throttle.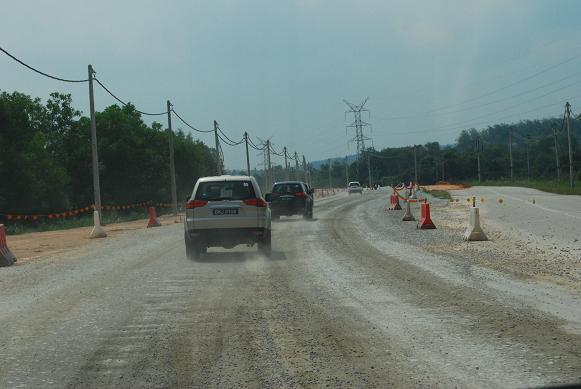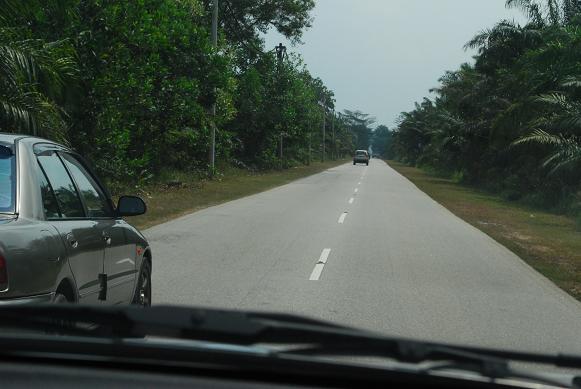 LeePS got to further test the Pajero's breadth of abilities.
The convoy regrouped for a driver change just before we re-entered the PLUS highway at Bukit Tagar, where Yamin took the reins in our car. The designated second drivers got an all-highway route as we cruised steadily to our next rest stop at Tapah for the next driver change. After taking a moment to freshen up, the keys were handed to me, as I was tasked to take Yamin, LeePS and BH to join the convoy for lunch at Indulgence Cafe at Ipoh, before continuing our journey to Bukit Gantang for our next driver change.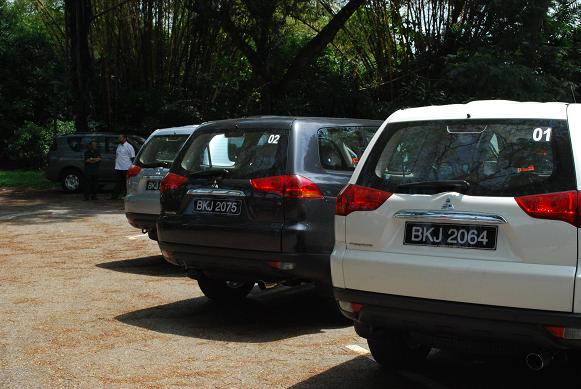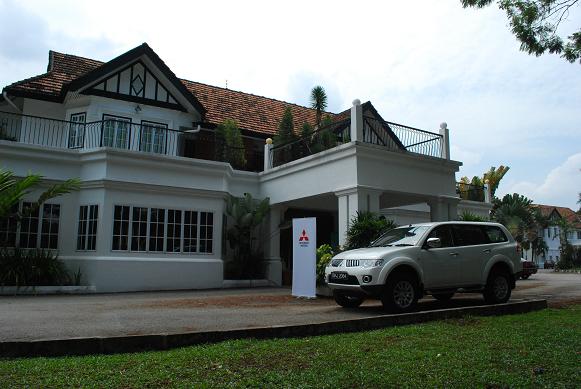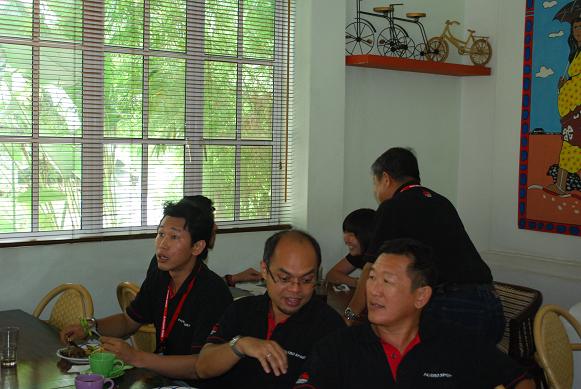 Lunch at Indulgence Cafe, Ipoh
My leg of the journey behind the wheel takes us, much to my delight, through the winding and sloping stretches of the PLUS highway at Jelapang. Here, I had to call on the manual shifting function on the INVECS-II four-speed automatic transmission for added traction at the bends. It allowed for more confident cornering, but at a lanky 1.8-metres in height, the Pajero Sport was never going to pull off any physics-defying moves.
Along the straights, the Pajero Sport was a civilized cruiser. Although having only four ratios to play with, the auto gearbox was able to keep the tachometer ticking just over 2,000rpm at the national speed limit. There's a slight lag in throttle response when prodded, but when it gets on song, all the torque of the diesel engine is delivered in smooth and seamless fashion, evidenced by a steady but relentless march of the speedometer into the triple-digit range.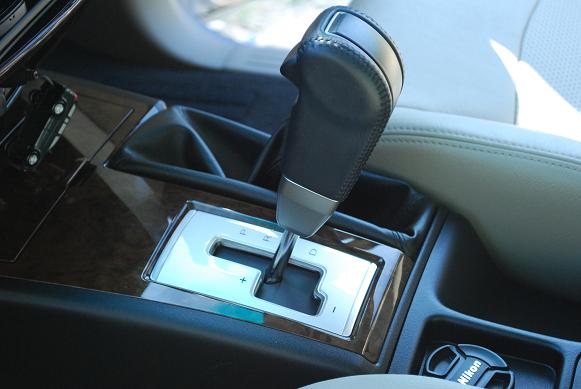 4A/T proved adequate during our test drive.
Compared to the 2.0-litre Captiva that we tested last weekend, the Pajero Sport's 2,477cc 4D56 oil-burner, despite a 500cc advantage, loses out in the output stakes. Against the Captiva, it has a power and torque deficit of 12hp and 6Nm, with Mitsu claiming output figures of 136hp @3,500rpm and 314Nm @ 2,000rpm respectively. Not that this these figures make the Pajero a slouch, but it's worth noting that in Europe, this engine is tuned to produce in excess of 170hp. According to MMM, the conservative tuning of the engine's output is to accommodate the lower quality diesel of our market.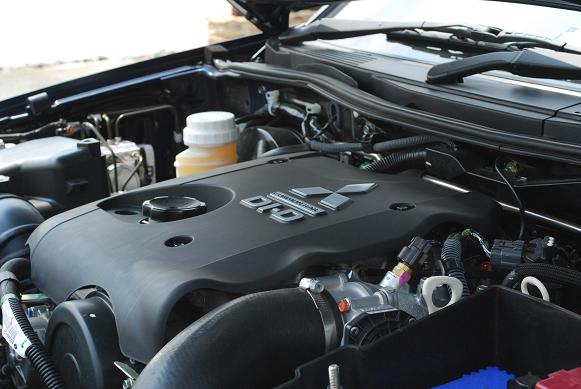 2.5-litre 4D56 is a little low on power compared to other alternatives, but still pulls Pajero strongly enough.
After swapping drivers at Bukit Gantang, where I vacated the drivers seat to make way for BH, the convoy continued all the way to Penang almost without interruption, though it was a tortoise-paced drive once we crossed the Penang bridge. It took us more than 45 minutes to crawl our way from the bridge to the premises of the Shangri-La Rasa Sayang resort at Batu Ferringhi, where we checked in for the night after an exhausting day behind the wheel. The day's programme was then wrapped up with a buffet dinner at Shangri-La's very own Tepi Laut Restaurant & Bar, where Masuoka-san and the other representatives interacted with inquisitive members of the media in a feedback session of the Pajero Sport.
The next morning, as some of the other journalists engaged each other in a game of golf, I was able to spend some time on my own with one of the Pajero Sport test cars. Strong sunlight limited my photography options, but I was able to better explore the various features of the interior, not to mention testing the Pajero's handling along the twisty coastal road of Batu Ferringhi. As advertised, the Super Select 4WD (SS4) system enabled on-the-fly switching between RWD and 4WD mode in seamless fashion up to 100kph.
There are three 4WD modes available – high range (4H), high ranged with locked centre differential (4HLc), and low range with locked centre differential (4LLc), with the chosen setting shown in an on-dash display. Setting the drivetrain to '4LLc' gives the Pajero the ability to climb slopes up 35 degrees steep, while maximum lateral travel angle is rated at 45 degrees. Complimenting the SS4, is a hybrid LSD with helical gears and a viscous coupling. As far as off-roading ability goes, the Pajero Sport is every bit a worthy bearer of the nameplate.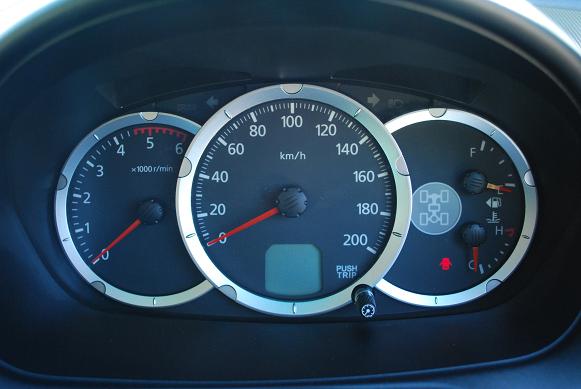 Super Select 4WD indicator embedded in instrument panel.
It is however, a little short in terms of equipment. For 163,000 of your hard-earned ringgits, you will not be getting any one of auto-cruise, steering mounted controls, trip computers, or even a dash-mounted clock. The Kenwood ICE system with 2-DIN HU is a decent piece of kit though, with MP3, WMA and DVD capability built-in. A USB slot placed at the bottom of the centre console next to the cigarette lighter. As a safety feature, and also part of JPJ requirements, the DVD video player can only be used when the car is at a full stop.
Folding of the rear seats, an important feature for potential buyers of this car, can be operated intuitively. Both rows can be split folded, allowing for various cargo/passenger carrying configurations.  The folding mechanism has a solid feel about it, but occasionally it may take more than one attempt to snap the seats back in place. Releasing them was easy enough, especially the back row. It may sound flimsy, but all you have to do pull a couple of straps and the back row seats just tumble forward, slotting themselves nicely to form a flat bed.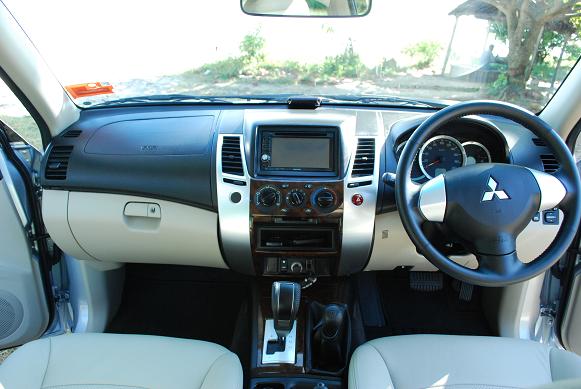 Dash is well-designed and solidly built, but at RM163k, it could do with more equipment.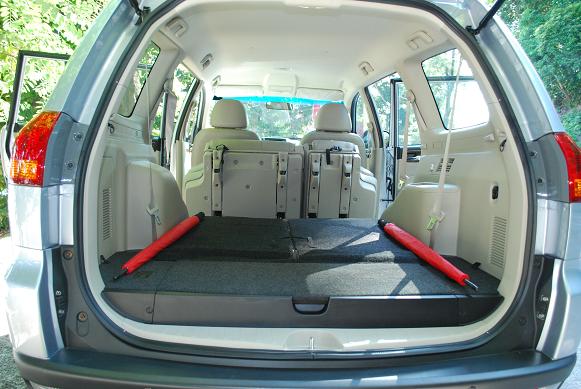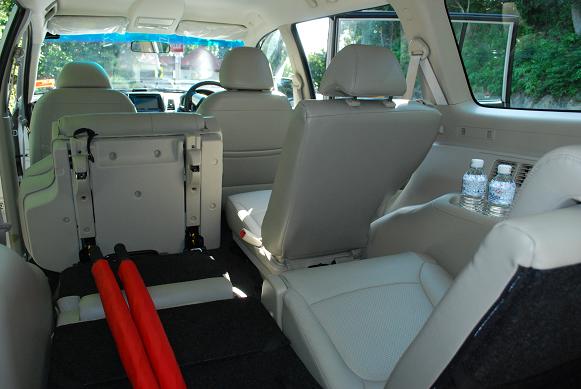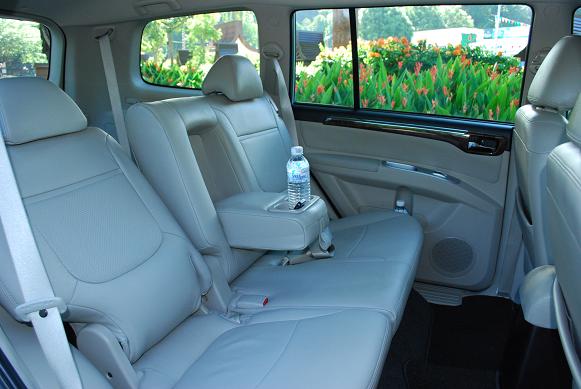 Various possible configurations of the rear seats.
For the return journey to KL, the pack was once again reshuffled, as each car headed home (MMM HQ) independently. I once again found myself in Yamin's company, but this time we were joined by Salihin of Berita Harian Auto and Ong Siew Lam of Sin Chew. Yamin got us going, and took us through another winding back road of Tanjung Bungah before we joined Jalan Gottlieb and headed straight for the bridge. We swapped drivers twice, but it was an uneventful journey home. The only incident of note was that we had an encounter with a police roadblock, but we were waved right through without having to stop.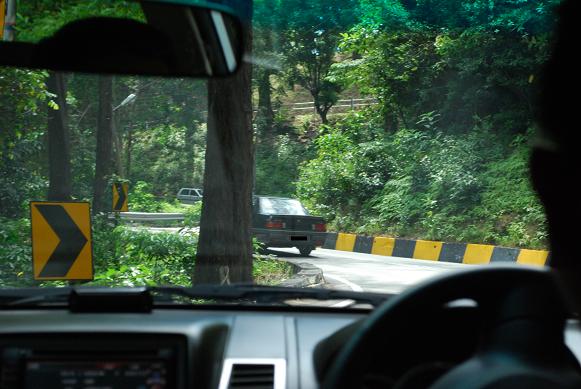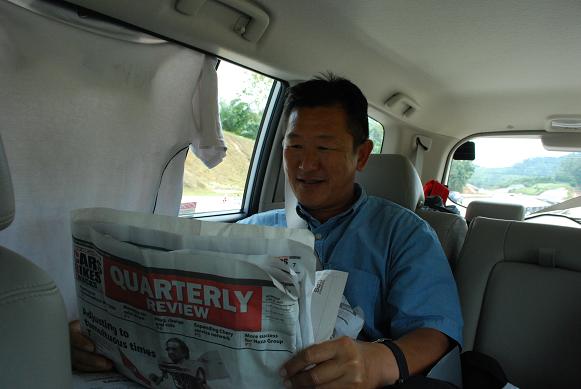 Yamin gave the Pajero a good workout, before retiring to the backseat.
During our two days with it, the Pajero Sport gave us a very good impression of its abilities. It was properly refined on the straights, and equally adept in rough terrain. Being mounted on a ladder frame, it does lose out against monocoque-framed rivals in the urban battlefield. In addition, a specs sheet which features a four-speed auto gearbox and rear drum brakes is not likely to impress either, especially at RM163k. What the Pajero Sport has going for it is the ruggedness of its drivetrain, suspension and build quality making it a capable off-roader.
Specifications: Mitsubishi Pajero Sport
Price (OTR incl. insurance, Peninsula): RM162,980.00
Engine: 4D56, 2,477cc, 16V, inline-4, DOHC, turbodiesel with intercooler.
Max Power: 136hp @ 3,500rpm
Max Torque: 314Nm @ 2,000rpm
Drivetrain: 4-speed INVECS-II automatic transmission, Super Select 4WD
Brakes (front/rear): Vent disc / Drums
Suspension (front / rear): Double wishbones / 3-link with lateral rod
Tyres: 265/65 R17
Length × Width × Height: 4,695mm × 1,815mm × 1,800mm
Wheelbase: 2,800mm
Weight: 2,055kg (kerb), 2,710kg(gross)
Fuel Tank Capacity: 70 litres
(+): Rugged build, good high speed refinement, Super Select 4WD.
(-): Underequipped for the price
Verdict: The Pajero Sport is difficult to recommend if you're an urban only user. However, if you need to constantly go offroad, this is a car to consider.
View the Mitsubishi Pajero Sport Media Test Drive thread in our forum here.