Home
Motorsports
KL Tower Racing Team unveils Drivers & Car for Sepang 1000km.
KL Tower Racing Team unveils Drivers & Car for Sepang 1000km.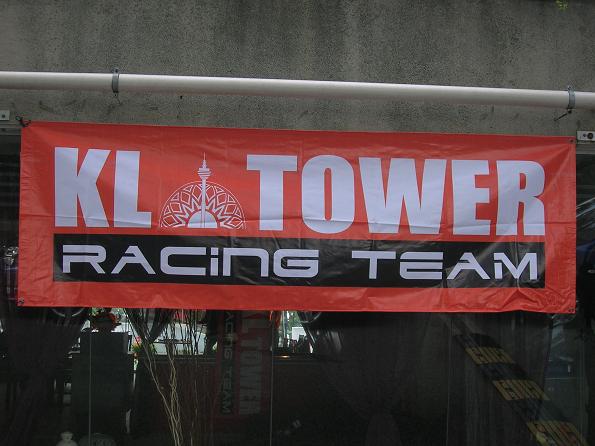 As reported by Eu Jin earlier, the inaugural Sepang 1000km race is set to take place this week on 4-6 June 2009. Among the teams participating will be the KL Tower Racing Team, who unveiled their car & driver line-up for the event yesterday. For this year's edition, the team will have Admi Shahrul Ahmad Saffian, Khaidi Kamaruddin and Nick Thomas will be racing in a Proton Satria R3 competing in Class 1 (1650cc – 1900cc).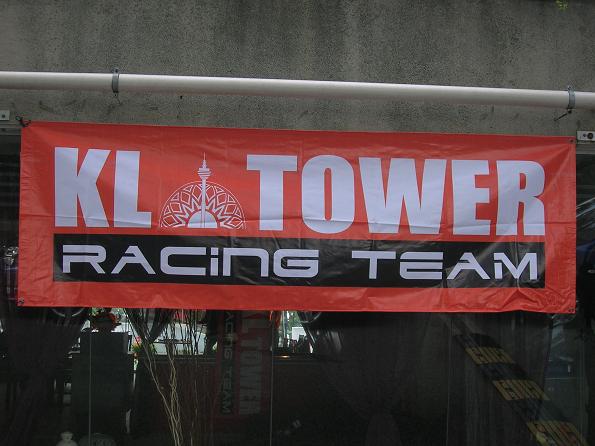 In their fourth year in existence, the KL Tower team will be hoping for an improvement in fortunes, as their first three years on the track running in the Merdeka Millenium Endurance (MME) race were marred by various technical problems. During their debut in the 2006 MME with Admi, Khaidi and Ivan Khong, they were within five minutes of finishing second in the gruelling 12 hour race, only to be stopped dead in their tracks by gearbox failure.
Azwan Ali then replaced Ivan in 2007, and this time, they found themselves leading the race, but had to contend with a sixth place finish in class B after an accident forced an extended stay in the pits. In 2008, the team changed drivers again, swapping Azwan for Adian Khalid. Unfortunately, their fortunes didn't change too much, as they broke their driveshaft while holding on to second place.
While Admi and Khaidi soldier on for a fourth year in 2009, they will also see a fourth new team-mate, as Nick Thomas is drafted in to replace Adian. Thomas, a New Zealander by birth who currently resides in Hong Kong, began racing in 1995 in the Hong Kong Porsche Club championship. Thomas, despite working as an airline pilot full-time, has nonetheless amassed a wealth of racing experience, having raced four times in the MME, and also having participated in a dozen different races in Macau.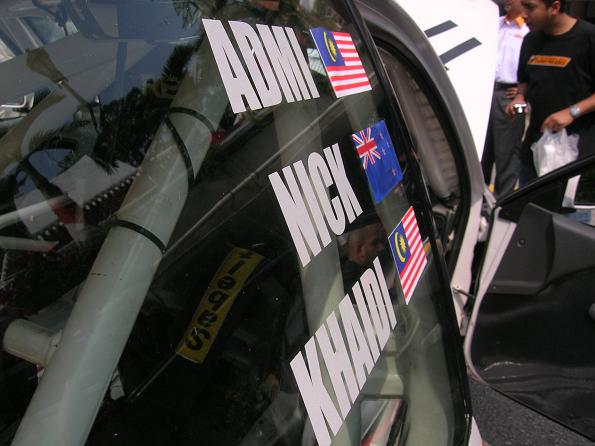 Names of team members emblazoned on the rear windows.
Thomas himself was not present when the team and car were introduced to the media at Barra Restaurant, situated at the base of (where else?) KL Tower. Besides the car, Admi and Khaidi, also present at the launch were En Fadzil Hj Ibrahim, GM of Sales & Operations for KL Tower and En Azhar Ghazali, Sepang International Circuit Press Officer.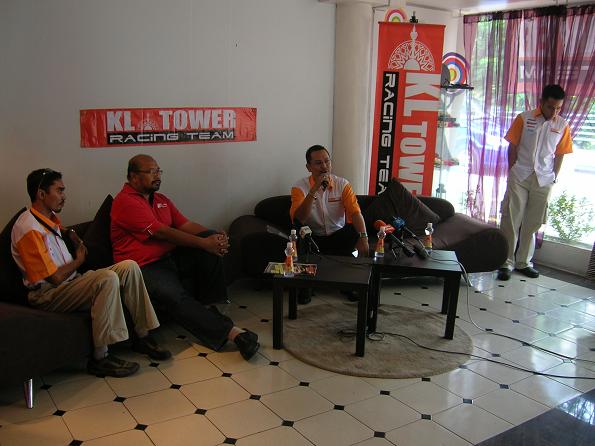 Left to right: Admi, En. Azhar Ghazali, En Fadzil and Khaidi.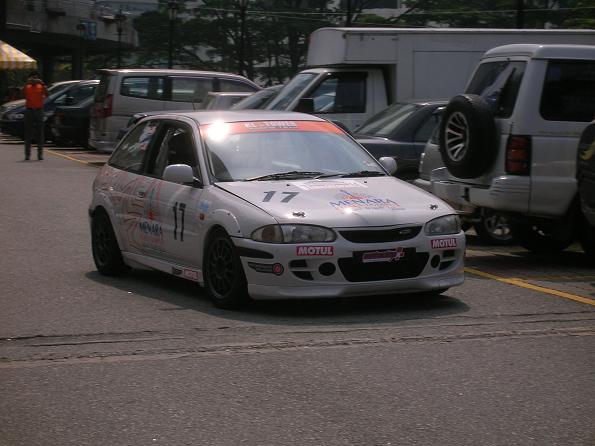 The team's Satria R3 driven out to be viewed by the press.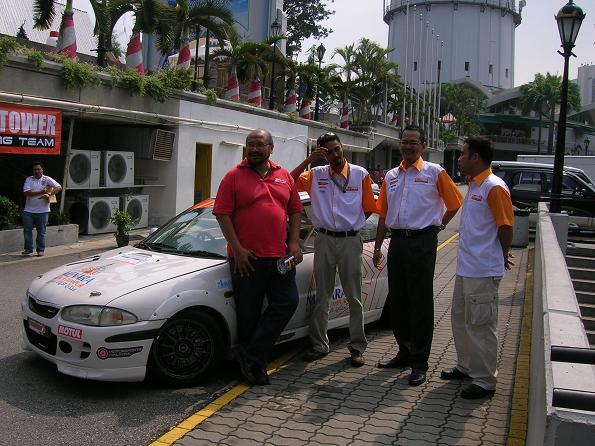 Same bunch of guys, now posing with the car.
Khaidi began racing at the age of 16 in the Batu Tiga and Pasir Gudang tracks. In 1995, at the age of 20, he was crowned champion of the Best of Malaysia series. His association with MME began in 2003, when he raced for Team MME AirAsia getting third place. The following year, he joined Team Proton R3 as team manager, leading them to the title of overall champions in Class 'O' (Open), before joining Team KL Tower in 2006.
Admi's affliation with motorsports now approaches three decades, having started as a team crew member for S.B. Motorsport in the Malaysian Saloon Car Championship in 1991. From 1992 to 2004, he has worked as scrutineering marshal, paddock & pit marshal, circuit recovery crew, safety car driver and events coordinator for various motorsport events in Shah Alam Circuit and Sepang International Circuit. He started competitive driving in motorsports in 1995, finishing fourth in the Silverstone Proton Championship racing for Team Hi-Rev Malaysia.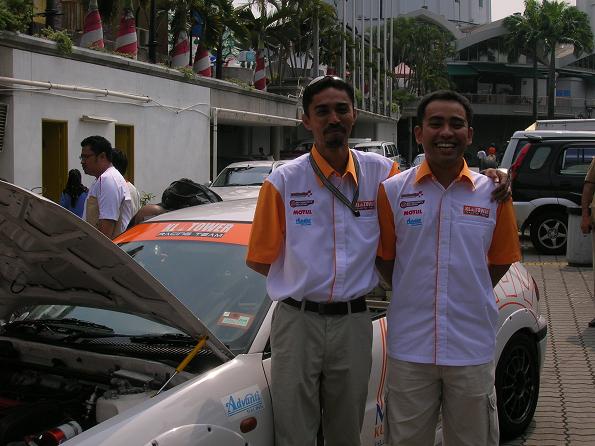 Admi & Khaidi posing with the car.
The car they will driving, a Proton Satria R3 was rigourously tuned and prepared by Velocity Sports Management and Motorsports Malaysia, with Motul as the lubricant partner. We were told by the drivers that because the Sepang 1000km is expected to last for about nine to ten hours, they will attempt to squeeze more out of the 1,834cc 4G93 powerplant than they previously did with the twelve-hour MME. Due to the significantly shorter duration, the team can afford to push for more power at a slight sacrifice of reliability. Don't be fooled though, this engine will still take quite a beating.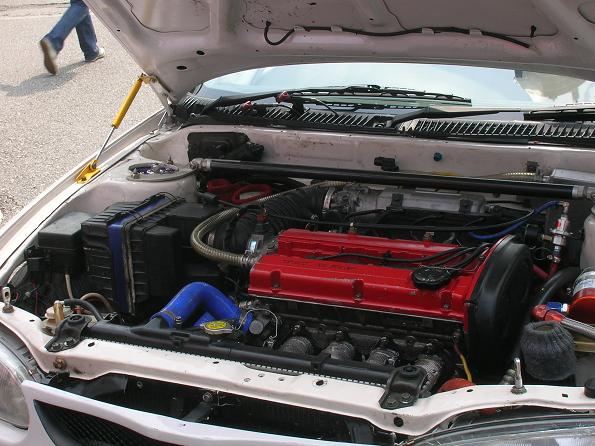 No technical details given, but this 4G93 needs to do 1000km of hard driving.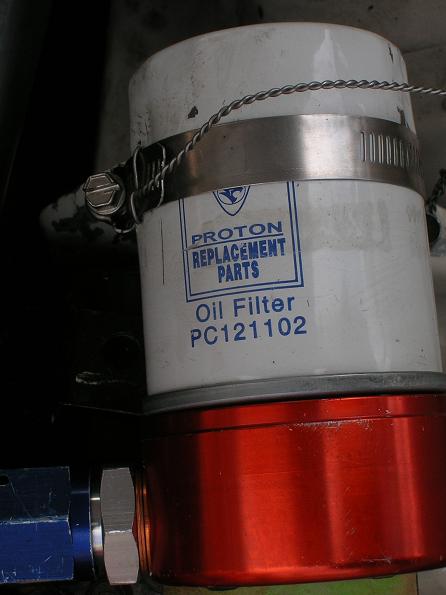 Always insist on genuine Proton parts.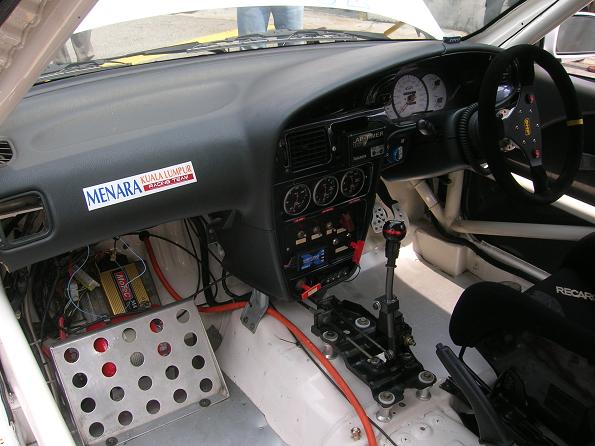 Stripped out interior.
Rims are provided by wheel partner Advanti Racing, wrapped around by Archilles 123 tyres – which are the competition's compulsory regulation tyres. During the question and answer session with the press, Admi did not hold back on his criticisms on the tyres, remarking that most teams lost on average five to six seconds per lap running on them. He added that having progressed from using Silverstone road tyres, then to slick tyres, most teams on the field have been gradually slashing lap times over the years until the advent of the Archilles.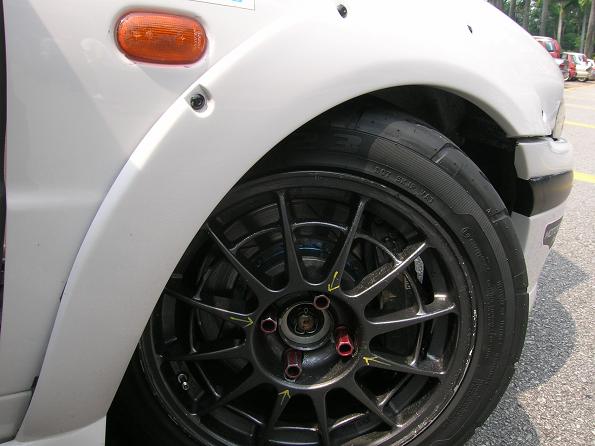 Wheels by Advanti, tyres by Archilles.

Nevertheless, both he and Khaidi noted that as every car on the track is running on the same tyres, every team will then be facing the same issues and obstacles when tuning the handling of their cars. The advantage here goes to the teams that adapt best to the new tyre's characteristics.