Home
Motorsports
Sepang International Circuit holds inaugural 1000KM Race – June 4-6
Sepang International Circuit holds inaugural 1000KM Race – June 4-6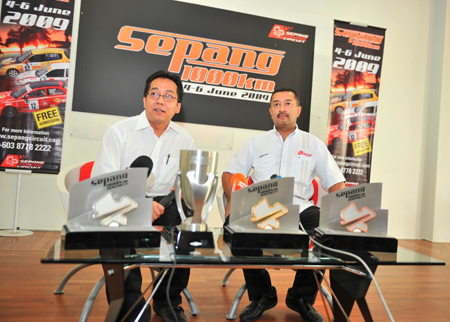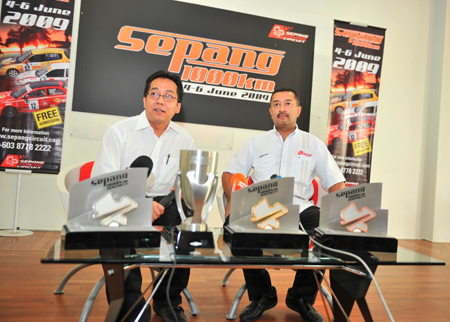 Already home to some of the world's most prestigious racing events, the Sepang 1000km is set to be another pride of Sepang International Circuit.
The inaugural Sepang 1000km will be held on June 4th to 6th June 2009.
"It is truly an-all Malaysian event designed by and for Malaysians in particular," said SIC Chairman Datuk Mokhzani Tun Mahathir at the event's launch by the Youth and Sports Deputy Minister Datuk Razali Ibrahim at the circuit yesterday.
Open to production cars below 1900cc (Class B and C), the introduction of the 1000-km race has now split the Merdeka Millennium Endurance race and, perhaps, effectively eliminated the painful experience of non qualifiers at the 12-hour race.
A maximum of 77 cars would be allowed to start the race with the quota set at 38 cars for Class 1 for cars between 1650cc to 1900cc and another 39 cars for Class 2 for cars with engine capacity below 1600cc.
Spurred by their victorious collaboration at Sepang 12-hour Merdeka Millennium Endurance Race (MME) last year, Team Proton R3 and X1-R are joining forces again to top Class B.
Qualifying for the race will start on June 5 while the process of registration, scrutineering and free practice would be done the day before.
With a minimum of two drivers and a maximum of four drivers to a car, the first team that completes 182 laps (approximately 1008km) of the 5.543km track will be announced the winner on race day, June 6.
"It's a natural progression for a race like MME to become more competitive with more big budget teams and faster cars entering as the years go on, with this some of the smaller players start to be left behind," said Mokhzani.
"After studying the feedback from the smaller teams that took part in MME, it was decided that they needed a more level playing field which resulted in the creation of the Sepang 1000km.
Nevertheless for those frequent MME qualifiers, the race can also works as a warm up to the MME in August."
Mokhzani also believes that the Sepang 1000km is a good grass root level race which caters to fresh and upcoming racing teams.
"With categories B and C in mind, SIC wanted to produce a strong bunch of drivers and team in this category," Mokhzani said.
All teams will be using the  Achilles 123 model as the official tyre for the race as a compulsory requirement.
For you motorsports fan out there, come and be part of this historical event. Entrance for public is free.
The race schedule as follows:-
THURSDAY, 4th JUNE 2009
0830 hrs – 1200 hrs All Registration & Scrutineering
0900 hrs – 1130 hrs Support Races Registration & Scrutineering
1145 hrs    Support Races Drivers' Briefing
1230 hrs    1000KM Drivers;Briefing
1245 hrs – 1315 hrs Supercars/Supersaloon Free Practice
1330 hrs – 1400 hrs Aston Martin Free Practice
1430 hrs – 1530 hrs All Drivers Class 2 Free Practice
1540 hrs – 1640 hrs All Drivers Class 1 Free Practice
1650 hrs – 1750 hrs All Drivers Class 2 Free Practice
1800 hrs – 1900 hrs All Drivers Class 1 Free practice
FRIDAY, 5th JUNE 2009
0900 hrs – 0930 hrs Aston Martin Qualifying
0940 hrs – 1010 hrs Supercars/Supersaloon Qualifying
1030 hrs – 1100 hrs Class 2 Driver 1 Qualifying
1110 hrs – 1140 hrs Class 1 Driver 1 Qualifying
1150 hrs – 1220 hrs Class 2 Driver 2 Qualifying
1230 hrs – 1300 hrs Class 1 Driver 2 Qualifying
1300 hrs – 1400 hrs BREAK
1400 hrs – 1430 hrs Class 2 Driver 3 Qualifying
1440 hrs – 1510 hrs Class 1 Driver 3 Qualifying
1520 hrs – 1540 hrs Class 2 Driver 4 Qualifying
1550 hrs – 1620 hrs Class 1 Driver 4 Qualifying
1630 hrs    Aston Martin Race 1 (15 laps)
1730 hrs    Supercars/Supersaloon Race 1 (15 laps)
SATURDAY, 6th JUNE 2009
0900 hrs – 0945 hrs Supercars/Supersaloon Race 2 (15 laps)
1000 hrs – 1045 hrs Aston Martin Race 2 (15 laps)
1100 hrs                 Pit Exit Open
1115 hrs                 Pit Exit Close
1150 hrs                 National Anthem
1157 hrs                 Formation lap
1200 hrs                 Sepang 1000km Race Start (182 Laps)
2100 hrs                Prize Presentation