Daimler and Tesla go into Strategic Partnership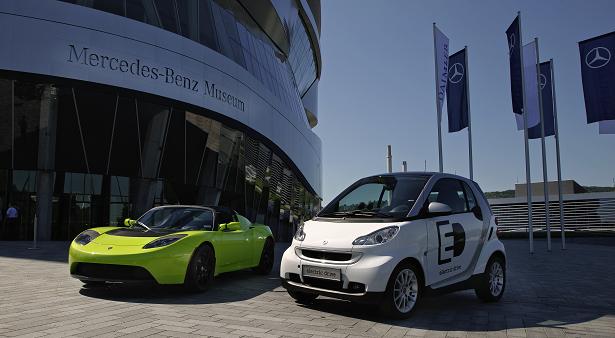 Daimler AG and Tesla Motors Inc have recently announced a solidification of their partnership, with the Stuttgart outfit acquiring a 10% stake in the rising electric car maker. The companies have already been working closely together to integrate 1,000 units of Tesla's lithium-ion batteries and charging systems into Daimler's electric smart fortwo, due to commence production later this year in smart's assembly plant in Hambach, France.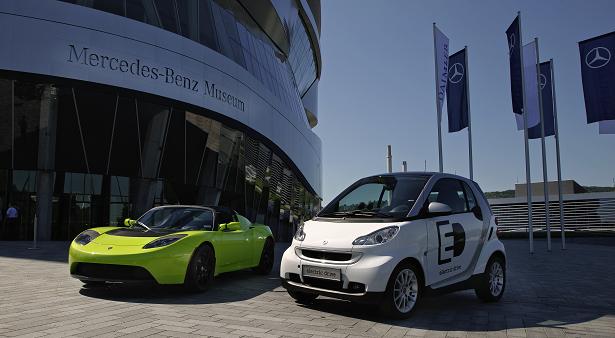 Tesla Roadster with electric drive smart fortwo.
This collaboration will see Daimler place Prof. Herbert Kohler, Vice President of its E-Drive and Future Mobility division among Tesla's board of directors. The scope of their collaboration shall include the development of battery systems, electric drive systems and individual vehicle projects.

The bosses at the press conference.
From this partnership, Tesla stands to benefit from having access to Daimler's expertise in the areas of engineering, production and supply chain, allowing them to, hopefully, get the upcoming Model S onto the production line quicker.
On Daimler's side, this move keeps them inline with their electric vehicle policy. Plans are already afoot in the company to industrialize lithium-ion technology. Currently, Daimler is the only manufacturer that has all of developing, producing and marketing of batteries for electric vehicles under one roof. Since 2007, they have been having 100 smart electric cars running around in London undergoing trials.
Eventually, electric propulsion will be appearing in Mercedes-Benz vehicles. A fuel-cell powered B-class will commence small-series production this year, while the first battery powered Merc is set for introduction next year. By 2012, all smart and Mercedes electric vehicles will be powered by Daimler's in-house produced lithium-ion batteries.