Rainaway Nano Glass Coating – For Improved Visibility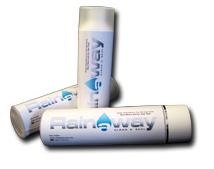 Much has been made about the need for having tinted car windows in Malaysia. The country's hot and humid weather could serve to make almost any cabin an uncomfortable place to be when placed under the sun for a sufficient period of time. To a great extent, tinted windows protect the cabin and its occupants from the sun's harmful rays, reflecting a massive portion of those rays away.
But, lest we forget, our tropical weather, besides giving us bright sunshine all year long, also brings heavy rain and thunderstorms. Tinted windows takes car of things during the bright sunshine, but there has been less emphasis on preparing one's car for the rainy days.
During a massive downpour, a great many things are compromised, most notably handling and visibility. The paradox is that, with the compromised handling, crystal clear visibility becomes even more important, as drivers need to be even more aware of potential dangers and obstacles.
A good set of windscreen wipers would help tremendously, but as they wear off, they lose their effectiveness. The jagged edges of worn windscreen wipers would even leave strips of water along their trails, worsening visibility rather than improving it.
The root cause of the visibility issues during rain are water droplets adhering to the windscreen surface, scattering approaching light from the front. A more effective solution would surely be to prevent the water droplets from adhering to the windscreen surface in the first place.
To that end, JC International Sdn Bhd has a solution for you, coming all the way from Germany, Rainaway Nano Glass Coating - a new windscreen coating based on nanotechnology. Removing, not only rain, but also dirt and insects, Rainaway improves user visibility for the driver by as much as 50%.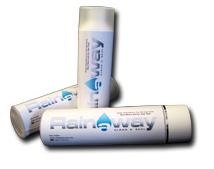 The Rainaway coating on your windscreen prevents the adherence of any foreign matter onto the glass surface. As a result; dirt, dust, soil, grime and all can be cleaned with ease. With a clean windscreen, the use of windscreen wipers and washer liquid can be reduced, and hence wear is kept to a minimum.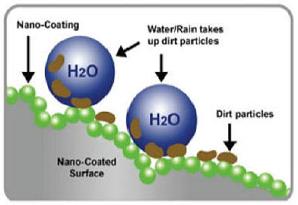 The effectiveness of Rainaway can be seen in the vast difference in water droplet contact angle with the screen surface. On an untreated surface, the water droplet contact angle is 15 degrees, meaning that the water droplet is spread over a relatively large surface due to high adhesion.

Contrast that with the 115 degree contact angle on a Rainaway-treated surface, where there is minimal adhesion between the water and the Rainaway nanocoat, with the water droplets retaining their bulbous shape and quickly rolling off the surface. As the Rainaway coat also ensures dirt and grime do not adhere to the surface, the water droplets will carry them away as they roll along.

Application of Rainaway is a quick and painless process. Personnel in JC International's premises will appropriately clean and condition the windscreen of your car before applying the coating, guaranteeing that it would last at least 12 months of usage.
For more information and customer testimonials, visit Rainaway official website at http://www.rainaway.com.my