Home
Motorsports
Formula BMW Pacific – Victory for Thompson In Opening Race
Formula BMW Pacific – Victory for Thompson In Opening Race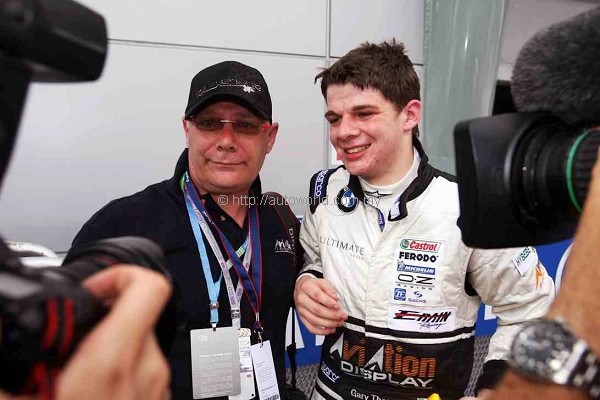 Sepang, Malaysia – Ireland's Gary Thompson (16/E-Rain Racing) took victory in the opening round of the 2009 Formula BMW Pacific season on april 4, 2009, after a superb 10-lap race run in support of the 2009 Formula 1 Petronas Malaysian Grand Prix and in which the entire field of young drivers impressed.
Second was Australian Chris Wootton (20/Eurasia Motorsport), who persevered after losing a front wing early on in the race, with Indonesia's Rio Haryanto (16/Questnet Team Qi-Meritus) third across the line from 5th on the grid. At the start of the eventful season-opener, Rookie Thompson lost his pole position advantage, with Wootton also getting what he later described as a "not exactly flash" start for the pair. It was Thompson's team mate, Fahmi Ilyas (17) of Malaysia who shot off the grid from the second row, with fellow countryman Calvin Wong (17/Team Holzer PFX) in hot pursuit.
As the Malaysian pair led the pack, it looked as though a local one-two finish was on the cards, when it all went wrong on lap 4. Both drivers appeared to miss the braking point and spun, rejoining the race but back down the order. That handed the race lead back to pole-man Thompson, who set about pulling out a gap from Wootton who was struggling with a damaged car.
Meanwhile, Haryanto was putting in a spirited drive through the field having dropped down to 6th on the opening lap, and was running 3rd by the middle of the race. Formula BMW Junior Axcil Jefferies (Eurasia Motorsport) of Zimbabwe made an impressive debut, just missing out on a podium finish in 4th and taking runner-up in the Rookie Cup, ahead of fellow Rookie Dustin Sofyan (Questnet Team Qi-Meritus) of Indonesia. Jefferies' finish also helped his team to the top of the Team Classification, giving Eurasia Motorsport an 11 point lead over Questnet Team Qi-Meritus after just one race.
Thompson, who has got his season off to a near-perfect start, admitted that luck had played a part in his victory: "The start was terrible for me and Chris! I was lucky Chris took off his front wing, and I was lucky Fahmi spun, which put me in the lead."
Jefferies was pleased after the first race of his career, and a little relieved: "It's a decent start to the season. The start was the best part, although it wasn't a particularly good one. I didn't know what to expect as my practice starts had been disastrous! The standard of racing amongst the field is really high, everyone respected each other." Fellow Junior Steel Guiliana (17/AUS/Motaworld), is facing an almost vertical learning curve this weekend having had just a couple of days testing, far less than the other newcomers.
The opening race of the season had arguably the lowest rate of attrition ever, with only one driver failing to finish after Rookie Muhamad Alif Jafri (17/MAS/Team Holzer PFX) spun out early on.
The results remain provisional, pending confirmation. Thompson, who leads both the Driver Classification and Rookie Cup standings, will start Round 2 from pole position tomorrow, with Wootton alongside. Ilyas, who lines up next to Jefferies on the second row, will have the chance to remedy his error in Round 2, but with rival Wong and the in-form Haryanto hot on his heels, it will be another fascinating 10 laps.