New 2009 Honda Civic Launched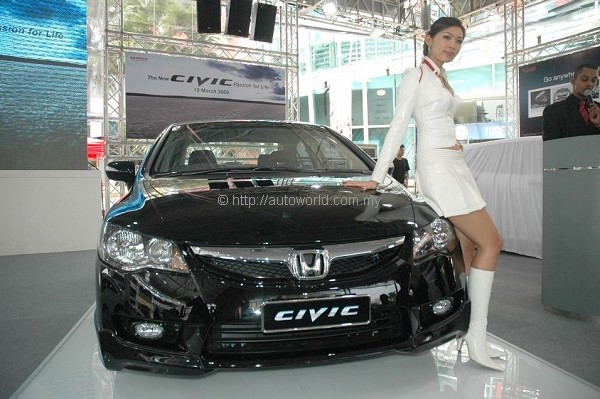 Honda Malaysia unveiled its 2009 model today at a mobile showroom that is going to have the full model range, including the new Civic on show for the next three days, until the 22 March 2009 at the Curve, Mutiara Damansara, Petaling Jaya.
The 8th generation Honda Civic has undergone some subtle changes for 2009, which include a newly designed front grille, and bumper, fog lights and diamond cluster rear lights. The 2.0 litre model gets a new set of 17-inch wheels.
The Honda Civic continues to be sold in two variants, namely the 1.8 litre SOHC, which promises outstanding fuel economy whilst delivering 140 Ps of power and 174Nm of torque. The 2.0 litre model features a DOHC engine, with 155 PS of power and 188Nm of torque. A recent addition is the Honda Civic Hybrid which will appeal to people who subscribe to the green movement, as it features an energy regeneration system, and a hybrid system that really stretches your petro-dollar. Both engines feature Honda's innovative i-Vtec management system which provides variable valve and ignition timing.
Steering system for the 1.8 litre model is hydraulic while the 2.0 litre model features electrical power steering. Elsewhere, the suspension remains independent all round, with MacPherson struts in the front, and double wishbones at the rear. Brakes are ventilated discs at the front, and solid discs at the rear.
Since the introduction of the very first generation Honda civic in 1972, the Civic has sold more than 19 million units in 160 countries. In Malaysia, Honda Malaysia has sold close to 35,000 units since 2002, of which 26,000 units were of the 8th generation Civic. The Civic also has the honour of being the top non-national mid-sized sedan for three consecutive years, capturing 40 percent of this segment in 2008.
The new Civic retails at RM114, 980 for the 1.8S model, and RM129, 980 for the 2.0s model. Both prices are on-the-road with insurance.