New Honda City Moves to the Top with 5-speed Auto and 120 PS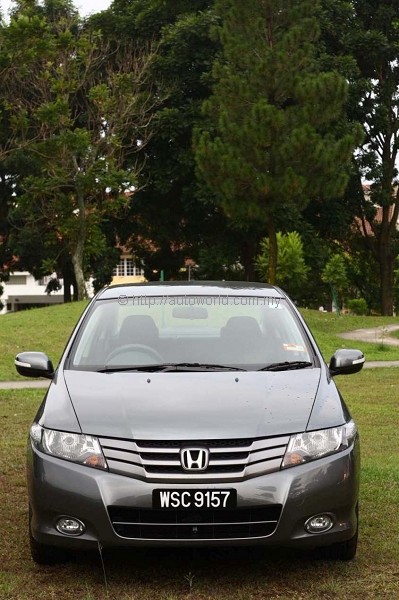 It looks like Honda Malaysia is going to have a very pleasant problem on its hands in the coming months – barely a month after its launch, the all-new Honda City is going against all odds in a shrinking market by garnering an order bank in excess of 6,000 units – and it is all due to the fact that it has a more powerful engine, and a five-speed automatic transmission, and loads of other features normally found in more expensive cars.
For starters, the new Honda City boasts of a class-leading 120 PS of power and 145 Nm maximum torque, thanks to Honda i-VTEC technology that varies the camshaft lift and ignition timing. The inherent problem in making an engine more 'racy' in performance characteristics usually means that it would suffer in the low and mid-engine revolution range. With i-VTEC, which is a combination of mechanical and electronic controls for the camshaft lift and valve timing, it is now possible to have an engine that is more flexible throughout its entire rpm range, providing torque at the lower rpm range, while providing free-revving characteristics at the high rpm range. Simply put, it is like having two engines in one.
The engine itself follows the design cues of the Civic 1.8 litre engine, which uses a single overhead camshaft design, a timing chain arrangement that is more durable than a belt-driven design. It is simply amazing that a SOHC engine can develop such good power; more importantly, this engine design combines excellent fuel economy (when driven sedately) with high power output.
Coupling this very powerful engine to a five speed automatic transmission is a smart move by Honda. Not only does this move the City up a couple of notches against the competition; it makes for good take-off from standstill, yet provides good fuel consumption at high speeds due to a high speed per 1,000 rpm of about 47 km/h.
The end result is a car that a family person can use as a daily driver, and also one that a young owner can derive driving pleasure from. What I would like to see would be a variant with a manual 5-speed transmission, which would make it an instant hit with the younger set.
My personal test drive of the new City indicates that the gear ratios have been selected to provide good acceleration and yet provide excellent fuel economy when cruising. With a final gear ratio and final drive that provides approximately 47 km/h per 1000 engine revolutions, it means the engine is still ticking over at 2,340 rpm when you are cruising at the regulation speed of 110 km/r on the highway. The user benefit is a much quieter engine, and more importantly, lower fuel bills. Upon demand, the gears move downwards smoothly, thanks to the DBW (Drive-By-Wire) technology, which controls the engine and the transmission to provide smoother shifting, reliable acceleration and linear performance. The City automatic transmission also has 'Shift Hold Control', which is an electronic gizmo that reduces unnecessary up-shifts during cornering, allowing you to apply positive acceleration upon exit.
The higher grade model (Grade E) comes with a set of F1-style paddle shifters mounted on the back of the steering wheel. You can engage the paddle shifters simply by flicking on any one of them to shift up or down while you are in automatic (D) mode. In this mode, the gearbox reverts to automatic mode after a few seconds. Pulling the gearshift lever down to 'S' mode puts the gearbox into full manual mode, and it will stay in this mode until you shift out of it. Some people I talked to about the car did comment that the City does seem to shift down from top gear very easily, and that it would not engage top gear until a high speed. I found this to be true, if I kept on flooring the throttle. This is because the designers wanted to enhance the 'sporty' character of the City, and programmed it to respond to throttle demand. I found that it could get up to top gear under normal acceleration at between 50 to 60 km/h, and I also found that if I kept it in 'S' mode (manual shift), it would stay in top gear longer. So, if I wanted to enjoy even better fuel economy, I would drive it in 'S' mode as much as possible, shifting to 'D' only in traffic jam situations. That way, I would be enjoying the best of both worlds.
The new City is sure-footed; with independent MacPherson struts in the front and an 'H' shaped torsion beam arrangement at the rear (allows limited flex for the rear left and rear right wheels), the City can hold its own against its competitors. EPS (electrical Power Steering) makes the steering effortless and saves on fuel as well. All-round disc brakes and low profile tyres make up the balance of the package. The Grade 'S' model comes with 15-inch wheels, while the Grade 'E' model is fitted with 16-inch wheels.
In terms of looks, the new City is an attractive-looking car, but then again, it is different strokes for different people. It took some time to grow on me, as I tend to lean more towards the Jazz, but in the end, I liked it. More importantly, it has 'grown' a little bigger. A slightly longer 2550mm wheelbase means a longer passenger cabin, and more legroom. The City also appears to stand taller, and I am sure a lot of young buyers will want to slam it down a couple of inches or more.
Inside, the City is well appointed, with a new seating material that looks like some kind of netting, but is not, and the seats are well contoured. The driver is pampered by a steering with tilt and telescopic adjustment, plus height adjustment for the bucket-like seat. Instrumentation is a triple meter cluster with round analogue displays. The rear seat for the 'E' Grade has a 60:40 split, and has a limited reclining adjustment. Elsewhere, there are the cup-holders, and the storage pockets for your travel paraphernalia.
Time limitations precluded a fuel consumption test; the range meter at full tank capacity of 42 litres indicated 535 kilometres. I didn't manage to use up all of the fuel in the four days that I had the car, but indications are that the figures will be close to that of the outgoing model, which would be between 10 to 15 kilometres per litre, depending on how you drive.
The Grade S retails for RM84, 980 while the Grade E retails for RM89, 980 (both prices are on-the-road with insurance). That makes the Honda City a very good value and performance proposition, suitable for the user with a small family, and also for the young person with a leaning towards the sporty side of motoring.
Editor's note; Some of the City pics in this feature are courtesy of Andy Kow