Comments on the new Honda City

As with any car launch, members of the press are showered with stacks of technical & promotional material in an attempt to ensure that all the finest attributes of their cars go into print.
It goes without saying that the folks at the Honda press relations department did their homework well, and furnished us with tonnes of stuff to write about how wonderful the all-new City is. As you read on, you would no doubt find some of their sales language to be rather over-enthusiastic, but don't worry, I'll water them down for you and filter it down to the bare essentials.
Despite losing out in terms of sales volume to the Toyota Vios, the outgoing City accounted for a sizable portion of Honda Malaysia's sales, and it's therefore essential, especially in the current climate, that no one in the whole setup mucks this one up.
Being the fourth market (after India, China and Thailand) to receive the new fifth generation City, many enthusiasts in Malaysia are already well aware of the new City's features and specifications via the Internet. Honda Malaysia cleverly used this awareness and stirred up the public's excitement over what actually is a bread-and-butter model.
Despite boasting what was a superbly designed interior, unparalleled in terms of space and practicality, and also a fuel thrifty drivetrain, the fourth generation City lost out many sales to the Toyota Vios due its awkward looks and its perceived lack of sportiness compared to its competitor from the big T.
Having test driven a couple of units of the outgoing City, I too felt that, while it was an ingeniously packaged product, full of brilliant touches, it wasn't terribly interesting or exciting to drive. The weird shape no doubt put off many younger buyers too.
The irony of that was not lost on Honda and this time round, they have given the City a sharper edge, with more aggressive styling, more enthusiastic aura and more powerful marketing language. In this post, I shall attempt to examine and dissect the contents and boasts of the new City's spec-sheet.


I don't doubt its style, but let's examine its substance.
First Impressions
Honda went out of its way to build a sportier and more energetic image for the new City – evident in repeated use of words such as 'style', 'excitement', and 'dynamic' in the whole launch affair. There was a lot of enthusiasm and energy emanating from the Honda camp on this product.
On style and image alone, the new City is definitely a leaps-and-bounds improvement over the old. The design language revolves around what Honda terms as the "Arrowshot Form", in which the City's overall profile is supposedly reminiscent of an archer ready to fire his bow.

Where the outgoing City was offered with the choice of two 1.5-litre engines coupled with a CVT, the new one comes with only one powertrain option: a 1.5-litre i-VTEC engine with a conventional 5-speed automatic transmission. No consumption figures are available at the moment, but one can expect a slight increase compared to the old model at the very least.
For the interior, the engineers has also decided to forego some of the renowned practicality of the old model and infuse a bit more style into the cabin. The dash no longer features dual gloveboxes to start with, and the omission of Ultra-Seats was most unfortunate, being replaced with a conventional 60:40 split-folding rear seat back that could also recline.

Interior sacrifices a little on practicality for style.
Trim Level & Prices
The new City comes available with two trim levels, priced at RM5,000 apart from each other with the Grade S going for RM84,980 and the Grade E going for RM89,980. Mechanically identical, the two variants are also not far apart in terms of specification levels, with the cheaper Grade S also having twin airbags and rear disc brakes as standard.
Differentiating them are items such as rim sizes, fog lights, side-mirror signal lights, chrome finish exhausts, transmission paddle shift, steering wheel audio control, leather finishing for the steering and gear knob and auto retract door mirrors. A big miss for those opting the Grade S variant will be the split-folding rear seats, as they will be getting fixed rear seat backs. The extra RM5k Honda asks for the Grade E isn't a lot, but the Grade S is pretty much all the car you need.
HM has also made available to customers the option of specifying their cars with Modulo accessories designed specially for the City. The accessories can be ordered individually, or lumped together into a RM4,750 full bodykit package. Not being a fan of non-performance enhancing parts, it's not an option box that I'm too keen to tick.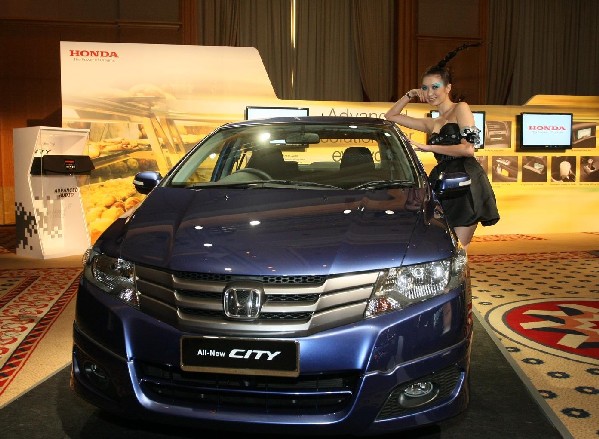 City specified with RM4,750 Modulo bodykit.
The 16″ Modulo rims, available only for the Grade E is a nice alternative to the stock rims, but rather pricey at RM2,480. The good news of course, is that all these (rather pricey) little goodies are covered by the car's standard warranty.
Concept & Philosophy
Throughout the whole launch event, those present were fed with a diet of words coated with a high dose of enthusiasm (some of them a little over the top). Indeed, there was no mistaking the fact that Honda went out of its way in its attempt to create a strong enthusiastic appeal for the new City.
According to Mr Takeshi Nakamura, Chief Engineer of Honda R&D Co. Ltd., "We identified key words that capture the ideas of visual appeal, performance and comfort. The expression of a 'strong' appearance is especially essential. From there, we created the concept of Advanced Proud Sedan."
Powerful words there, Nakamura-san. Three important cornerstones were named in the design brief of the City, they were stylish design, smart package, and smooth driving. The goal was to create a car that had enthusiastic, performance and practical appeal all-in-one. Laudable goals indeed, but a tough one to pull off.

The philosophy behind the new City – a brief too big to fill?
Honda got the stylish design part right, and they got it very right. Inside and out the new City has far greater presence and aura than the outgoing model, but it isn't as smart a package with the removal of quite a few key features that defined its predecessor. The smooth driving part will be investigated in greater detail over a test drive.
Exterior Design
Compared to the bulbous and often criticized shape of the outgoing City, the new City goes back to far more conventional sedan proportions and is peppered with more aggressive and advanced details.
Being the first City marketed in Europe, it's not surprising that the front end borrows heavy design cues from the European version Civic hatch and Accord Euro. This gives the City a far more distinctive and futuristic look from the front, with the headlights and grille forming a one-piece illusion.
The side profile is where the City looks its best. It now looks like Honda really designed the City from ground up as a car on its own rather than apparently slapping a huge boot on the Jazz for the previous City.
The rear end does not look too exciting, despite Honda's description of it being the 'unforgettable rear view'. In fact, when viewed from the rear three-quarter angle with a lowered perspective, it looks rather top heavy. How Honda feels that this design look suggests 'greater stability' is rather beyond me.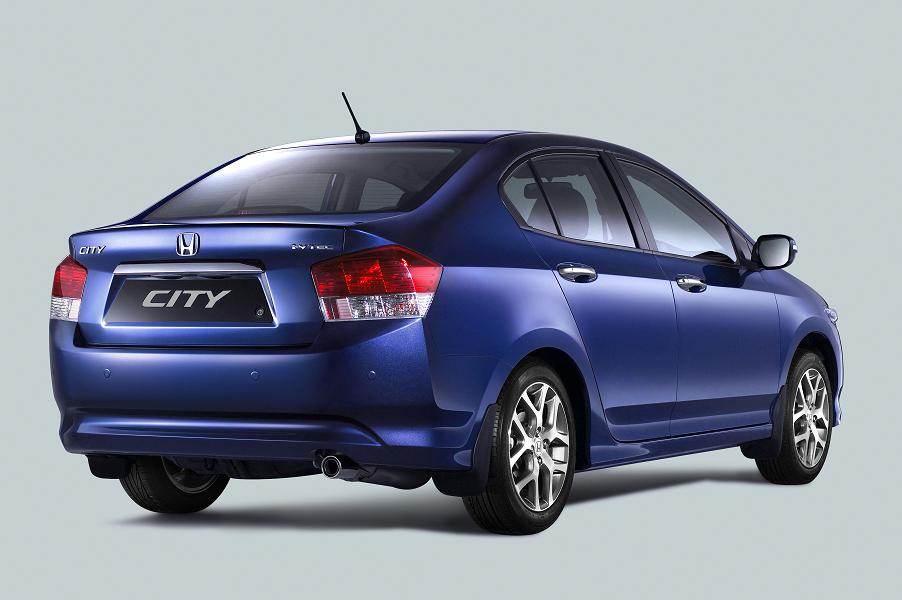 Hardly the best view of the car.
It may not look much, but the design of the bootlid probably consumed far greater engineering hours than we would imagine, thanks to the "upside down Y-shape" (Honda's words, and it took me a while to figure it out too) cut-off line between the lid and the tail lamps. In order to avoid any interference with the tail lights when opening, the hinges and opening motion of the bootlid had to be engineered in precise detail.
For the wheels Honda specified two different and distinctive rim designs to differentiate the two model variants. The simpler 15 x 5.5J rims of the Grade S actually look better than the more elaborate 16 x 6J versions equipped for the Grade E. Oddly however, the tyre sizes specified are not of the commonly available variants: 175/65 R15 and 185/55 R16. Good luck when hunting for replacements.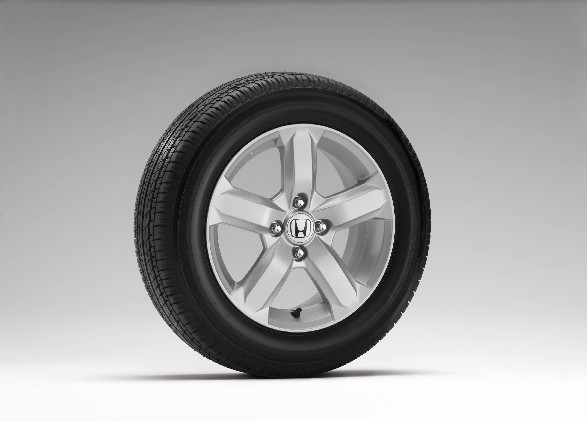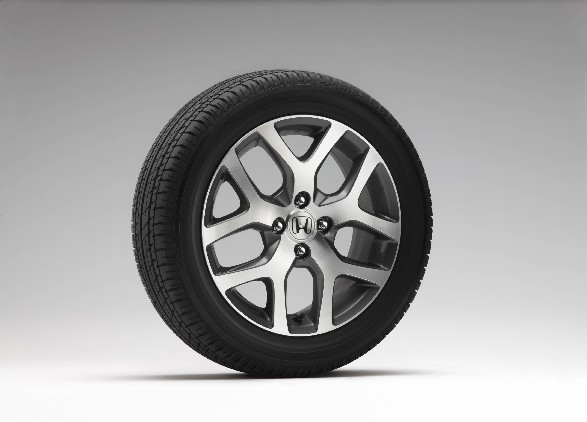 Unusual tyre sizes: Grade S gets 15″ rims shod in 175/65 tyres, while Grade E gets 16″ rims shod in 185/55 tyres. This writer prefers simpler rim design of 15″ set.
Interior
The interior of the new City is created based on the concept of a 'Cool Lounge', which supposedly creates a (warning: marketing jargon alert) 'relaxing atmosphere with strength and character.'
Honda also claims that 'colours and materials were carefully selected to complete a cabin that instantly relaxes and cools down passengers as soon as they get into the car.' Well, at least we know they've done their marketing survey as far as Malaysia is concerned.
The outgoing City trumped all competitors from its class and beyond in its interior packaging. That Honda managed to fit a hugely spacious cabin into a rather small body was amazing enough, it also incorporated many ingenious features and touches that demonstrated amazing thoughtfulness on the part of its engineers.
However, inline with the new City's overall more aggressive design stance, some of the clever practicalities of the previous car were jettisoned in the name of style. Two gloveboxes were reduced to one, and the Ultra-Seats, a defining feature of the previous City were dropped.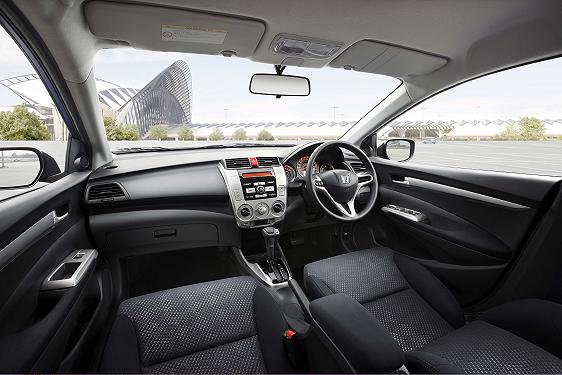 Dash now features only 1 glovebox. Steering wheel with tilt & telescopic adjustment borrowed from Civic.
The centre console is given a brushed metal finish and features an integrated audio head unit with three big dials to control the air-conditioning unit. It's plain looking, but being simple & uncluttered it doesn't take a genius to operate, a welcome contrast to the confusing buttons galore on the Accord I tested last weekend.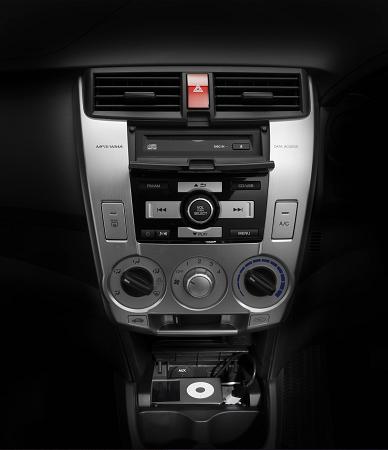 Centre console with iPOD dock.
The instrument cluster consists of three gauges: the speedometer in the centre flanked by the tachometer and the fuel gauge. Like in the previous City, Honda has chosen not to include a water temperature gauge, which is an unacceptable omission in my view. The digital trip computer display shows the odometer, tripmeter, fuel consumption indicator and range indicator. In surely what was unrestrained overstatement, Honda proclaims it as an 'Advanced Meter Design'. You decide.
In place of the sorely-missed Ultra-Seats are the 60:40 split-folding rear seatbacks that can also recline. There is also a huge underseat tray below the rear seats to compensate for the reduced storage capacity. However, neither of these items will be available with the Grade S trim, which makes do with fixed rear seats.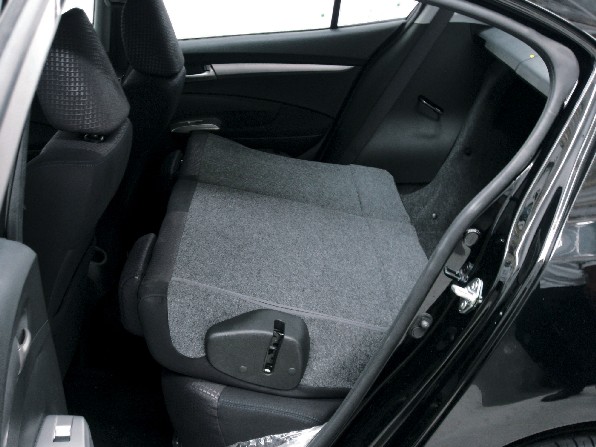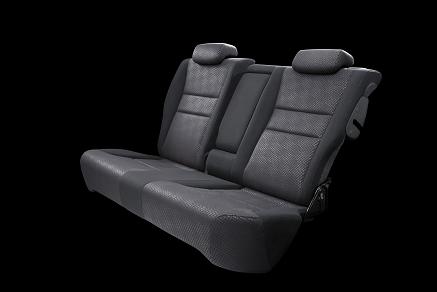 60:40 split-folding and reclining rear seats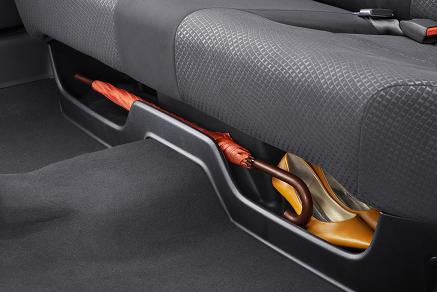 Under-seat tray to stash your… umbrellas.
During the press conference, it was explained that the Ultra-Seats were omitted because it compromised on rear occupant comfort and that the 60:40 folding seats were adequate compensation for their deletion. Surprisingly though, Honda didn't even bother to engineer the folding seats to create a flat-floor with the boot. The reclining seatbacks are a nice novelty, but I'd take the Ultra-Seats any day.
Fortunately, Honda still left many other thoughtful touches in the cabin in form of tiny storage areas all over the car. There are a total of three cupholders (plus two in the centre armrest, available only for Grade S), the centre console box, a little slot beneath the driver air-con vent, front seat pockets and door pockets each side still ensuring ample storage space for loose items.
A little piece of irony, I actually hitched a ride from a friend driving a 1996 Honda City to the launch of this new City. While in her car, a little thought crossed my mind when I was holding my phone on my left hand, resting on the door armrestwith the phone over the position of the power window switch, I thought it would be nice if there was a cubby hole there just to fit my phone. Hence, I was both amazed and amused when I found that the new City does indeed have a little slot just behind the passenger's power window switch just big enough for a handphone.
The Powertrain
The City's drivetrain, according to Honda's engineers, is engineered to provide a 'gutsy & relaxing' feel. The claim is that the City is going to deliver responsive performance when prodded and yet cruise in comfort. Once again, big words – but the numbers supporting them are encouraging.
Under the hood is a 1,497cc 16-valve SOHC i-VTEC engine producing 120PS @ 6,600rpm and 145Nm @ 4,800rpm. Putting that figure into perspective, the outgoing City VTEC's engine produces 110PS @ 5,800rpm and 143Nm @ 4,800rpm. A more telling comparison is that Proton's 1.6 Campro CPS powerplant is only slightly more powerful being rated at 125bhp and 150Nm.
(Note: PS stands for Pferdestarke, which is the German term for horsepower.)
Besides being armed with Honda's i-VTEC system, the engine also features a host of technological improvements such as drive-by-wire technology, high-strength light weight con-rods and rocker arms, patterned piston coating and an auto tensioner to regulate belt tension.
All the abovementioned technology, and others, help to chart out an impressive power and torque curve for the engine, ensuring a minimum 120Nm of torque available at all RPMs. A laughable claim is that a torque dip at 3,500rpm is engineered to engine's character to deliver 'smoother driving performance'. I drive a Waja Campro, and I know for a fact that dips in the torque curve don't contribute to smoother driving.

Power & Torque Curve compared to old City. A minimum of 120Nm of torque available across the range. Torque dip at 3,500rpm 'smoothens driving performance'. Beat that.
For the Malaysian market, Honda is specifying the City with only one transmission, a 5-speed automatic. While still a class leading specification, it is still unfortunate that we will be missing out on the 5-speed manual version or the 6-speed i-SHIFT automated manual transmission that is available in Europe.
Buyers of the Grade S variant will get a straight forward [P R N D D3 2 1] gear interface. There is no OD OFF button to block off only the fifth gear, with drivers only having the option of manually selecting the first three gears. If you opt for the Grade E spec, your gear interface is a simpler [P R N D S], and you get paddle shifters to enable you to manually select each of the five gears.
I used to be a big fan of semi-auto transmissions, but the truth is, after a while the novelty of these things wear off, because at the heart of it, it's still an auto. Nonetheless, it's still useful in an auto that the driver has the option of manually selecting any gear of his/her choice, which is why in the case of the City, the paddle shifters would actually be useful.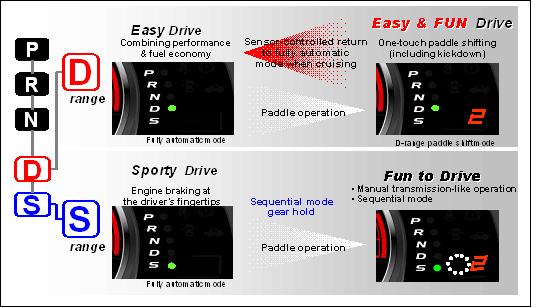 5-speed auto standard. Paddle shifters available for Grade E only.
Chassis
Honda claims to have successfully increased the rigidity of the City's chassis compared to the outgoing model while maintaining the same overall weight. It incorporates the best features of Honda's advanced chassis engineering such as G-Force Control Technology(G-CON) and Advanced Compatibility Engineering (ACE) – features which scored the Accord Euro a five-star EuroNCAP rating.
Like its predecessor, the City does not get independent suspension all-round. It's the same old story of the MacPherson struts up front and a torsion beam rear axle – not something boast too loud about to your friends who drive Proton Wiras and Personas with multi-link rear suspension.
The electric power steering system also stays, but Honda claims that they have reworked the system to give it a more 'steady and direct steering feel.' Whatever they mean by that, it had better be a substantial improvement over the dead-feeling and over-assisted steering of the outgoing City.
Stopping power is provided by four disc brakes supplemented by ABS, EBD and Brake Assist (BA), which to Honda's enormous credit, are all standard for both trim variants. Should that fail to stop you in time for a collision, twin airbags (standard on both variants) will deploy to increase your chances of survival considerably.
Finally…
Without a proper test drive, it is impossible and inappropriate to give a car a proper verdict. The specs sheet give a positive first impression, and the reported 3,000 bookings received by Honda Malaysia is testimonial to Honda's badge credibility.
Overall, the new City looks like a far more exciting product than the outgoing car, despite dropping a few of the old car's unique selling points – the CVT and Ultra-Seats being notable omissions. Where the old car was marketed purely on its clever and practical features, the new one sacrifices some of that in the name of style and desirability.
On paper alone, the new City remains a very competitive, and very capable car. Honda set itself a target to come up with a car to be all of practical, sporty and stylish at the same time. The boys at Honda are obviously very proud of it, but I am wondering if they have given the City too big a brief to fill.
Only a test drive will tell.