Isuzu Introduces The Ultimate Business Partner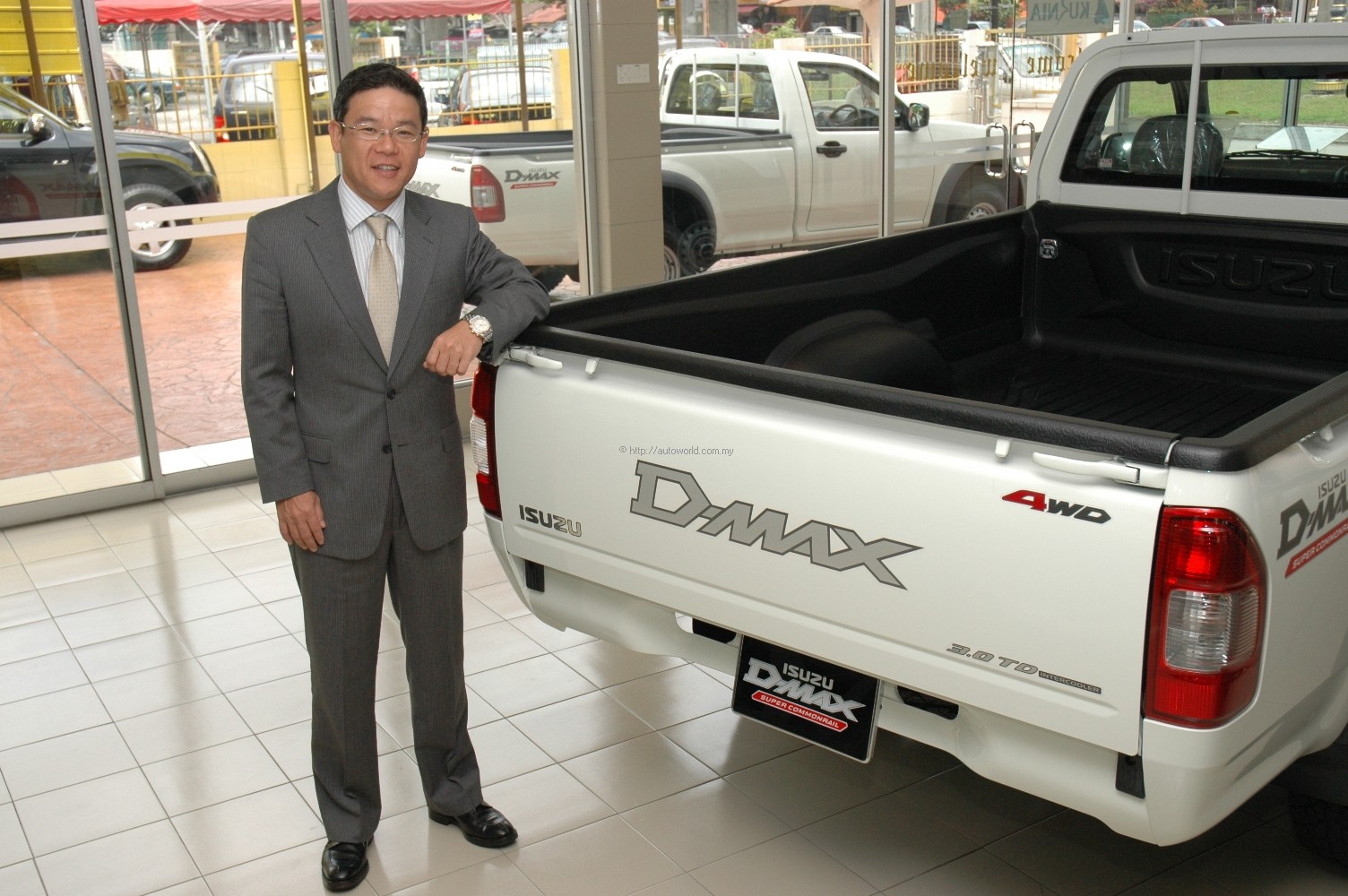 Kota Kinabalu, Saturday. Isuzu Malaysia today introduced its new Isuzu D-Max Single Cab, a model that offers the perfect automotive solution to business people seeking a blend of performance and economy wrapped in a highly practical and durable package.
The new model was launched here today by CEO of Isuzu Malaysia Kyoya Kondo who said that the new model is expected to appeal to those who need a vehicle to tackle tough operating conditions including the prospect of rising fuel costs.
"The new Isuzu D-Max Single Cab is built on the same core values of every Isuzu pick-up truck ever produced and this includes fuel efficiency, durability and reliability. Customers will be amazed at the load-carrying ability of the new model and how immensely frugal it is in carrying out its duties," said Kondo.
"We expect to sell 300 units of the Single Cab this year and as more customers come to know and understand the benefits of owning this model, demand should show steady increase as it is truly the perfect business partner," he added.
The new model features the same healthy performance of the Double Cab version with power derived from the 3-litre i-TEQ Super Commonrail engine. This powerplant boasts of excellent class-leading power output of 136ps and fantastic torque delivery with 280Nm available from as low as 1,200RPM. "This makes the D-Max Single Cab very tractable and easy to drive even when carrying heavy loads," added Kondo.
This very same engine gained its fame and economical prowess recently when a Double Cab D-Max was driven from Bangkok to Kuala Lumpur, a distance of over 1,500km without exhausting its 76-litre tank of diesel.
As one of the world leaders in diesel engine technology with a strong heritage in commercial vehicle manufacture, Isuzu knows what it takes to build engines that never give up. It features such proven items as a timing gear and chain rather than a timing belt and melt-in cylinder liners to ensure that the engine is virtually bullet proof, key considerations for any businessmen who want to minimize down time and lower running costs.
Apart from its extremely strong engine, the chassis is also built to take years of hard work. The reinforced chassis is one of the strongest and most robust in its class, offering the added benefit of improved safety as well.
To provide superior handling and versatility regardless of road conditions, the new Isuzu D-Max Single Cab comes with four-wheel drive traction and features Isuzu's famed Touch-on-the-Fly feature. This feature that is usually reserved for expensive SUVs is also found in the D-Max Double Cab and allows the driver to select between two- and four-wheel drive at the simple push of a dashboard-mounted switch.
This capability works at speeds of up to 100km/h so any danger the driver sees on the road can be quickly averted on the go. To select 4WD low range too, the driver need not exit the vehicle nor fiddle with ugly selector levers. A simple touch of the low range button will suffice.
A versatile rack and pinion power-assisted steering system ensures that the vehicle tracks well even in off-road conditions and makes it easy to maneouvre in tight situations. Gas-filled shock absorbers all around ensure the D-Max provides crisp and true handling even on bumpy or uneven roads.
With its long cargo bed measuring 2,270mm, the versatile Isuzu D-Max Single Cab will be a boon to businessmen and those in the service industry who will quickly appreciate how convenient it is to carry bulky loads with this vehicle. Lashing hooks on the sides of the body allow for easy securing of loose items or tarpaulin covers, keeping goods safe and secure.
Inside, the new Single Cab D-Max may be business like but it is certainly not lacking in comfort and space. It offers drivers with a comfortable 3-seat bench and the driving position is very car-like so even on long drives, occupants will not face fatigue or discomfort. All three occupants have their own seatbelts with the centre passenger provided with a lap belt.
The cab itself is spacious and airy as it is finished in pleasing grey tones and comes with all the amenities of a modern automobile including cup holders, storage cubby holes and a spacious glove compartment.
The new D-Max Single Cab which comes exclusively in Alpine White is now available at all Isuzu authorized showrooms throughout the country. It is priced at RM66,598.00 on the road without insurance and comes complete with a 3-year or 100,000km warranty.