Naza Forza production set to increase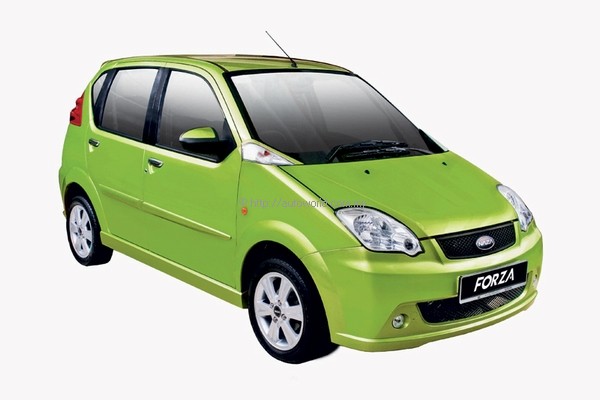 KUALA LUMPUR – Following the successful launch of the Naza Forza into the Thai auto market recently, Naza Corporation Sdn Bhd has announced that the production of the Naza Forza cars will be increased to meet demand of the Thai market.
The 1.1L Naza Forza which recently made its debut into the highly competitive Thailand automotive market during the recent 10-day Thai Motor Show has managed to secure 524 orders. Yontrakit Motor Sales Co, the official importer of the Naza Forza into Thailand has urged Naza Corporation to increase productivity of the car to meet demand in the Thai market. At 349,000 Baht, the Naza Forza is currently the most affordable new car in the hotly contested Thai auto market.
At present, the Naza Forza is also exported to countries like Nepal, Bangladesh and Singapore. Exports to Singapore which only began earlier this year are also said to be very encouraging with strong acceptance of supermini cars from Malaysia. Export sales amount to about 30% of total Naza Forza sales. Naza Corporation is also in talks to export the Forza to countries like Sri Lanka, Indonesia and Mauritius.
En SM Nasarudin Tan Sri Dato' Seri Utama SM Nasimuddin, CEO of Naza Corporation Sdn Bhd said that the company is indeed pleasantly surprised by the warm reception that the Forza has received in both Singapore and Thailand, markets that the Forza had only just entered in 2008. He adds that it is the company's objective to offer the Naza Forza as an affordable mode of transport to ASEAN countries. Also of equal importance is the development of strong after sales back up, a factor which he said will add to the attraction of the Naza Forza.
In Malaysia, Naza Corporation Sdn Bhd has informed that sales of the Naza Forza and its Naza 206 Bestari cars have seen improved bookings due to their on-going Forza 199 and Bestari 399 promotions. The company maintains that even though the demand for the Forza is strong in both Thailand and Singapore, there will be enough cars to satisfy the local demand for the car.
To support local enquiries, Naza Corporation Sdn Bhd advises those who are interested in the Forza 199 promotion to call the Client Liaison Interaction Centre at its new toll free number 1-800-88-NAZA (6292) or log onto www.nazacorp.com.my for more information.