Honda Stream Modulo Introduced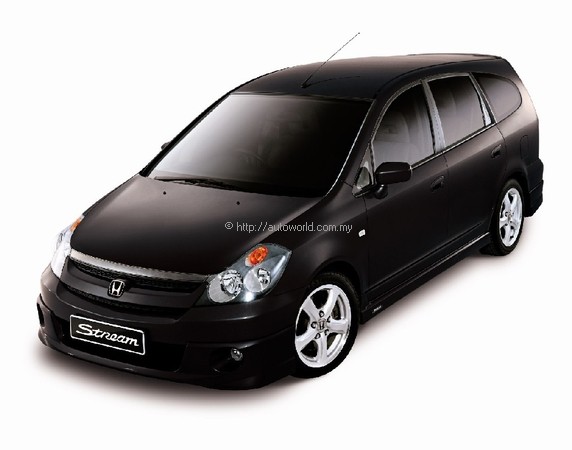 Honda Malaysia Introduces the Honda Stream Modulo
Petaling Jaya, 3 August 2005 – Honda Malaysia Sdn. Bhd. today introduced the Stream Modulo which will definitely appeal to those who are looking for something bold and eye-catching.
The Stream's versatility has been enhanced by the Modulo accessories which are designed and made in Japan by Honda Access Corporation, a manufacturer of genuine Honda accessories.
Malaysia is the first country in South East Asia to officially introduce Modulo accessories to the market.
Fully developed by highly skilled Honda engineers, Modulo accessories offer the finest in design, function and quality. The accessories are produced under the same Honda Engineering Standards (HES) that Honda models are subjected to. Examples of the durability tests include:
· Rough road driving test – Accessories are installed in actual vehicles and driven over a variety of road conditions to confirm installation precision and accuracy.
· Fatigue test – Trunk spoiler and tailgate spoiler durability test is conducted by using automated robot arm for opening and closing of trunk or tailgate in order to comply with fatigue test requirements.
· Wind Tunnel test – Wind tunnel testing establishes the particular aerodynamic characteristics of the component. These tests are essential to integrate both aerodynamic and aesthetic considerations.
The Stream Modulo features an Accessory Package that includes:
l Modulo Front Under Spoiler
l Modulo Side Under Spoiler
l Modulo Rear Under Spoiler
l Modulo Tailgate Spoiler
l In-Dash 6 CD changer with MP3 audio head unit.
The Stream Modulo is priced at RM 160,800.00 on the road inclusive of insurance. Colors available are Nighthawk Black and Satin Silver. There are 50 units of the Nighthawk Black version and 40 units of the Satin Silver version for sale.