Federal Auto Customers Take Delivery of the new Volvo S40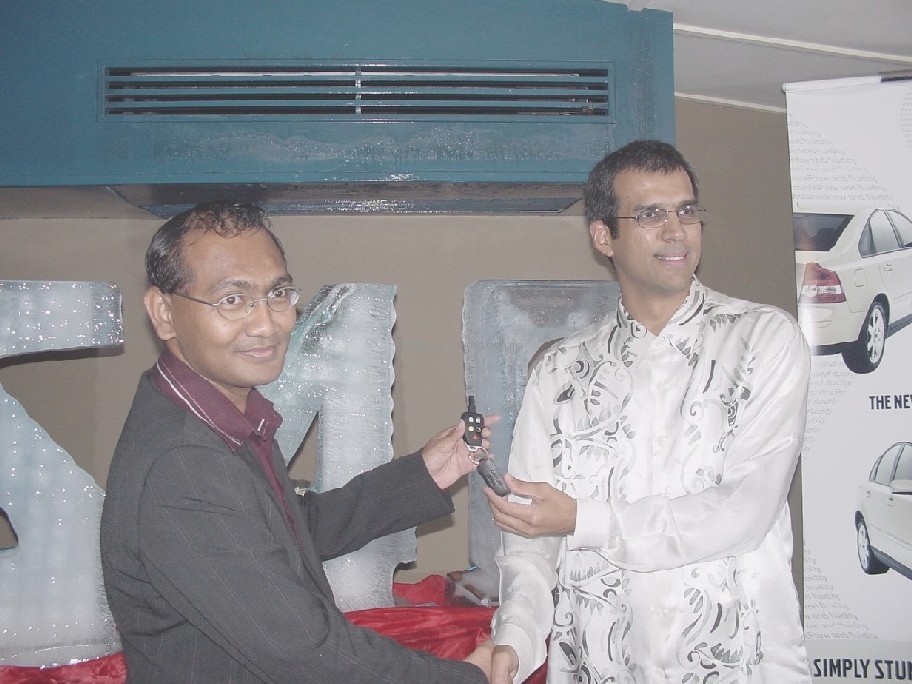 Federal Auto Customers Take Delivery of the new Volvo S40
Kuala Lumpur 19th October 2004 – The first nine customers who have purchased the new Volvo S40 proudly took delivery of their brand new cars after breaking fast with En. Mohamed Ashraf Iqbal, managing director, managers and staff of Federal Auto Cars Sdn Bhd at an exclusive restaurant in Kuala Lumpur.
It was smiles and congratulations all round as each proud new Volvo S40 owner stepped forward to receive his or her car from the sales personnel of Federal Auto.
Proudest of all was Ravi Ravindran, 35, who bought the all-new Volvo S40 without driving or even touching it, signing the order for the RM190, 000.00 car eight months before it was even available in the country.
"I saw a photograph and liked the looks of it. It is a stunning vehicle and you can't go wrong with a Volvo. Ashraf had driven it and recommended it, so I bought it!" he said.
Launched on October 8th, this is the first batch of newly registered cars to be delivered to Federal Auto's customers. At the buka puasa function, Ravi added, "It is everything I expected and more. It is powerful, it handles well, and it is very stylish. I definitely made the right decision."
The new Volvo S40 owners were chauffeured to the restaurant by Federal Auto staff so that they could proudly return home in their new vehicles. En. Mohamed Ashraf said that the Volvo S40 represented excellent value for money as Volvo's entry-level car. "Here is a compact car boasting all the safety features of the larger S80. It is undoubtedly the safest car in its segment," he said.
The new S40 comes with features such as Inflatable Curtains (IC), Whiplash Protection System (WHIPS), Side Impact Protection System (SIPS) and Stability & Traction Control (STC). In addition, there are many practical and thoughtful features that make the S40 'people friendly'. Autoworld has done a test on the new S40, and the report is in the Emzine section.